Vegan cosmetics are those that are free of animal-derived ingredients such as honey, beeswax, lanolin, collagen, and others. They are primarily composed of botanical ingredients such as plant extracts and oils derived from flowers, herbs, nuts, seeds, and leaves, among others. The majority of such ingredients have healing and rejuvenating properties that help with everything from hyperpigmentation and acne to ageing concerns.
"Ken Research shares 3 key insights on this high opportunity market from its latest research study"
1.   Vegan Cosmetics Market Continues to Grow Owing to The Increasing Adoption of Veganism.
The Global Vegan Cosmetics Market is expected to witness stable growth during the forecast period, owing to the rise of vegan culture, and the rising government implementation of prohibiting animal testing for cosmetics across countries. The global vegan cosmetics market was valued at ~US$ 10 billion in 2017, it is estimated to be ~US$ 13 billion in 2022 and is expected to reach a market size of ~US$ 20 billion by 2028 growing with a CAGR of ~6%.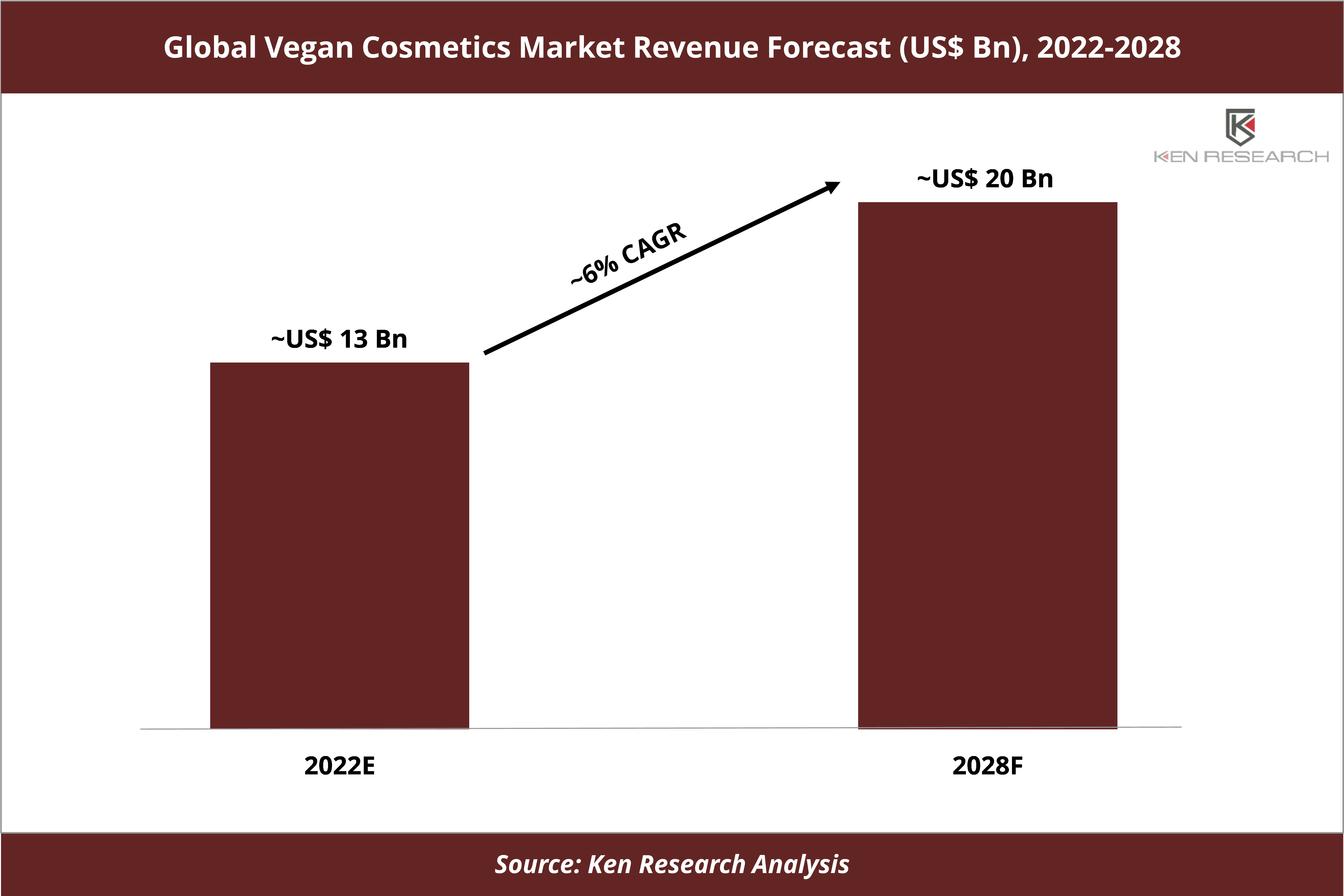 Europe is the dominating region in the Global Vegan Cosmetics Market due to the presence of the world's prominent players for cruelty-free cosmetics in Europe, notably in Italy, France, the UK, Germany, and Spain. Furthermore, the European government's move to prohibit animal testing for cosmetics is also helping the growing vegan cosmetics market.
2.   The Growing Popularity of Plant-Based Products, combined with the Emerging Veganism Trend across Countries is driving the Market Growth of Vegan Cosmetics.
The number of individuals nowadays becoming more aware of the ethical and environmental impact of animal-derived products, leading to an increase in the number of individuals reducing their use of such products. Furthermore, rising incidences of animal cruelty during testing, combined with the adverse environmental effects, are influencing the government to prohibit animal testing for cosmetics and manufacturers to start producing vegan products, resulting in increased adoption of vegan cosmetics. During the COVID-19 pandemic, there was a significant increase in demand for skin care products as people became more aware of the importance of self-care, particularly among those who were infected with the virus, creating a market for plant-based beauty and skincare products. In addition, rising consumer awareness regarding the benefits associated with vegan cosmetics is persuading manufacturers to develop innovative plant-based skincare products using safe and organic ingredients.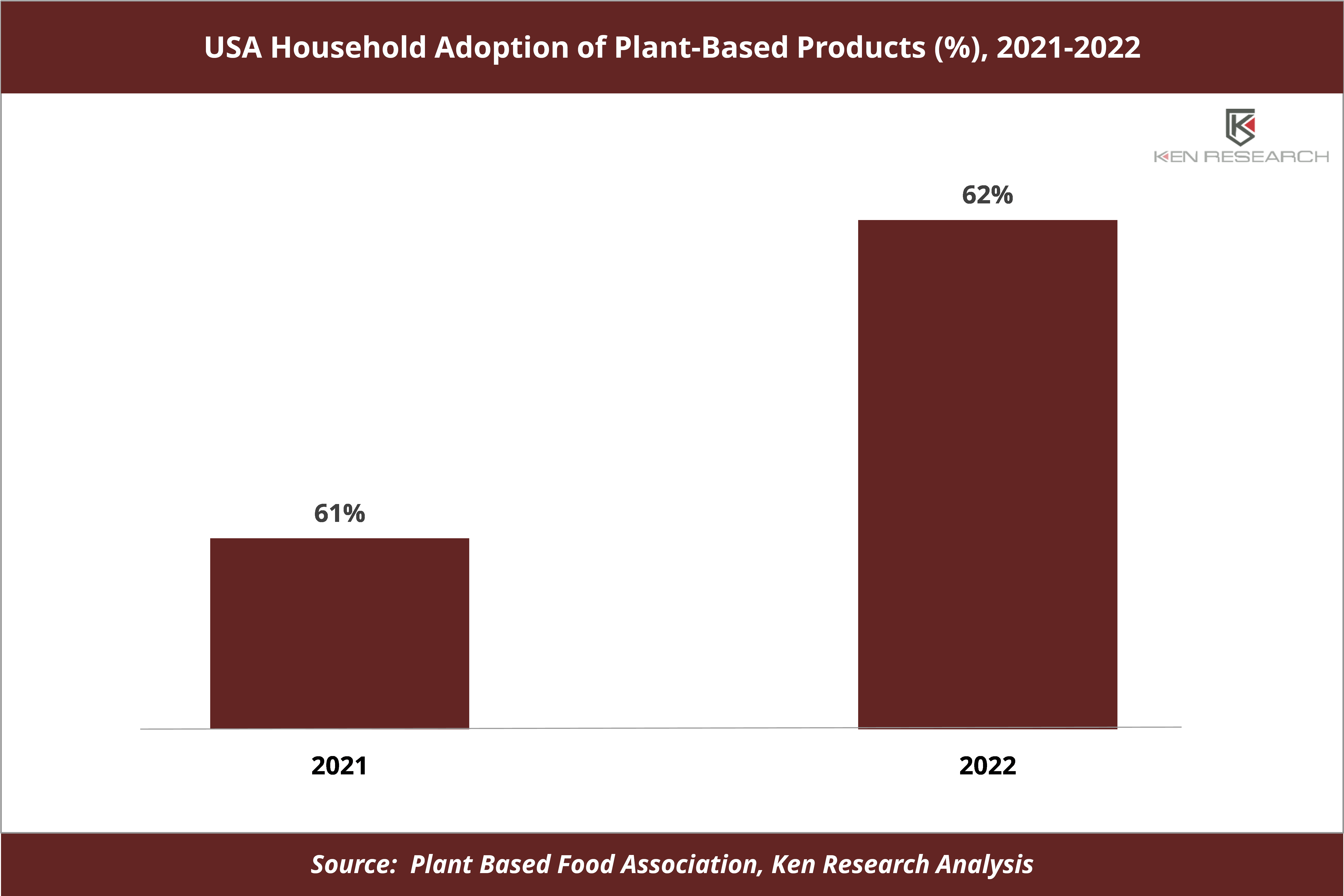 3.   Increasing Dissemination of Counterfeit Cosmetic Products across Countries May Impede the Market Growth of Vegan Cosmetics.
Fake cosmetics products are on the rise, particularly since the COVID-19 pandemic, as counterfeiters target less savvy and older shoppers who seem to be new to e-commerce. For instance, according to Daniel Shapiro, vice president of Red Points, a software company based in Spain, reports a 56% increase in counterfeit products sold online across its 700 brand clients in the first six months of 2020. In addition, counterfeit sales increased by 37% among its beauty clients, including skincare device company Foreo and haircare brand Tyme, over the same time period.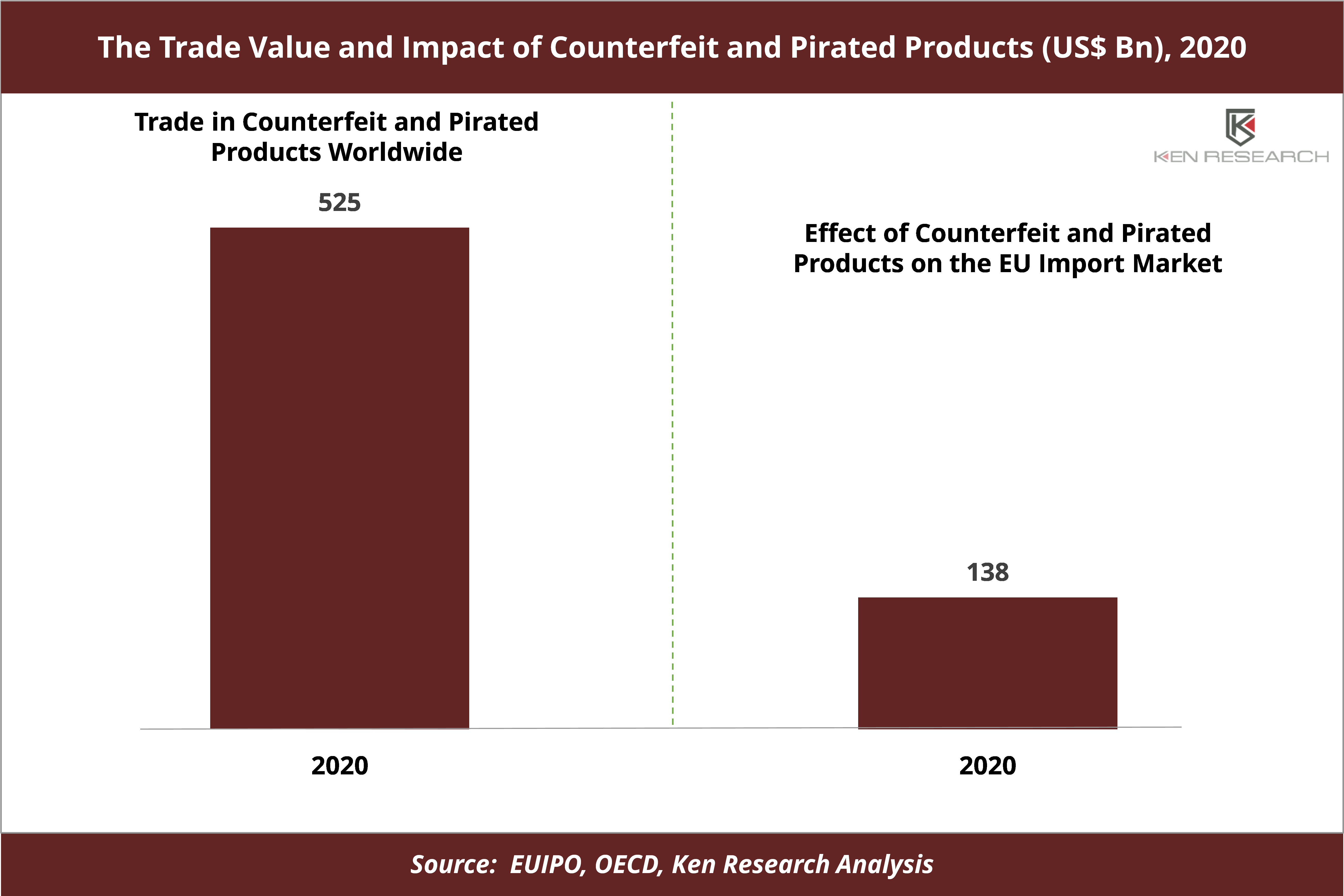 Request For Sample Report @
https://www.kenresearch.com/sample-report.php?Frmdetails=NTk2MTEz
Counterfeiting presently heavily relies on the digital domain to source components and distribute products to customers through online platforms, social media, and instant messaging services. According to European Union Intellectual Property Office (EUIPO), a European government agency, the distribution of counterfeit goods has thrived during the COVID-19 pandemic.
The pandemic has created new opportunities for counterfeit and pirated product trade, and criminals have adapted their business models to meet the increased global demand. According to the Organization for Economic Co-operation and Development (OECD), a France-based intergovernmental organization with 38 member countries, and European Union Intellectual Property Office (EUIPO), counterfeit and pirated goods imports totaled US$ 133 billion (EUR 119 billion) in 2019, accounting for 5.8% of all goods entering the EU.
For more information on the research report, refer to the below link:
Leading Players in Vegan Cosmetics Market | Global Vegan Makeup Brands Market
Read Also –
3 Key Insights on Nearly $7 Bn Opportunity in the Global Agricultural Pumps Market
Follow Us –
LinkedIn | Instagram | Facebook | Twitter | YouTube
Contact Us: –
Ken Research
Ankur Gupta, Head Marketing & Communications
+91-9015378249