Vietnam automobile industry is a fast growing sector, mainly dependent on domestic sales. The industry is one of the largest economic sector by revenue. All currently produced models are generally designed abroad by foreign brands, and many rely on knock-down kit production. Owing to high import taxes on automobiles, the Vietnamese government defends domestic manufacturing.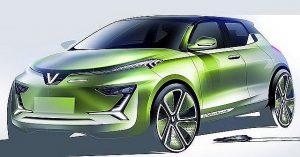 Automobile is a motorized vehicle that consists of four wheels and powered by an internal combustion engine. It is used to transport people and goods from one location to another location. It generally uses gasoline to fuel the internal engine, but growth of technological advances have led to the design of cars that run on electricity and even water.
According to study, "Vietnam Automobile Comprehensive Report Q4/2019" the key companies operating in the Vietnam automobile industry are Truong Hai Auto, Ford Vietnam, Toyota Vietnam, Mercedes-Benz Vietnam, Lexus Vietnam, Hino Motor Vietnam, Honda Vietnam, Isuzu Vietnam.
Based on vehicle type, Vietnam automobile industry is segmented into passenger cars, heavy commercial vehicles (HCV), light commercial vehicles, Battery Electric Vehicle (BEV), Hybrid electric vehicle (HEV) and plug-in hybrid electric vehicle (PHEV). Based on fuel used, market is segmented into diesel, hydrogen, solar and petrol. Based on number of wheels, market is segmented into two-wheeler, three-wheeler, four-wheeler, six-wheeler and more. Based on transmission, market is segmented into manual (conventional) transmission vehicle, automatic transmission vehicle and semi-automatic transmission vehicle. Manual transmission includes synchronous gearbox, synchronous gearbox with overdrive, constant mesh gearbox and sliding mesh gearbox. Automatic transmission includes torque converter drive and hydraulic drive. Semi-automatic transmission includes fluid torque drive, electric controlled with or without overdrive. Based on drive availability, market is segmented into four-wheel drive and all-wheel drive. In addition, based on application, market is segmented into performance, safety & security and comfort & convenience.
The Vietnam automobile industry is driven by rise in demand for vehicles in tier 2 and tier 3 cities, followed by increase in per capital income, growth in demand for safety & convenience features, strict safety regulations set by government, surge in demand of electric vehicles, growth in IoT (internet of things), rise in urbanization, increase in investments in research & development (R&D) activities, rise in standard of living and increase in component aftermarket. However, intense competition and high cost of vehicle may impact the market. Moreover, rise in availability of credit system is a key opportunity for market. Furthermore, growth in technological advancements is a major trend for market.
In Q4/2019, growth of the Vietnam automobile industry is reached at rapid pace owing to increase in number of automotive enterprises & supporting industries in the country. In near future, it is expected that this development of supporting industry will create favorable condition for enterprises to join the global value chain and attract more foreign direct investment along with improve the production capacity and innovate their technologies. The supporting industry will also contribute to the extension of industry clusters, and creates a network of traders of input products for other businesses in the country. In upcoming years, it is estimated that future of the market will be optimistic due to growth in improvement of the quality of life and strong socio-economic development during the forecast period.
For More Information, refer to below link:-
Related Reports:-
Global Automobile Diaphragm Market Research (2015-2019) and Future Forecast (2020-2025)
Global Automobile High-strength Steel Market Research (2015-2019) and Future Forecast (2020-2025)
Global Automobile Accessories Market Research (2015-2019) and Future Forecast (2020-2025)
Contact Us:
Ken Research
Ankur Gupta, Head Marketing & Communications
Ankur@kenresearch.com
+91-9015378249