Vietnam will continue to see explosive growth in terms of modern trade, e-commerce and convenience stores, says a report by Ken Research
1.Landscape of dairy industry in Veitnam Nutraceuticals market- Which segment is showing consumer demand.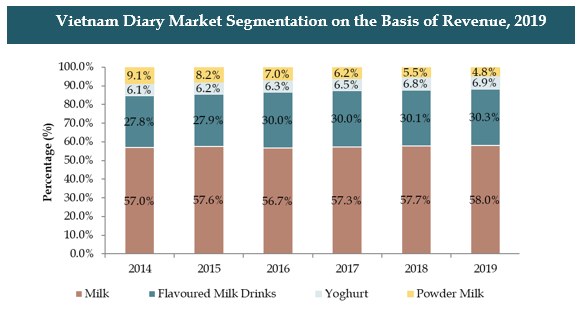 There has been a rise in the retail prices of milk due to devaluation of Vietnamese Dong. For instance, the world average price of milk for top 100 countries was USD 1.1 per liter, whereas Vietnam has an average price of USD 1.4 per liter in 2019.
Probiotic Yogurt has seen highest growth in Dairy market with a CAGR of 12% approx. for the period 2014-2019. This category has been a preference among consumers of all ages and income.
In addition, Powder Milk recorded a negative CAGR. This was majorly due to the availability of ready to drink variants of flavored milk, drinking yogurts and probiotic yogurts, which are easy to carry and can be consumed as per convenience.
Interested to Know More about this Report, Request for a sample report
2.Which distribution channels will be most optimum in Vietnam Nutraceuticals Market?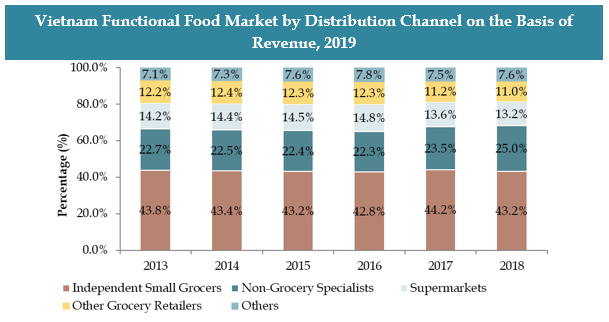 Independent small grocery stores and convenience stores are famous as these stores are conveniently located and promote the impulse purchase or loose purchase for the products. However, the contribution from these entities has been affected by increase in the number of supermarkets and hypermarkets in the Vietnam, especially in the capital of the country. In addition, since the supermarkets and hypermarkets are only within the reach of growing middle class and above, a majority of people in the low-income category still rely on traditional methods of shopping functional foods.
Visit this Link :- Request for custom report
3.What are the future rising trends to be seen in Vietnam Nutraceutical Market?
In Vietnam, probiotic treatment is gaining importance through well recommendations from doctors and medical professionals for curing acute watery diarrhea in children. Word of mouth advertising is another major reason for growing popularity of probiotic supplements in Vietnam. Highest consumption is observed among the tourists visiting the country.
Many Vietnamese have now become health conscious due to rising number of lifestyle related diseases. The growing health trend in the country has led people to purchase nutraceutical products such as protein bars, whey protein powders, amino-acid protein powders and supplements.
With the advent of foreign players in the market, there has been fierce competition among the nutraceutical companies in order to capture a market share. As a result, many companies have improved their product portfolio with new products and rebranding initiatives in order to increase the customer base.