According to study, "Real- Estate Comprehensive Report Q4/2019" the key companies operating in the Vietnam real-estate market are Vingroup, KhangDien Housing Investment & Trading JSC, No-Va Real Estate Investment Corporation, DatXanh Real Estate Service & Construction JSC, FLC Group, KinhBac City Development Share Holding Corporation, Nam Long Investment JSC, PhatDat Real Estate Development JSC, QuocCuongGia Lai Joint Stock Company, Binh Duong Construction and Development JSC. A number of players are increasing their business around the globe due to enhanced effective operations, increased customer base, and expanded geographical reach.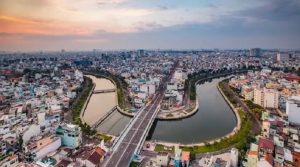 Real estate is a distributed blockchain ledger and document-intensive business that can consolidate mortgage, escrow and deed transfer record-keeping, and can also allow automated lodging of contingent events in the terms of contracts. This helps in expediting real estate transactions, offering total transparency and reducing fraud.
Real estate market involves selling & renting, buying, leasing of property and condominiums for commercial & personal household usage. Commercial real-estate business had developed exponentially in the last decade due to increased number of key players entering the regional market as well. Lower rentals, government reforms, mortgage rates in the developing countries is likely to boost the market over the forecast period.
Based on type, Vietnam real-estate market is segmented into brokerage services and rental activities. In addition, based on end-use industry, market is segmented into commercial real-estate industries, residential real-estate industries and others. Commercial real-estate includes offices, retail, industrial, and multifamily
The Vietnam real-estate market is driven by rise in investment in construction industry, followed by rapidly increase in property prices in some areas, growth in urbanization & increase in population,decrease in interest rates, rise in commercial & industrial sector, increase in per capita income of the middle class households, rise in development of new cities, increase in foreign investments and growth in infrastructure sector.However, political uncertainty and increase in costs of home space may impact the market. Moreover, increase in demand for residential & non-residential buildings and rise in government initiatives to open up the real-estate sector for foreign direct investment are key opportunities for market. Furthermore, crowd-funding investments in real estate and Block-chain for real estate industry, and growth in technology to improve agent services are major trends for market.
Vietnam real estate market had always remain attractive for foreign investors owing to its growth potential, especially investors from the Republic of Korea.Foreign investors are commonly hesitant to enter the market due to inconsistent bureaucratic red tape and the change in legal environment. Therefore, cooperation with Vietnamese firms through capital contribution and share purchase enables foreign investors to get access to land plots, which are ready for construction.
Strong demographic basics are the source for Vietnam's real estate industry to grow. Due to growth in middle class and fast urbanization pace are the pillars for growth of the market. In upcoming years, it is predicted that future of the market will be optimistic as a result of growth in industrial property segment and rise in domestic demand during the forecast period.
For More Information, refer to below link:-
Related Reports:-
UAE Real Estate Market Outlook to 2025 – By Office Real Estate Market (Premium, Grade A and Grade B); By Retail Real Estate Market (Super-Regional Malls, Regional Malls, Community Centers, Neighborhood Center and Convenience Center); By Residential Real Estate Market (Apartment and Villas) and By Hotel Real Estate Market (1-3 Star, 4 Star, 5 Star and Hotel-Apartments)
Vietnam Real Estate Market Outlook to 2025 – By Office Real Estate Market (Grade A, Grade B and Grade C); By Retail Real Estate Market (Retail Podiums, District Centers and Shopping Centers); By Residential Real Estate Market (Apartment, Villas, Condominiums and Others) and By Hotel Real Estate Market (3 Star, 4 Star, 5 Star and Other Hotels)
Saudi Arabia Real Estate Market Outlook to 2025 – By Retail Real Estate Market (Super-Regional Malls, Regional Malls and Community Centre), By Hotel Real Estate Market (3 Star, 4 Star, 5 Star and Other Hotels), By Office Real Estate (Premium Offices Grade A and Grade B) and Residential Real Estate Market (Apartment, Villas, Traditional Houses and Others)
Contact Us:
Ken Research
Ankur Gupta, Head Marketing & Communications
Ankur@kenresearch.com
+91-9015378249