PropTech has built a gap between the buyer and the seller by bringing both the parties together and facilitating transactions between them in the most transparent, secure and efficient manner. Property Technology has brought an evolution to the real estate market of UAE, wherein buyers and developers can find all property related information a single click away. It has opened doors for developers to digitize transactions as well as market their properties beyond geographical barriers. Technology has reignited the real estate business model from back-office design to omni-channel customer experience by offering virtual tour of the property without being physically present. According to Ken Research, 55,000 residential units are expected to enter the supply in Dubai between 2019 and 2020 which will observe some form of property tech play.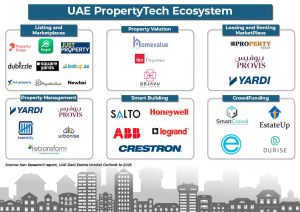 The 3-Stage Evolution of PropTech in UAE
The PropTech industry in the UAE has been evolving with technology disruptions in phases. The first phase was marked by the emergence of 'Property Classified' which made it easier for the buyers to browse through various property options. The second wave was believed to have assisted sales process by enabling full-stack transaction closure thereby reducing middle-men interference. The third wave has been underscored by the  usage of AI, Deep Tech for estimating inventory overhang, expected rental yield, sales price predictions, evaluating real estate properties, identifying through LiDAR the geospatial catchment areas/ clusters where to invest, real estate crowd funding platform and, allowing partial ownership of residential, commercial and retail properties. Real estate crowd funding is estimated to reach USD 9 Billion globally by 2021 with the potential to resolve the capital requirement problem for less financially capable buyers, says Namit Goel, Director Research, Ken Research
Focus of the Government towards Paving a Digital Path for Real Estate Development will Nurture the Growth of PropTech in UAE
The Government of UAE announced ambitious plans to deploy 3D Printing Techniques in the Emirates with the target of construct 25% of the buildings via 3D printing by 2030. The government envisions building of smart cities with the use of block chain technology, artificial intelligence and data science. The developers in UAE have pro-actively embraced the use of technology, with Emaar promising to build its first 3D Printed house in Arabian Ranches III and DAMAC Properties launching digital customer service and facility management portals to enhance customer experience.
Rising Investment and Funding in Property tech Startups
A bunch of start-ups have introduced technologies such as Internet of Things and Artificial Intelligence for smart buildings and selling them, virtual and augmented reality for changing the way of viewing the property via immersive mobile applications (virtual reality in real estate is worth USD 1 Billion globally), financing of properties through crowd-funding and the growth of Crypto currency usage in the real estate sector. All these technologies will enable the real estate sector to move from 'Industrial Past to Digital Future'. Companies such as 'Yardi', provide one-stop solution for Marketing and Leasing, Property Management, Procurement, Asset Management and Investment Management all done via technological advancement.
The impasse in the Growth of PropTech
The use of PropTech enables seamless and transparent transactional activities but, with technology comes glitches. The use of Virtual Reality raises a number of IP issues such as ownership of the underlying code, and Internet of Things increases vulnerability to cyber-attacks and loss of confidential data. However, the two impasses which are difficult to cater through are "The Limited Target Customers" and "Huge Investments" required in the industry. The use of PropTech is optimally done by the young population who are most comfortable with integrating technology into their daily chores. Also, inclusion of technology in building and managing a property requires huge capital investment which poses as a problem for new regional developers.
Customer Preference Rise towards PropTech Backed by Ease of Accessibility
UAE customers have displayed positive reaction towards the adoption of PropTech. According to an industry research, it was found that, 67% of the UAE property buyers used online tools to check the valuation of their current property asset whereas 65% of UAE buyers check tax and regulation related data. 64% of the buyers check prices of their prospective homes online and in total, 72% of the UAE property buyers browse online portals before taking a decision. The statistics clearly indicate the increasing reliability of buyers towards PropTech solutions while making a purchase decision.
What Future Holds for PropTech in UAE?
The UAE Real Estate Market is expected to embrace PropTech with open arms in the upcoming future. The Government of UAE has been setting benchmark for real estate companies by launching various initiatives such as eMart- a smart property marketplace, Ejari- a platform to streamline administrative functions of lease management and Dubai Blockchain- a transactional platform that can monitor property transfers and deed management that take place virtually. Technologies such as 'Building Inspection' and 'Geo-location' are expected to gain more popularity in the fast-paced UAE Real Estate Market. Technology enabled Building Inspection has globally proven to save 75% of the time taken to inspect any building or apartment. Geo-locations can use simple maps and convert it into critical real estate and property information. It uses predictive analytic technologies to find out location of the buyers. Companies like 'GeothinQ' visualize county maps, topography, soils, flood zone maps and property data to analyze the value of the property thus helping the buyers in mitigating related risks. PropTech is expected to improve tenant and resident experiences, improve response time, and remove friction caused in between various stakeholders in the picture. PropTech is here to stay for good!
For More Information on the Ken research report, refer to below link:
Related Reports by Ken Research:-
Saudi Arabia Real Estate Market Outlook to 2025 – By Retail Real Estate Market (Super-Regional Malls, Regional Malls and Community Centre), By Hotel Real Estate Market (3 Star, 4 Star, 5 Star and Other Hotels), By Office Real Estate (Premium Offices Type A and Type B) and Residential Real Estate Market (Apartment, Villas, Traditional Houses and Others)
Australia Real Estate Market Outlook To 2023 – By Residential (Apartment & Villas), By Retail (Regional, Sub-Regional, Neighborhood, CBD, Large Format Retail And Others), By Office (Type A, Type B And Premium Offices) And By Hotel (3 Star, 4 Star, 5 Star And Other Hotels)
Singapore Real Estate Market Outlook to 2023 – By Residential Market (New Sales, Re-Sales and Sub-Sales), By Retail Market (Private and Public Retail Space), By Office Market (Private and Public Office Space) and By Hotel Market (Gazetted and Non-Gazetted Hotels)
Contact Us:-
Ken Research
Ankur Gupta, Head Marketing & Communications
Ankur@kenresearch.com
+91-9015378249
By Namit Goel
Namit Goel is CFA Charterholder and is Director Research at Ken Research. An Avid reader and expert on Real estate consultancy and Financial services domain, Namit advises global businesses and organizations on strategy development and revenue impact stories in the space.