Few Diverse Global Players Dominate the Market Holding ~45% of Revenue Share Despite the Presence of about ~150 competitors comprising a Large Number of Country-Niche Players and Regional Players, finds a recent market study on Global Food Deaerators Market by Ken Research.
Deaerators are used in a variety of sectors where steam is produced from boiler-feed water using a boiler. Deaerators aim to remove dissolved oxygen and unwelcome dissolved gases from boiler feed water before it enters boilers. Food deaerators are used to release trapped gases from liquids, including oxygen. Food deaerators are adept at releasing trapped gaseous air from liquids by spreading the liquid in a thin film on a rotating disc while under a strong vacuum. Many beverage products, including dairy goods, fruit drinks, and alcoholic beverages, require food deaerators.
Ken Research shares 3 key insights on the competitive landscape of this dynamic market from its latest research study.
Global Players Who Comprise ~10% in Terms of the Number of Competitors Hold the Dominant Revenue Share of ~45%
Competitive Analysis by the Ken Research Study found that the Global Food Deaerators Market is highly competitive with ~150 players which include globally diversified players, regional players as well as a large number of country-niche players having their niche in the Food Deaerators. The country-niche players comprise just about ~55% in terms of the number of companies, followed by regional players accounting for ~35% in terms of the number of companies. Most of the country-niche players are raw material suppliers. Some of these who successfully evolve to create Food Deaerators products often get acquired by large global players seeking to grow and diversify quickly.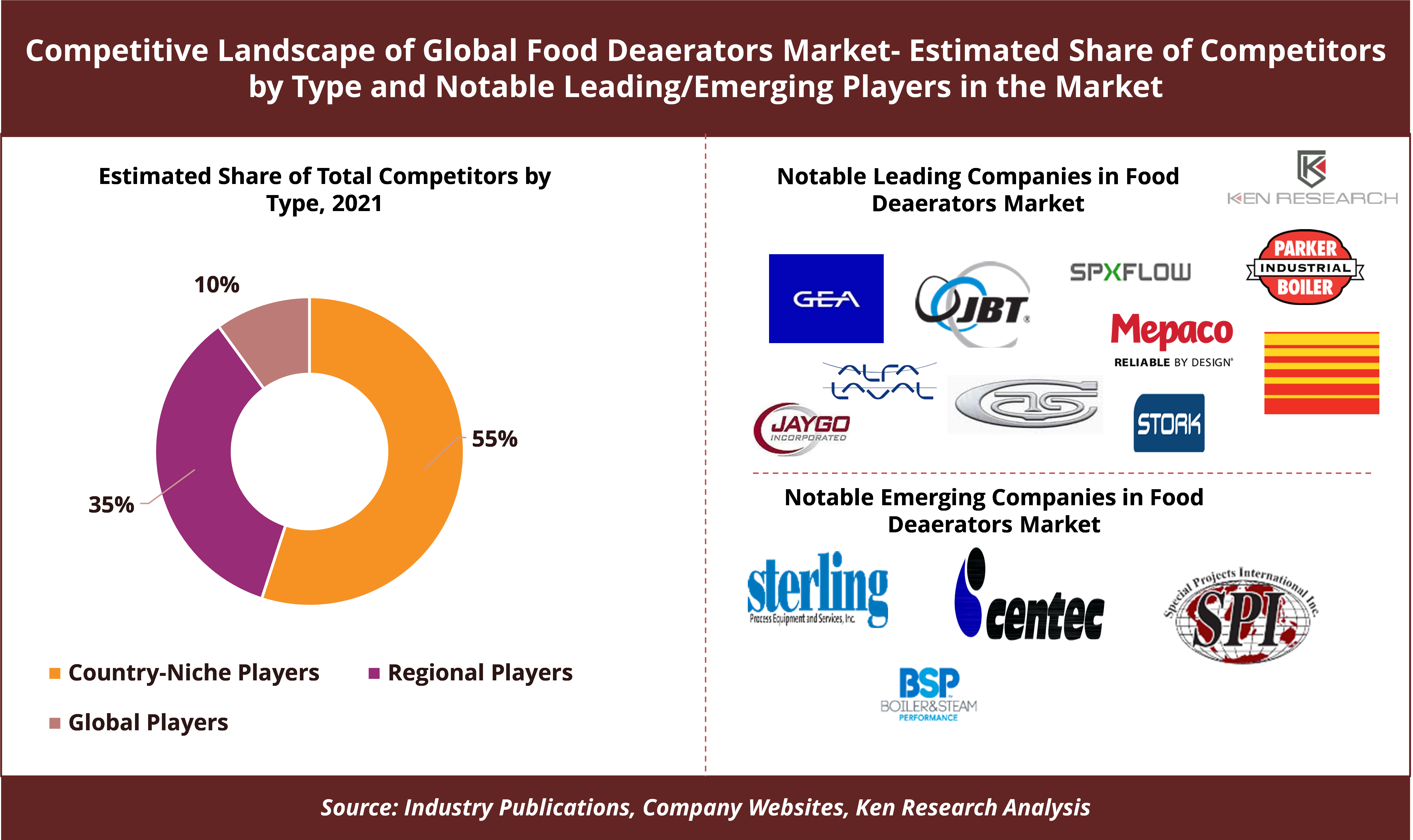 Request For Sample Report @
https://www.kenresearch.com/sample-report.php?Frmdetails=NTk2MTIx
Leading Specialist Global Players' Ongoing Efforts To Provide Food Deaerators To a Variety of Industries Drive the Growth of the Market
Detailed comparative analysis of key competitors available within the Research Study shows that specialist companies, such as GEA Group, JBT., SPX Flow, Parker Boiler, Alfa Laval, The Cornell Machine Company, Mepaco, Stork, The Fulton Companies, Jaygo Incorporated, others are the major companies operating in Global Food Deaerators Market.
In January 2018, GEA finalized the acquisition of Vipoll, a Slovenian producer of filling solutions.
In January 2017, SPX FLOW expanded its production capacity by creating a new industrial facility in Europe. The business of the corporation was able to grow in the area because of this development.
Government And Manufacturing Initiatives to Aid in the Expansion of the Global Market for Food Deaerators Market
In July 2020, to provide a process solution for one of its factories in India, Alfa Laval entered into an arrangement with Alfa-Laval AB (India). As a result, the business was able to provide its services throughout all of the Asia Pacific nations.
In November 2020, Tipper Tie, Inc. (US) was acquired by JBT Corporation for USD 160 million. As a result, the business was able to grow its food processing division.
For More Information, Click on the Link –
Challenges in Growth of Food Deaerators Market
Read Also –
3 Key Insights on US$ 400 Mn Opportunity in the Global Food Deaerators Market
Follow Us –
LinkedIn | Instagram | Facebook | Twitter | YouTube
Contact Us: –
Ken Research
Ankur Gupta, Head Marketing & Communications
+91-9015378249