Despite the Presence of about ~500 Competitors Comprising a Large Number of Country-Niche Players, Regional Players and, Global Players, finds a recent market study on Global Immunoassays Market by Ken Research
Immunoassays are bioanalytical techniques that detect and quantify analytes in biological samples, such as urine, blood, saliva, tissues, and cells by utilizing the precision of an antigen-antibody reaction. Clinical diagnostics, drug discovery, drug monitoring, and food testing are all common applications for such techniques – "Ken Research shares 3 key insights on the competitive landscape of this dynamic market from its latest research study"
Global Players that Constitute ~5% of Total Number of Competitors Hold Largest Revenue Share, While Regional Companies Hold ~20% Share in Terms of the Total Number of Players in the Market.
A comprehensive competitive analysis conducted during The Research Study found that the Global Immunoassay market is highly competitive with ~500 players, including globally diversified players, regional players, and a large number of country-niche players with their niche in advancement in medical technology for multiple end-user industries. The majority of the top global biopharmaceutical companies, including Abbott Laboratories, F. Hoffmann-La Roche, Siemens Healthineers, Thermo Fisher Scientific, and Danaher Corporation, maintained their leading positions in the forecasted period. The majority of players are actively focusing on advancements in immunoassays technology or methods, including:
The development of multiplexed immunoassays (MIAs) to perform various distinct assays in a single tube using the same sample during the same time.

Automation advancements for homogeneous systems/homogeneous enzyme immunoassays to high output and high-performance heterogeneous systems/heterogeneous enzyme immunoassays.
Some of these successfully morph to advance pharmaceutical analytical methods such as disease diagnosis, therapeutic drug monitoring, and bioanalytical/biochemical methods to identify the concentration of a particular chemical, enabling them to grow.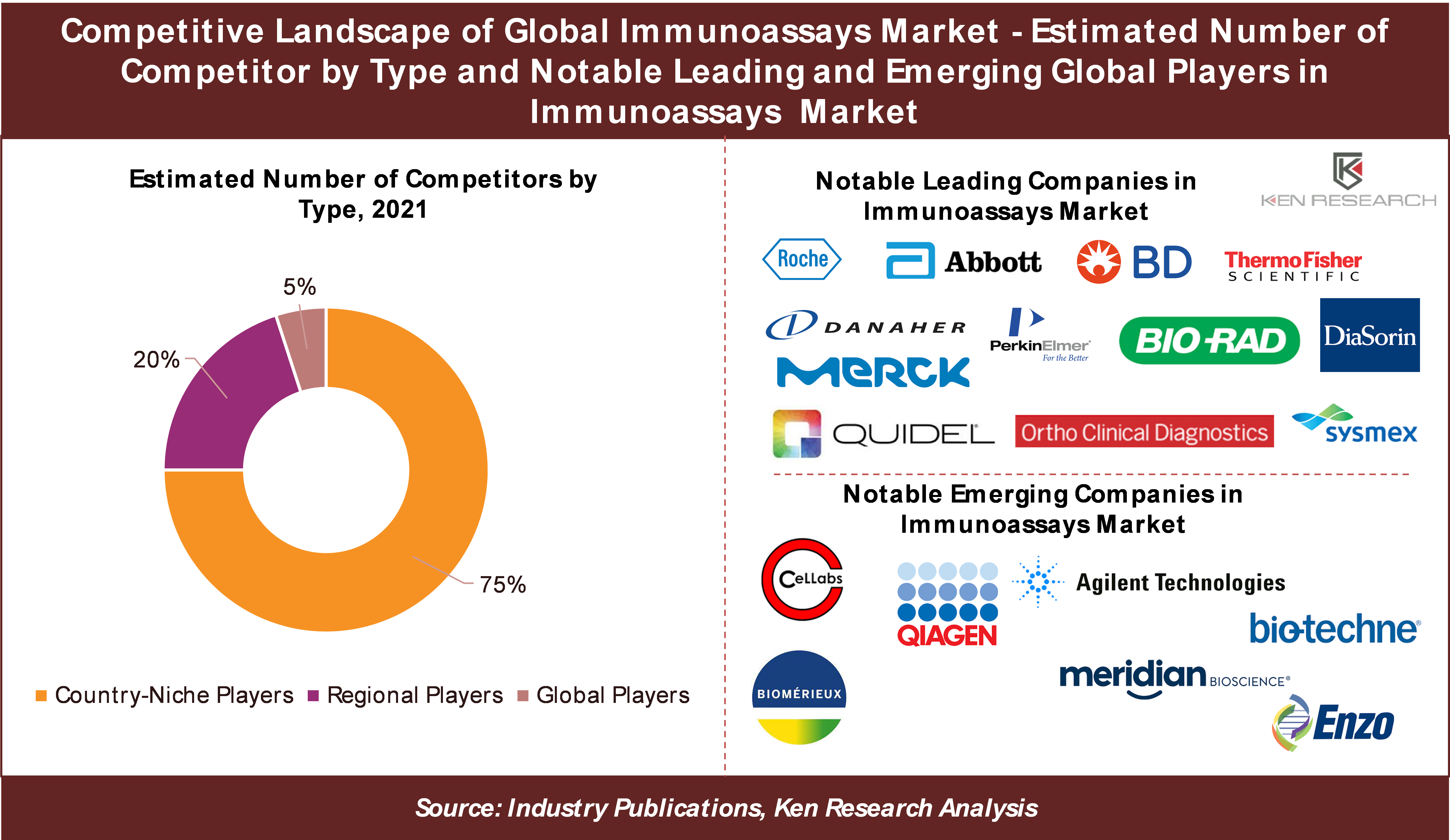 Leading Global Players' Ongoing Efforts to Provide Pharmaceutical Analytical and Bioanalytical Solutions to End-User Industries, Particularly Following the Global Outbreak of the COVID-19 Pandemic, Are Driving Revenue Growth in This Market.
Detailed comparative analysis of key competitors available within The Research Study– shows that numerous biotechnology, and pharmaceuticals companies such as Radiometer, Diasorin, Bio-Rad laboratories, and more are highly focused on providing a significant number of healthcare solutions and advanced techniques that can be used across end-user industries to help better understand processes of viral, bacterial, or parasitic infection and how the immune system is sometimes interfered with. Furthermore, numerous companies and organizations are aggressively investing in advanced computation, data analytics, and increased R&D activities.
In May 2022, Radiometer, a Danish company that develops, manufactures, and markets solutions for blood sampling, blood gas analysis, endovascular monitoring, immunoassay testing, and related IT monitoring systems, announced that it will expand production and R&D capabilities at its current Turku facility, while also widening its global immunoassay business.

In April 2021, DiaSorin, an Italian biotechnology company, announced its partnership with Lumos Diagnostics, an Australian provider of rapid point-of-care diagnostics solutions, to launch the LIAISON IQ, a portable and cloud-connected immunoassay POC reader, along with a test to detect specific IgG antibodies against SARS-CoV-2 Spike human protein blood capillaries from a throat swab.

In September 2021, Bio-Rad Laboratories Inc., a U.S.-based research company devoted to biotechnology research, announced the introduction of the Bio-Plex Pro Human IgA and IgM SARS-CoV-2 immunoassay panels to identify IgA and IgM antibodies against four SARS-CoV-2 antigens.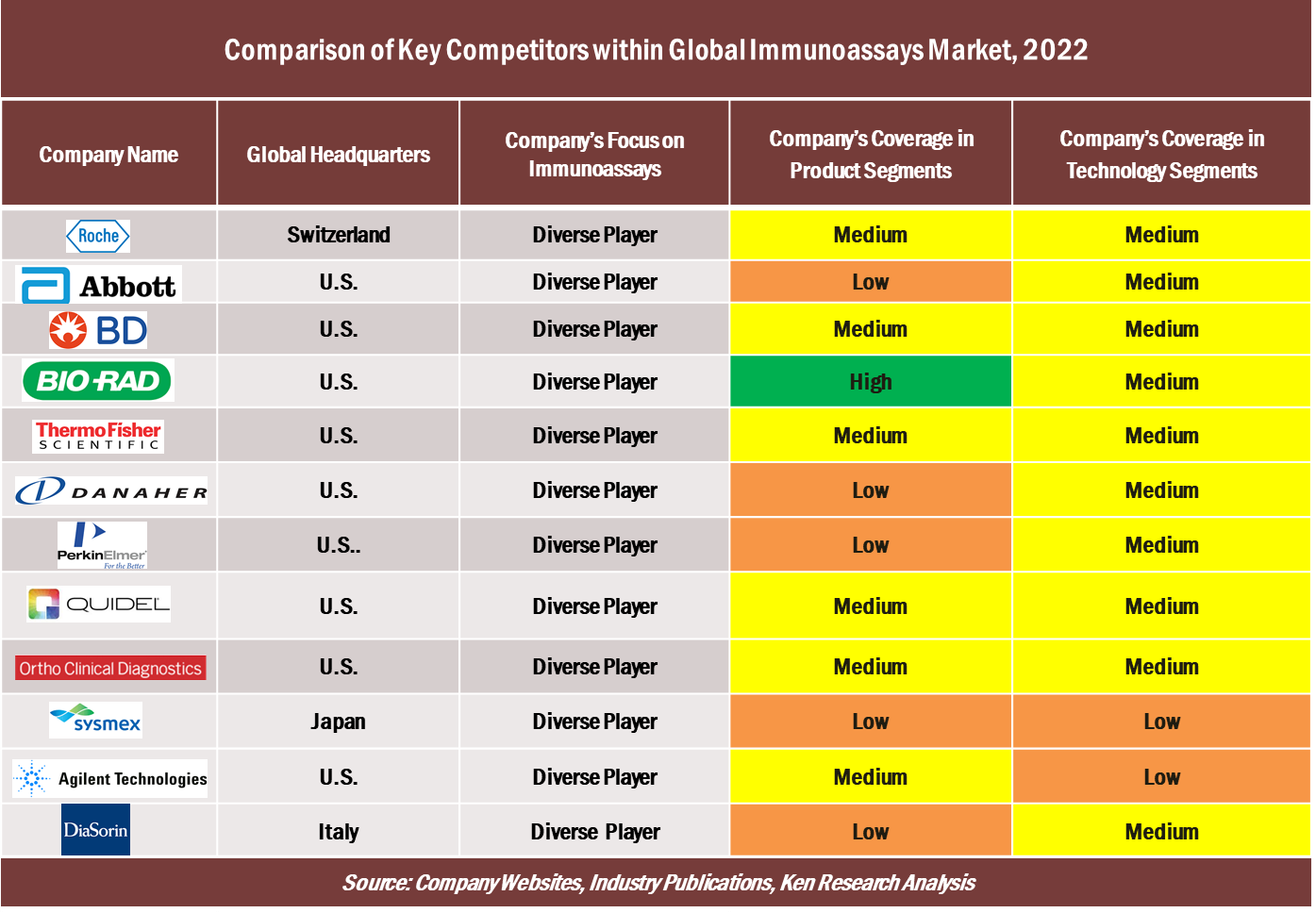 The Ongoing COVID-19 has noticeably accelerated antibody testing worldwide, owing to the development and bioprocessing of COVID-19 vaccines and biotherapeutics.
The advent of the COVID-19 pandemic has accelerated the efforts to develop diagnostic tests to assess infectious diseases/viral infections and antibody responses, as well as vaccines and therapeutic applications. Consequently, the availability of laboratory assays that detect Covid-19 antibodies in human serum samples was essential for comprehending Covid-19 immune responses, assessing the virus's effect on an individual's health, and assisting in the development of effective vaccines and therapeutics.
The global need for company and governmental sponsors to discover a suitable vaccine or therapeutic for Covid-19 has increased dramatically as the pandemic entered its extreme phase in 2020. Most international research authorities had also adopted an expedited operation or accelerated approval for COVID-19-related testing/antibody testing worldwide to ensure that they are treated as a priority. Furthermore, the ongoing COVID-19 pandemic has boosted the demand for infectious detection methods with low concentration levels and quick results. Despite significant advancements in methodologies and devices, immunochemical methods remain preferential for mass testing in the absence of specialized laboratories and highly qualified professionals. Microplate enzyme-linked immunosorbent assay (ELISA) with photometric detection and lateral flow immunoassay (LFIA) with visual results assessment are the two most commonly used immunoassays.
Increasing Government Initiatives, Strategies, and Investments in Pharmaceutical, and Biotech R&D, Notably Supporting Antibody Detection is Propelling the Immunoassays Market Growth.
Prior to the Covid-19 pandemic, government-led investment and involvement in life sciences were relatively limited worldwide, with the industry relying primarily on private funding. The pandemic led governments to concede that the structure needed to be changed. Since 2020, several governments across countries have raised funds for expensive premature vaccine development and production capacity expansion, as well as other critical pharmaceutical activities.
In September 2021, the U.S. Government (USG) empanelled a team of foremost virologists, immunologists, statisticians, and clinical trialists to identify the scientific and programmatic goals, and implement stringent testing, and sampling procedures.
In June 2021, Ubio Biotechnology Systems Pvt. Ltd., an Indian biotechnology company, developed the Industry Research Assistance Council (BIRAC) supported product 'SENSIT Rapid COVID-19 Ag kit' underneath the aegis of the COVID-19 Research Consortium for the rapid screening of SARS CoV-2 Nucleocapsid Protein with an assay time of 15 minutes.
In addition, nasopharyngeal swabs are used to collect samples from the suspected individual. This Indian Council of Medical Research (ICMR)-approved kit is a chromatographic immunoassay that allows healthcare personnel to read the test result optically.
For more information on the research report, refer to the below link:
Rapid Chromatographic Immunoassay Test Market: Ken Research
Follow Us
LinkedIn | Facebook | Twitter | YouTube
Contact Us: –
Ken Research
Ankur Gupta, Head Marketing & Communications
+91-9015378249