Global Players Dominate the Market Holding ~45% Share, Despite the Presence of about ~500 Competitors Comprising a Number of Country-Niche Players, Regional Players, and, Global Players, finds a recent market study on the Global Vegan Cosmetics Market by Ken Research.
Vegan cosmetics are made from plant-based ingredients and do not contain animal-derived ingredients such as beeswax, milk, gelatin, or collagen. They are primarily high in vitamins, which help to naturally plump out the skin and provide the nutrients required for cell regeneration. In addition, the antioxidants found, such as aloevera, tea tree, and camomile in plants are transferred to the skin, and the natural anti-inflammatory effects of such antioxidants reduce redness and irritation.
"Ken Research shares 3 key insights on the competitive landscape of this dynamic market from its latest research study"
Country-Niche Players Comprise ~65% of the Total Number of Competitors, While Regional Players Represent ~30% Share in Terms of the Total Number of Players in the Market.
A comprehensive competitive analysis conducted during the Research Study found that the Global Vegan Cosmetics market is highly competitive with ~500 players, including globally diversified players, regional players, and a large number of country-niche players with their niche in adopting advanced technology, such as fermentation technology to enhance the texture, and appearance of products. The majority of global players are utilizing green sciences to create biotechnological formulas and circular product packaging to meet the rising consumer demand for environmentally sustainable and natural products. For instance, in March 2021, L'Oreal adopts a 'Green Sciences' approach to its operations and commits to transforming its Research & Innovation. Additionally, the company also stated that by 2030, 95% of its ingredients will be derived from renewable plant sources, abundant minerals, or circular processes.
Country-Niche Players' and Organization's Ongoing Efforts to New technological Developments are Prompting the Growth the of Cosmetics Industry.
Detailed comparative analysis of key competitors available within the Research Study shows that numerous vegan cosmetics company, such as Biossance, Iba Cosmetics, Daughter Earth, Asa beauty, Arata, and more are highly focused on expanding their vegan offerings with new and innovative formulations for face, hair, and body. Furthermore, numerous companies and organizations are aggressively investing in smart skin analysis solutions, cosmetics nanotechnology, blockchain beauty, and 3D Printing.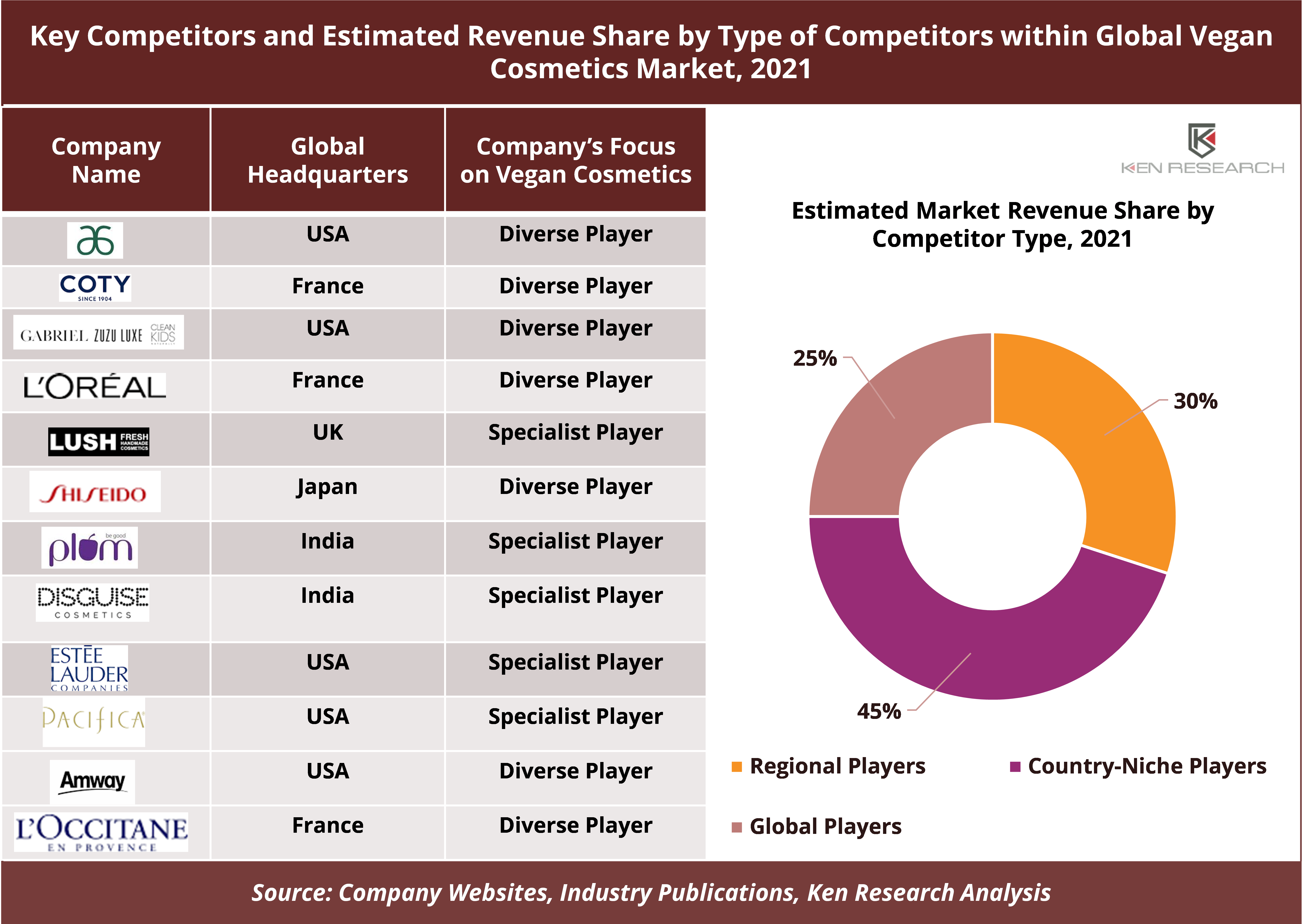 Request For Sample Report @
https://www.kenresearch.com/sample-report.php?Frmdetails=NTk2MTEz
In October 2022, Biossance debuted online with Sephora, a French retail company, for the UK market. In addition, Biossance will be available at the flagship brick-and-mortar store in London, which will open in March 2023.
In April 2022, Arata launched a product line of hair care products, particularly for curly hairs in Asian countries. In addition, the ingredients in the hair care products primarily include shea butter, murumuru butter, fenugreek oil, and grape seed oil.
Increasing Government Initiatives, and Strategies Aimed at Prohibiting Chemical Testing for Cosmetics are supporting the Growth of Vegan Cosmetics.
Previously, government-led investment and involvement in cosmetic industry operations were relatively limited worldwide, with the industry relying primarily on private funding. However, in recent years governments conceded that the structure needed to be changed. Several governments across countries have begun to support cruelty-free and natural consumer products by enacting legislation that prohibits cosmetics animal testing.
In February 2022, 8 U.S. states, including California, Hawaii, Illinois, Maine, Maryland, Nevada, New Jersey and Virginia passed legislation prohibiting cosmetics animal testing. Additionally, 42 countries, including European Union, Australia, Colombia, Guatemala, Iceland, India, Israel, Mexico, New Zealand, Norway, South Korea, Switzerland, Taiwan, Turkey, the United Kingdom and several states in Brazil, also enacted laws limiting or prohibiting animal testing in cosmetics.
In July 2020, the Australian government initiate ban cosmetics animal testing to protect public health, worker safety, and the environment while having the least impact on business.
For more information on the research report, refer to the below link:
Asia-Pacific Vegan Cosmetics Market
Read Also –
3 Key Insights on Nearly $7 Bn Opportunity in the Global Agricultural Pumps Market
Follow Us –
LinkedIn | Instagram | Facebook | Twitter | YouTube
Contact Us: –
Ken Research
Ankur Gupta, Head Marketing & Communications
+91-9015378249