The report titled "Australia Hotel Mattress Market Outlook to 2025 – Hotel Supply Pipeline, New Bedding Technologies and Faster Hotel Refurbishments to Increase Hotel Bedding Spend in Future" provides a comprehensive analysis on the status of hotel bedding in Australia. The report covers various aspects including the importance of the sleep business, current scenario of the Australian accommodation industry, mattress needs by hotel cadres, bedding manufacturers ecosystem, hotels and resort hotspots in Australia, the current market size of the hotel mattress industry in Australia, hotel mattress procurement trends, market share by bed size, material type, comfort level, mattress pricing analysis, complementary hotel bedding products, type of comfort layers used in hotel mattresses, mattress recycling, branding of beds by hotels, mattress case studies, bottlenecks faced by hotel procurement teams, competitive landscape and interview with AH Beard's Group Commercial Manager. The report concludes with market projections for future of the industry including forecasted industry size by value and volume and upcoming hotel projects and locations to target, market case studies along with recommended market penetration strategies for a new entrant.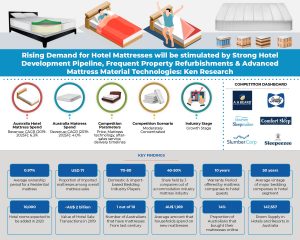 Australia Hotel Mattress Market Overview and Size:
While the retail segment of the mattress industry was experiencing slow growth over the period, the hotel segment of the industry experienced strong growth, backed by a vibrant hotel development pipeline. Strong growth was also supplemented by a slew of new mattress material technologies such as memory foam, latex, gel infused foam, gel infused memory foam and hybrid materials. Moreover, the frequency within which hotels change their mattresses has been declining as they are paying more attention to guest comfort and are looking to change their bedding on a quicker basis, to stay in touch with the industry bedding trends as well.
Australia Hotel Mattress Market Segmentation
By Mattress Size (King and Super King, Queen, Double and Single): King and Super King size mattresses were seen to dominate hotel bedding market in Australia with majorly luxury and 5-star hotel brands going for the upper-most size of bedding as a tool to pitch across a comfortable sleeping experience to their guests.
By Mattress Comfort Level (Medium, Plush and Firm): Hotels most prevalently bought a medium comfort level mattress for their beds in order to achieve a middle ground in the softness level of the bed. They don't want to be at the other end of the spectrum when their guest demands an entirely firm or a plush bed, hence they generally go for a medium comfort level mattress By Mattress Support System (Spring, Foam, Latex and Hybrid): Hotels majorly went for a spring base mattress as guests did not want that sinking feeling in their bed. Hotels commonly went for a Pocket spring support system in their mattress accompanied with 2-3 comfort layers made up of memory foam/latex/gel infused foam.
Hotel Mattress Procurement Trends- End User Perspective
Hotels were generally found to procure mattresses directly from manufacturers and not through retailers such as Harvey Norman and David Jones, due to the inherent customization ability of the manufacturer. Moreover, they were identified to change their mattresses in a span of 7-8 years. Complementary bedding products such as toppers and bed bases were also largely demanded by hotels, apart from mattresses. Delivery time and after-sales service were identified as prime considerations for a hotel in the process of vendor selection. The option of directly selling bedding products to guests and consumers was majorly extended by luxury and premium hotels which had branded and signature bedding products as a part of their guest offering.
Competitive Landscape of Major Players Operating in the Australia Hotel Mattress Market
Competition stage within the Australia Hotel Mattress Market was observed to be highly concentrated with 4-5 major players such as AH Beard, Sealy and SleepMaker among others dominating the commercial segment in 2018-2019. Major players in the industry were identified to be home-grown companies and were pitching across domestically manufactured bedding products since 50+ years in the country. They were found to be competing on the basis of delivery timelines, price, after-sales service, national presence, mattress quality offered and product customization ability and product variants offered.
Australia Hotel Mattress Market Future Outlook & Projections:
The market is expected to grow at a high rate in future, with a strong hotel investment pipeline fuelling new demand for hotel mattresses. Additionally, repeat demand will be set forth from frequent refurbishments and rebranding of hotel properties in the country, as hotels look to enhance guest comfort and provide their guests with a good night's sleep. The recent surge of boutique and independent hotel brands and properties in Queensland, New South Wales and Tasmania is set to spearhead demand for luxury and premium bedding products going forward.
Key Segments Covered
By Mattress Size
King and Super King
Queen
Double Single
By Mattress Comfort Level
Medium
Firm
Plush
By Mattress Support System
Spring
Foam
Latex
Hybrid
Key Target Audience
Mattress Manufacturing Companies
Raw Material Manufacturing Companies
Hotels
Tourism Associations
Accommodation Industry Associations
Time Period Captured in the Report:
Historical Period: 2014-2019
Forecast Period: 2019-2025
Companies Covered in Report:
AH Beard
Sealy
SleepMaker (The Comfort Group)
Comfort Sleep Bedding
Sleepeezee
Slumbercorp
Other Commercial Bedding Mattress Companies
Key Topics Covered in the Report
Major Upcoming Hotel Projects in Australia
Hotel Mattress Procurement Trends- End User Perspective
Mattress Need Differing by Hotel Cadres
Mattress Pricing Analysis
Product Landscape of Major Bedding Industry Players
Complimentary Bedding Products Analysis
Comfort Layer Tech Used in Hotel Mattresses Why Luxury Hotels Create a Signature Bedding Brand?
AH Beard's Commercial Manager's Take on the Hotel Mattress Industry in Australia
Recommended Market Penetration Strategies
Australia Hotel Mattress Industry Future Outlook to 2025
For More Information, refer to below link:-
Australia Hotel Mattress Market
Related Reports
Australia Mattress Market Outlook to 2023 – By Size (King, Queen, Double, Single), By Type (Spring – Pocket and Inner Spring, Foam & Latex and Others), By Distribution Channel (Retail and Direct), By Price (Mass, Economy and Premium), By Organized and Unorganized Segment
Thailand Mattress Market Outlook to 2023 – By Size (King Size, Queen Size, Twin Size and Single Size), By Type (Spring, Foam, Latex and Others), By Region (Bangkok, Central excluding Bangkok, North, North East, East and South), By Distribution Channel (Retail Sales and Direct Sales)
South Africa Mattress Market Outlook To 2023 – By Size of Mattress (King Size and Super King Size, Queen Size, Double Size and Single and Three Quarter), By Type of Mattress (Spring, Foam and Latex, and Others), By Region (Gauteng, Limpopo, Western Cape, Kwazulu Natal, Free State, Eastern Cape and Others), By Type of Distribution Channel (Retail and Direct Sales), and By Organized and Unorganized
Contact Us:
Ken Research
Ankur Gupta, Head Marketing & Communications
Ankur@kenresearch.com
+91-9015378249