Growth across Industries: Demand grew significantly across sectors such as Healthcare and Pharma, Education, Computer/Data Processing/IT Services and Finance/Banking/Investments which are finding new ways to boost efficiency through technologies that collect new data points and advance automation.
Tax incentives: Growth has recently been focused in places like Alabama, Illinois, Minnesota, Virginia, and other states that offer tax breaks including exemptions from the sales and property tax for investments of between $1 million and $200 million in the construction of data centers and the creation of employment.
Steady Investments in the Sector: To meet these growing data needs, more data centers are being constructed—ranging from Tier 1 facilities to Tier 4 which are typically hyper scale centers. Data-center efficiencies are also being improved through automation and robots, where a single administrator can manage thousands of servers.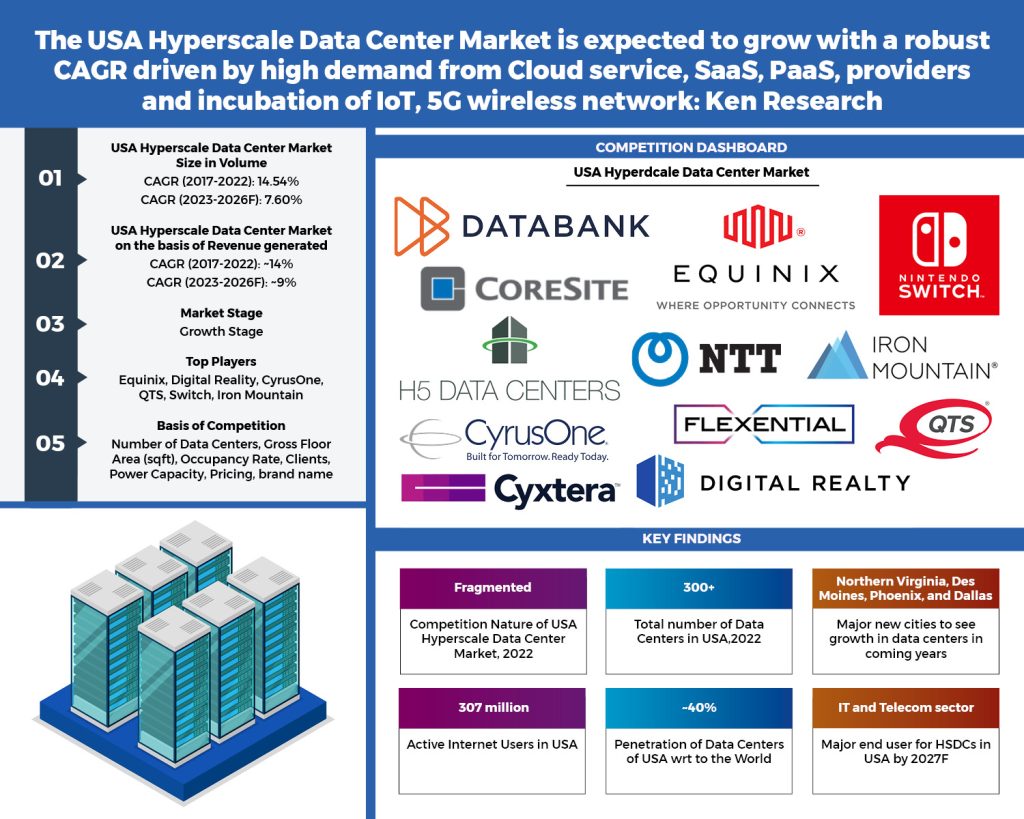 For more information, Request a Free Sample Report
Supply Chain Disruptions: From intermittent demand to the need for rapid technological innovation, many suppliers have serious difficulty addressing the needs of hyperscale. This, in turn, impacts manufacturing as they need to be able to fulfill orders where deadlines are often tight and fixed.
The Use of Cloud-Based Services: The use of cloud-based services by businesses of all sizes will increasingly become the norm. Whilst enterprise moves onto the cloud at a rapid pace, this is likely to be effected via a hybrid solution mixing cloud, colocation and on-premises solutions to deliver cost effective IT solutions.
The growth of Big Data and AI: Artificial Intelligence enabling speech recognition, decision-making and language translation have become demand driver for big data. Big Data coming from a number of sources that has bolstered the need to be stored, processed and analyzed to make informed business decisions in each and every industry.
The Internet of Things (IOT): IOT is the term used for systems of interrelated connected devices by internet-enabled devices. The growth in the use of such internet-enabled devices has led to a substantial increase in data usage
Analysts at Ken Research in their latest publication "USA Hyperscale Data Centers Markets – Driven by the growing adoption of remote work and surging demand of cloud computing solutions by Ken Research observed that Hyperscale Data Centers market is an emergent market in USA at a growing stage even during the pandemic as well. The rising of digitization and quality telecommunication services, along with the reducing Setup Cost, is expected to contribute to the market growth over the forecast period. The USA Hyper scale Data Centers Market is expected to see high growth rate over the forecasted period 2023-2027F.
Visit A link Request for Custom Report
Key Segments Covered
USA Hyperscale Data Center Market (Revenue, Number of Data Centers):
By Solutions Provided (by Revenue), 2022 & 2027:
Storage
Cooling
Network
Support and Maintenance
Interconnection
Others such as IT Equipment's, supporting infrastructure and more
By Region (by Revenue), 2022 & 2027:
Northern Virginia
Dallas
Silicon Valley
Chicago
Phoenix
NYC – NJ
Atlanta
Hillsboro
Austin
Washington
Seattle
Houston
Others such as Columbus and more
By End Users (by Revenue), 2022 & 2027:
IT and Telecom
BFSI
Healthcare
Entertainment & Media
Government and Defense
Retail & E-Commerce
Others such as Education, Airports and more
Key Target Audience
Data Centers Service Providers
Telecom Companies
Governments
Cloud Providers
Information Technology Companies
Telecommunication Service Providers
Enterprises
Time Period Captured in the Report:
Historical Period: 2017-2021
Base Year: 2022
Forecast Period: 2023– 2027F
Companies Covered:
Equinix
Digital Reality
CyrusOne
QTS
Switch
Iron Mountain
Cyxtera
NIT
Coresite
Flexential
Databank and more
Key Topics Covered in the Report:
USA Hyperscale Data Centers Overview
Internet Penetration in USA
Cross Comparison of Data Center Market in USA with Other Countries
Ecosystem of Hyperscale Data Center Industry in USA
Business Cycle of Hyperscale Data Center Market in USA
Construction of Hyperscale Data Centre
Features of Hyperscale Data Center Facilities
Data Center Trends Driving Digital Transformation
Market Segmentation of Hyperscale Data Center Industry in USA
Porter Five Forces Analysis: USA Hyperscale Data Center Market
Growth Drivers of USA Hyperscale Data Center Market
Mergers, Acquisitions and Key Investments in USA Hyperscale Data Center Market
Issues and Challenges in USA Hyperscale Data Center Market
Demand Analysis
Competitive Landscape
Future Market Size of Hyperscale Data Center Industry in USA
Future Market Segmentation
Analyst Recommendations
For more insights on the market intelligence, refer to the link below
USA Hyperscale Data Center Market
Related Reports By Ken Research:
Germany Hyperscale Data Center Market