Driven by surging demand for amino acids as an ingredient in various industries such as food & beverages, pharmaceutical, dietary supplements, animal feed, and others along with rising awareness regarding the health benefits of amino acids among consumers, the Global Amino Acids Market is Forecasted to reach nearly US$ 42 Bn by 2028 says Ken Research Study.
Amino acids are the building blocks of protein and play a vital role in the human body. They are categorized into essential, non-essential, and conditionally essential, based on different factors. They are widely used in various industries namely food & beverages, animal feed, dietary supplements, cosmetics, and others.
Ken Research shares 3 key insights on this high-opportunity market from its latest research study.
1. Growing Popularity of Amino Acids in Various Industries Encourage Market Growth
Amino acids are widely used to cure ailments such as premenstrual dysphoric disorder (PMDD), sleep difficulties, depression, attention deficit hyperactivity disorder (ADHD), phenylketonuria, chronic fatigue syndrome, narcolepsy, treat muscle soreness, sprain, and others.
Amino acids are gaining popularity to treat various illnesses, which is increasing their demand in different industries and thus, propelling the growth of the global amino acids market. The adoption of new biotechnological methods like genetic and metabolic engineering for the efficient production of high-value amino acids is expected to create immense opportunities for the growth of the amino acids market globally. However, stringent government regulations for products containing amino acids may impede the growth of the market.
According to Ken Research estimates, the Global Amino Acids Market – valued at around US$ 20 Bn in 2017 and estimated to reach nearly US$ 28 Bn by 2022 – is expected to grow to around US$ 42 Bn opportunity by 2028.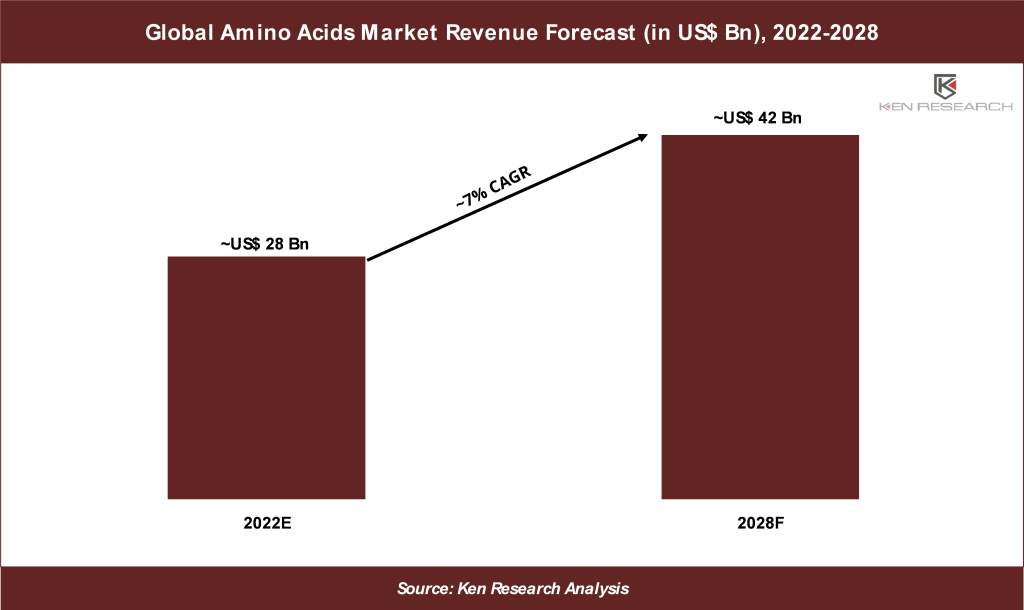 2. Surging Demand for Amino Acids in Animal Feed Formulation is Driving the Market Growth
The growing demand for amino acids among animal feed manufacturers to promote reproduction, growth performance, fulfill the protein requirement in animals, and others are expected to bolster the growth of the global amino acids market. The deficiency in any amino acids will result in the slow growth of animals, delay in maturity, reduced immune or metabolic response, low body weight, health problems, and others.
Request for Sample Report @ https://www.kenresearch.com/sample-report.php?Frmdetails=NTk2MDQz
Thus, amino acids are gaining importance in the formulation of animal feed. In addition, the increasing consumption and demand for meat products coupled with growing livestock production are ultimately boosting the demand for amino acids in the animal feed industry.
The below graph depicts the increased production of meat globally.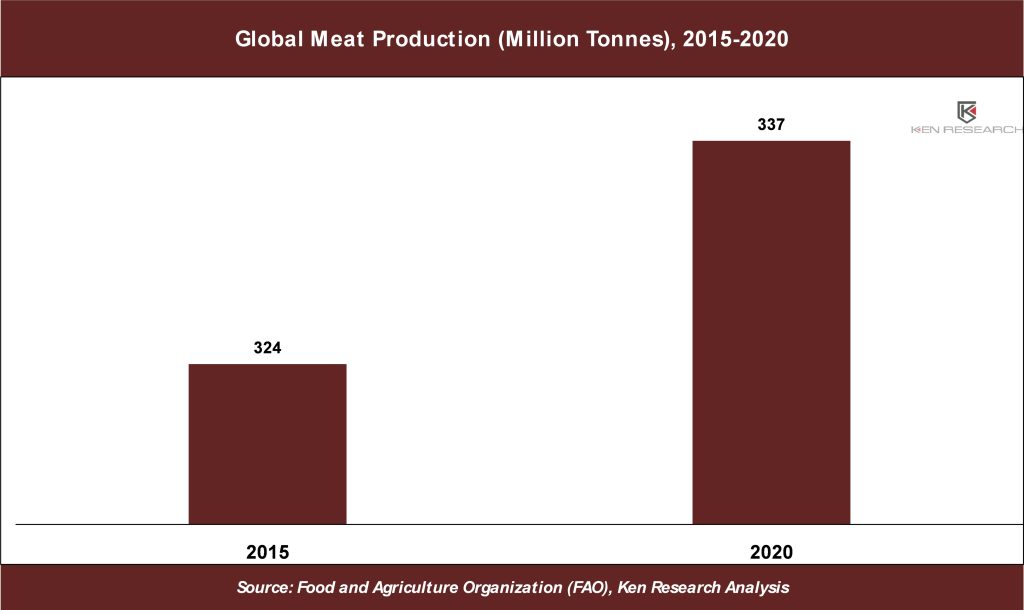 3. Stringent Government Regulations Over Products Containing Amino Acids is the Most Significant Barrier to the Growth of the Market.
Governmental bodies lay down stringent regulations on products containing amino acids as an ingredient to ensure the safe nutritional value of the product, which may hamper the growth of the Global Amino Acids Market. Amino acids affect the physical and mental performance of the living being due to which their use in food & beverage products, dietary supplements, pharmaceuticals, and others is regulated for risk assessment. In addition, governmental bodies have also set standards on purity, ingredient quality, and capacity for each industry to avoid any health-related complications.
European Union laid down the REACH regulations that state that the amino acids that are not used in food or medical preparation must comply with REACH requirements. The requirements are based on enabling data sharing to reduce research and regulatory cost and on the tonnage of substance.
The below graph depicts the estimated greenhouse gas emission to produce 13g of essential amino acids from the raw materials.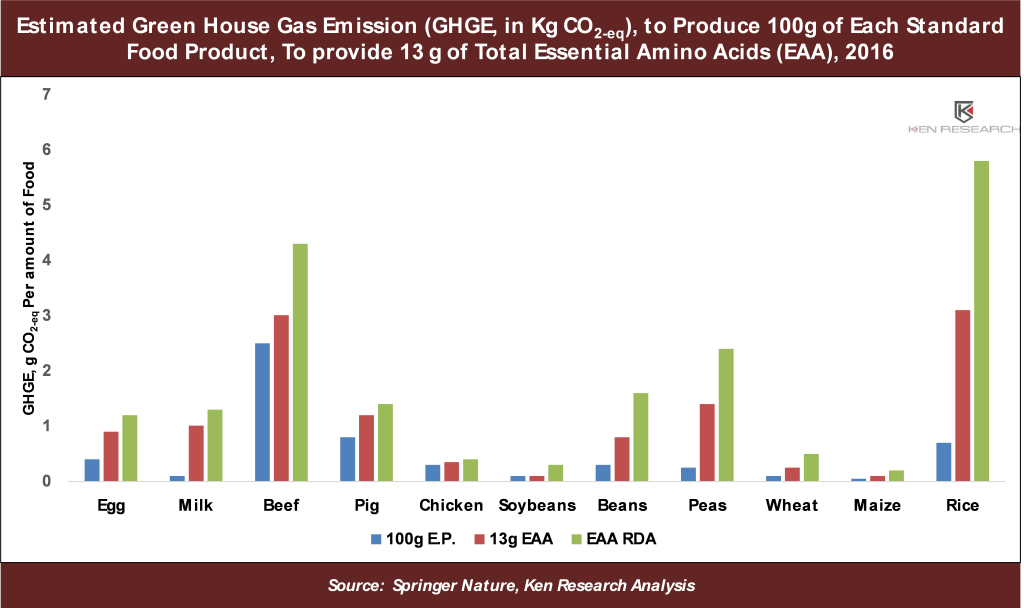 For more information on the research report, refer to the below link:
Global Amino Acids Market Size, Segments, Outlook, and Revenue Forecast 2022-2028: Ken Research
Follow Us
LinkedIn | Facebook | Twitter | YouTube
Contact Us: –
Ken Research
Ankur Gupta, Head Marketing & Communications
+91-9015378249