Malaysia Online Insurance Industry Overview:
Increasing Internet and Smartphone penetration, low infrastructural cost and covid-19 pandemic have collectively influenced the demand of Online Insurance users in the country. Players in Insurance industry are aiming to provide online services to cater the untapped and under exploited market.
Medical inflation is increasing at more than 10% since 2015, leading to increasing demand for health insurance providers. Covid-19 also plunged the demand and penetration in the health insurance segment with double digit CAGR seen from 2019 to 2020, the highest increase in over the past 5 years. Malaysia's life insurance industry underwent digitization because of the COVID-19 epidemic. The restrictive measures imposed in Malaysia provided an opportunity for insurers to switch to a digital mode of operations.
Motor Vehicle registration is growing at a constant rate, with more than 50 products launched in the market in 2019. This has increased the need for motor vehicle insurance providers in Malaysia.
Travel Insurance constitutes very high proportion in the online insurance segment, with Most of the travel insurance are sold online along with the travel packages or bookings. Online travel agencies tie up with companies to provide insurance for their users. Huge investment are made in insurtech companies with technological advancement in the form of automation and personalization, dominated the insurance landscape.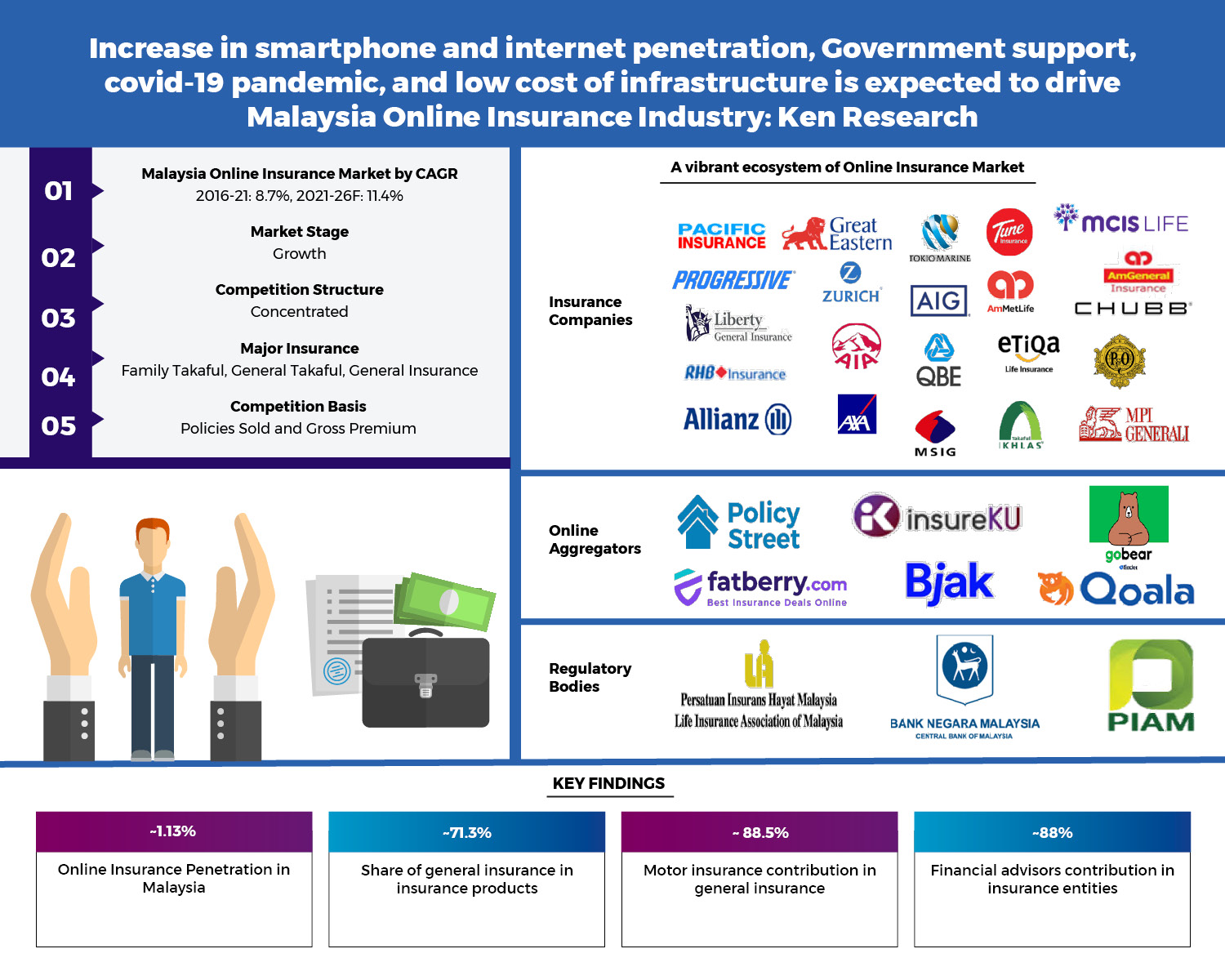 Increasing mobile penetration gave high upside potential to the online insurance market with Malaysia having 89% internet users in 2020, and growing at a CAGR of 5% since 2016 showing opportunity for business to divest in online insurance segment. Multiple marketing and business strategies are implemented involving cutting insurance time from 14 days to 1 hour, thus reducing waiting time for the buyers.
The report titled "Malaysia Online Insurance Market Outlook to 2026F: Driven by a growth in demand for insurance at greater convenience and lesser cost in the country" by Ken Research suggested that the Malaysia Online Insurance market is expected to grow significantly owing to increasing government support and covid-19 pandemic. Covid-19 drive the growth of Insurance Industry with the increase in online users and people's preference towards avoiding physical contact and substantial increase in the health demand for the users. Instead of a one-size fits-all approach, insurer's offers personalized or customized insurance products through the digital insurance process, in order to satisfy the needs of all types of clients. Online sales of insurance has removed the intermediary between the firm and the policyholder. This cuts down cost for both the insured as well as the insurer. The convenience and ease of use offered due to shifting of the industry online makes it a preferred choice for people looking to purchase insurance currently. The experience of being able to purchase insurance from the comfort of one's own home drives them towards online insurance.
Key Segments Covered in Malaysia Online Insurance Industry
Malaysia Online Insurance Market
By Product type of Insurance basis Gross Premium
Life Insurance
Family Takaful
General Takaful
General Insurance
By Product type of General Insurance basis Gross Premium
Motor Insuranc
Medical & Health
Employer's liability
Personal accident
By Type of Entity basis Gross Premium
Captive Players
Aggregator Players
Financial Advisors
By Region basis Gross Premium
Penang
Johar
Klang Valley & Selangor
Request For Free Sample Report @ https://www.kenresearch.com/sample-report.php?Frmdetails=NTk2MDQ4
Key Target Audience
Insurance players
Online Insurance Captive players
Online Insurance Aggregators players
Insurance Technology provider
Insurance users
New Entrant in Online Insurance space
Associated or affiliated Banks with Insurance entities
Regulatory Bodies for Insurance entities
Time Period Captured in the Report:
Historical Period: 2016-2021
Forecast Period: 2022-2026
Emerging Companies in Malaysia Online Insurance Sector
Companies Covered:
Online Insurane Aggregators
Online Insurance Captive Players
Liberty Insurance
Axa Affin Insurance
eTiQa Insurance
AIA Malaysia
Takaful Ikhlas
Tune Insurance
Zurich Insurance
Chubb Insurance
Allanz Malaysia Berhad
FWD Takaful
Key Topics Covered in the Report
Overview of Malaysia Online Insurance Industry
Country Overview of Malaysia Online Insurance Industry
Malaysia Online Insurance Market Overview and Genesis
Malaysia Online Insurance Market Segmentations
Industry Analysis of Malaysia Online Insurance Market
Snapshot on Online Aggregators in Malaysia
Competition Analysis of Malaysia Online Insurance Market
Outlook and Future Projections for Malaysia Online Insurance Market
Research Methodology
Related Reports
Indonesia Online Loan And Insurance Industry Outlook To 2024 : Compelling Incumbents To Pursue Growth Via Product Development & International Expansion
UAE Online Insurance Industry Outlook To 2024 – Driven By Customer Uptake, Ease For New And Renewal Policy Convenience With Insurance Aggregators
India Web Insurance Aggregator Outlook To 2024 – Challenging Incumbent Distribution Channels Of Insurance Products
Contact Us:-
Ken Research
Ankur Gupta, Head Marketing & Communications
+91-9015378249