As per study, "Global Frankincense Oil Market Status (2015-2019) and Forecast (2020-2024) by Region, Product Type & End-Use" some of the key companies working in the global frankincense oil market areAsian Group, Harry Baba, Cn Lab Canada, Kanta Enterprises Private Limited, Herblink Biotech Corporation, Karmotech, Koprulu Makina Hirdavat Insaat Tarim Gida Biyo Enerji Kimya Sanayi Ve Ticaret Limited Sirketi, Katyani Exports,Organic Herb Inc., Ngai Tin Enterprise – Chelsea, BO International, Praveen Aroma Pvt Ltd, Xian Fengzu Biotechnology Co., Ltd., Zen Supplements Ltd, Ambe Phytoextracts Private Limited, AVA Plant Co., Ltd., Shaanxi Orient Industrial Co., Ltd., Zhong Tang (Dalian) Materials Co., Ltd.,Lala Jagdish Prasad & Co., Nuvaria Ingredients, Aromaaz International, Ecuadorian Rainforest, LLC.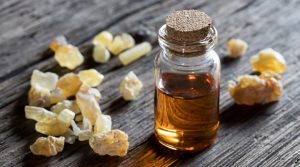 Frankincense is an oleogum-resin, also called olibanum. It is attained from the dried & distilled resin of the Frankincense tree. Its main components are incensole, octyl acetate, octanol, incensole acetate, alpha-pinene, and alpha-thujen. Its potent aroma can be defined as earthy, woody, and spicy with a fruity nuance. It contains several properties that stimulate the immune system, reduce feelings of anxiety, and diminish signs of aging, among other demonstrated activities. It is also used as an ingredient in incense, perfume and skin care products. In aromatherapy, the oil is typically used for such conditions like Indigestion, Anxiety, cough, cold and ulcers. It is also used to alleviate stress & relieve pain.
Based on type, frankincense oil market is segmented into synthetic frankincense oil and natural frankincense oil. Based on application, market is segmented into skin care, medicine, oral care and others. Based on distribution channel, market is segmented into direct channel, and indirect channel. The indirect segment is further sub-segmented into specialty stores, drug store, modern trade, online stores and other retail stores. In addition, based on end use industry, market is segmented into therapeutic, cosmetic, food and others.
The frankincense oil market is driven by growth in demand for organic & natural beauty products in both developed and developing economies, followed by increase in awareness among consumers regarding the benefits of frankincense oil such as lowering joint pain, the promotion of healthy cell regeneration, lowering blood pressure &stress among the consumers. However, limited availability of raw materials and presence of local players may impact the market. Moreover, rise in disposable income of the customers in developing economies is a key opportunity for market. Furthermore, increase in investment in research & development (R&D)among global producers and growth in adoption of online platform by retailers to provide frankincense oil products to consumers are major trend for market.
Based on geography, the Asian-Pacific region dominates the frankincense oil market owing to rise in number of retail outlets and large consumer base in the region. Whereas, the European and North-American regions are estimated to witness higher growth rate due to mature market & presence of key manufacturers and change in lifestyle of people over the forecast period. In upcoming years, it is expected that the market will be reached at rapid pace on account of rise in number of emerging economies during the forecast period.
For More Information, refer to below link:-
Global Frankincense Oil Market
Related Reports:-
Global Frankincense Essential Oil Market Status (2015-2019) and Forecast (2020-2024) by Region, Product Type & End-Use
Frankincense Essential Oil Market Research: Global Status & Forecast by Geography, Type & Application (2015-2025)
Frankincense Oil Market Research: Global Status & Forecast by Geography, Type & Application (2015-2025)
Contact Us:
Ken Research
Ankur Gupta, Head Marketing & Communications
Ankur@kenresearch.com
+91-9015378249