Qatar is home 2.8 Million population with more than 88% of population being expatriates from India, Nepal, Philippines, Bangladesh, Sri Lanka, Egypt and other countries. With an unemployment rate of less than 1%, expat population is employed majorly in construction, manufacturing, wholesale and retail trade and other industries. A poll opinion conducted by Ken Research indicated that ~55-60% of total expat population earns less than QAR 5,000 per month while only ~5-8% earned more than QAR 15,000 per month. These migrant workers send money back to their home, generally during the first and last week of month.
Moreover, migrant workers prefer to send money in a single transaction to avoid paying transaction charges multiple times. During 2019, the worldwide average remittance cost of sending USD 200 was around 7% while in Qatar it averaged around 4.5% to send USD 200 to India. The remittance fees has been decreasing steadily in Qatar since Q3 2017 yet is still higher than the sustainable development goal of 3% by 2030.
International remittance Market Size in Qatar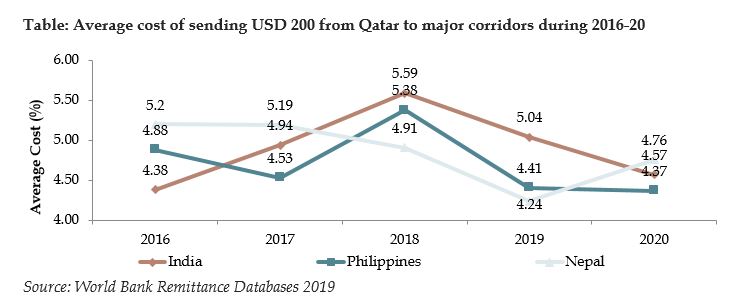 How is the competitive landscape in International Remittance Industry of Qatar?
Owing to high quantum of expat population working as blue collar workers in construction, mining and manufacturing sectors, exchange houses are preferred entity for remitting money. Al Dar for Exchange works, established in 2006, operates the highest number of 21 branches across Qatar. Further, top 5 exchange houses contribute ~50% to total industry size with players majorly competing on the basis of exchange rates, branch proximity, marketing campaigns, corridor specific quality services (same day credit, cash pickup) etc.
What is the future takeaway for industry players?
Given the backdrop of decrease in volume and value of outbound international remittance transactions, analysts at Ken Research expect a growth of ~9% during 2020-21 and CAGR of 3.5% in international remittance transaction value during 2020-25F. During this period, value of transactions is expected to peak in 2022 owing to expected arrival of more than 1.5 Million foreign travelers for FIFA World Cup 2022 event with strong focus on digitalization of services by leading players. The need of the hour is to re-assess the business strategy and strengthen technological capabilities aimed at offering hassle free, do-it-yourself experience to customers.
Request For Sample Report @ https://www.kenresearch.com/sample-report.php?Frmdetails=NDg0NzMy
Key Topics Covered in the Report
Overview of International Remittance Industry in Qatar (Statistics on Corridor wise Transaction volume and value)
Industry segmentation (By Type of Transfers, Type of Intermediary Operators, Corridor wise, Type of Source Entities)
Cross Comparison of Major Exchange houses on Operational and Financial Parameters (December 2020, June 2021)
Company Profile of Major Exchange Houses (Overview, Products and Services, USP, Business Strategies, Branch wise Operational Performance, Cumulative Financial Performance, Recent Developments)
Growth Drivers and Challenges to Qatar International Remittance Industry
Industry trends and developments
Rules and Regulations by Government Bodies
Impact of COVID-19 and Future Outlook of Industry
For More Information, refer to below link:-
International Remittance Market Growth in Qatar
Related Reports
Qatar Auto Finance Market Outlook to 2023 –By Banks, Non-Banking Financial Companies and Captives, By New and Used Vehicles Financed, By Type of Vehicle Financed (Motor Bikes, Cars and Light Commercial Vehicles) and By Loan Time Period
UAE ATM Managed Services Market Outlook to 2024 – By Off-Site and On-Site ATMs and By Type of Service (Cash Management Services, ATM Maintenance Services and ATM Supply)
Contact Us:-
Ken Research
Ankur Gupta, Head Marketing & Communications
+91-9015378249