Shift towards better hygiene and sanitation
Post COVID-19 pandemic, companies are arming their employees with the knowledge and tools to reduce the spread of the virus and maintain a healthy environment. Home service providers are offering white-glove home services, ensuring that technicians undergo regular temperature checks, wear new masks, clean disposable gloves, and practice social distancing to minimize contact with customers.
Consumer spending and increasing smartphone penetration
There has been an increase in the consumer spending by 15.1% from 2016 to 2021. In line with that, high internet penetration in UAE (almost 99% of the population) has resulted in dependency on online enabled services. Most of the internet users are in the age group between 18-34 years and they rely on quick turnaround of services. This has also been accelerated by the lack of customers' trust on the local service providers as they would not turn up on the scheduled time and place. There were also hidden costs for the services, which created a negative experience for the customers.
Future Outlook UAE On-Demand Home Cleaning Services Market
UAE's On-Demand Home Services Industry is highly fragmented with presence of large number of service providers and marketplaces. Each service provider or marketplace has its own business USP, hence, it restricts the dominance of single player in the market. A notable shift in consumer preferences post COVID-19 has contributed in the emergence of on-demand home services industry. Marketplaces have rebranded itself to reflect their position as a top online marketplace and justify its service offerings. These services providers are marketplaces compete amongst each other on the basis of service offerings, price ranges, promotional discounts, service quality, geographical presence and brand value.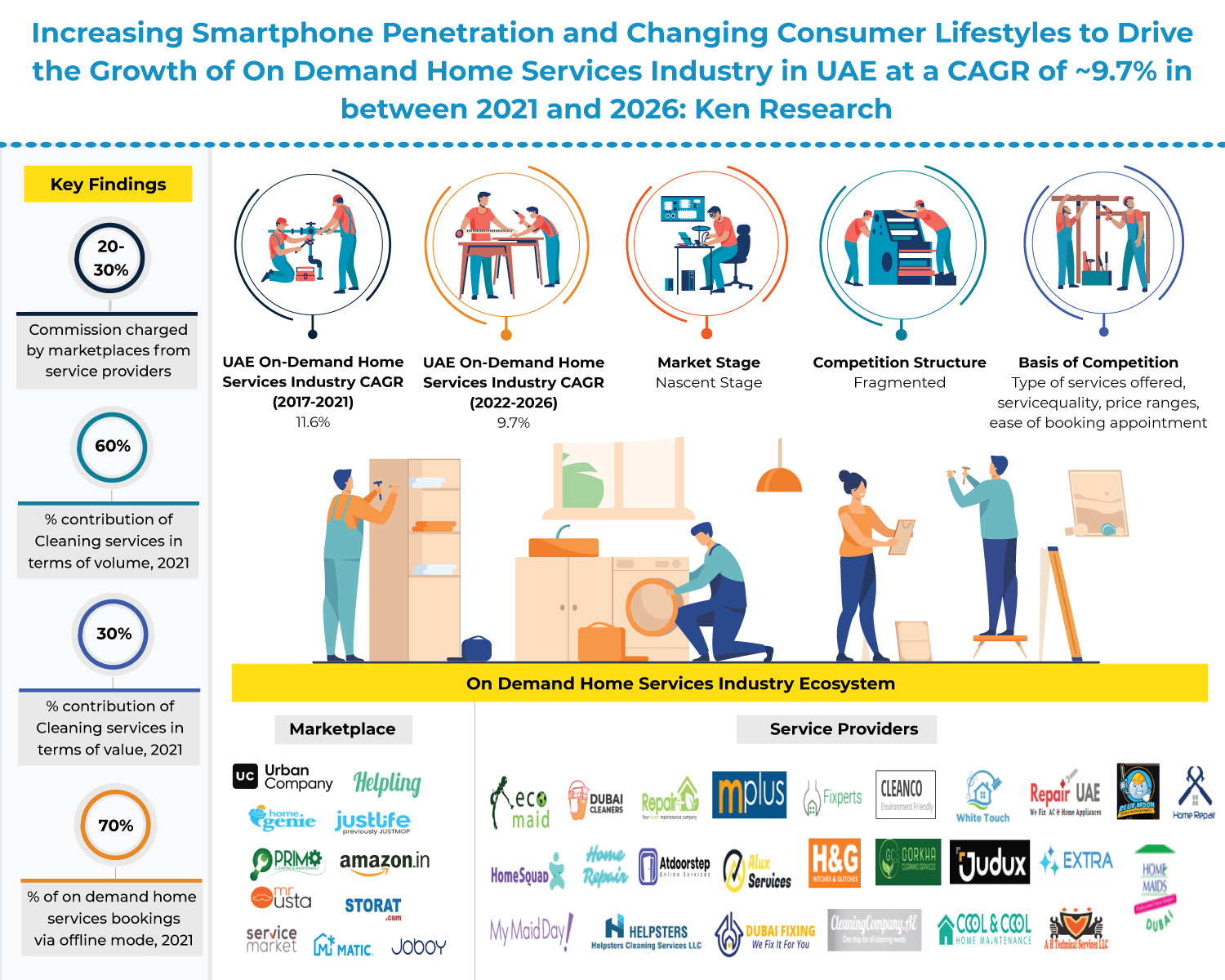 Impact of COVID-19 on UAE On-Demand Home Services Industry
The On-Demand Home Services Industry saw a single digit growth from 2017 to 2019. COVID-19 accelerated the growth of the industry. From 2020-2021, the industry saw ~20% growth in its market size, as compared to the single digit year on year growth from 2016-2019. With the overall business getting affect due to COVID, marketplaces started offering services like At-home PCR tests, physiotherapy tests and other nursing services. Government too launched programs like as National Disinfection and Sterilization Programme to prevent the spread of coronavirus. Increased awareness on health and hygiene is acting as a catalyst for the shift in consumer's preference to on-demand home services. The shift in consumer's preference is expected to contribute in the growth of the market size of the on-demand home services industry in coming years.
The publication titled "UAE On-Demand Home Services Industry: Driven by changing consumer lifestyle and increasing adoption of digitally enabled services" provides a comprehensive analysis of the on-demand home services industry by analyzing historical statistics and corresponding developments in the on-demand home services market. The market growth spiked during COVID as people were reluctant to step out of their houses. People preferred booking home services online directly from these marketplaces or service providers. Given the fragmented completion structure in the on-demand home services industry, analysts have elaborated on competitive landscape of major marketplaces and service providers on the basis of services offered and operational parameters. The report also covers a snapshot on marketplace and service providers business model, value chain analysis, growth drivers, Porters 5 forces analysis, impact of COVID-19 and factors governing the future outlook of industry. The report also provides comprehensive insight on the market size and segmentation of the industry. The report highlights the pain points of the on-demand home services industry along with detailed company profiles of major service providers and marketplaces. The report concludes with projections for future industry market size, market segmentations and analyst take on future market scenario.
Key Segments Covered in UAE On-Demand Home Services Industry
By Type of Services
Cleaning
Repairs and Maintenance
Beauty
Others
By Geography
Dubai
Abu Dhabi
Others
By Deployment
Online
Offline
Time Period Captured in the Report:
Historical Period: 2017-2021
Forecast Period: 2022F-2026F
Request for Free Sample Report @ https://www.kenresearch.com/sample-report.php?Frmdetails=NTI0MDUx
UAE On-Demand Home Services Players
Marketplaces
Justlife
Urban Company
ServiceMarket
Rizek
Usta
Service Providers
Hitches and Glitches
MPlus
Elite Maids
Helpsters Cleaning Services
Key Topics Covered in the Report
Socio-economic Landscape of UAE
Evolution of UAE On-Demand Home Service Industry
Ecosystem of UAE On-Demand Home Service Industry
UAE On-Demand Home Service major entities Business Model
Market Size of On-Demand Home Services Industry by Revenue
Demand Drivers and Trends in On-Demand Home Services Industry
Trends and Developments in On-Demand Home Services Industry
Porter's Analysis of the On-Demand Home Services Industry
Growth Drivers of the On-Demand Home Services Industry
Challenges faced in the On-Demand Home Services Industry
Impact of COVID-19 on the On-Demand Home Services Industry
Comparison of Pre and Post COVID scenarios
Competitive Scenario of the On-Demand Home Services Industry
Competition in On-Demand Home Services Marketplace
Competition among On-Demand Home Services Providers
Case Study on Urban Company Business Model
Related Reports
Global Residential Cleaning Service Market Research Report with Opportunities and Strategies to Boost Growth- COVID-19 Impact and Recovery
Global On-Demand Services Market Research Report with Opportunities and Strategies to Boost Growth- COVID-19 Impact and Recovery
Follow Us
LinkedIn | Instagram | Facebook | Twitter | YouTube
Contact Us:-
Ken Research
Ankur Gupta, Head Marketing & Communications
+91-9015378249