Bizongo plans to go to abroad in the future, especially the South East Asia market, which act as an excess supply market as there are many foreign suppliers and manufactures who are looking for the right quantum of business from end user industries.
Post inculcation of fresh new capital investment by VC's, Udaan plans to focus on marketing their brand heavily and expand into new categories. It also aims to invest in enhancing payments, fulfillment delivery and SME financing (Bill Discounting and Short Loans), which are key aspects of the B2B ecommerce play.
India-based online business-to-business (B2B) marketplace, 'Beldara' is planning a global expansion to link more international suppliers with overseas buyers. The two-year-old startup connects more than 5,000 brands in 30 categories, and has 450,000 products listed on its platform.
Need for an Online B2B Platform: India is set to be the next big market for B2B E-Commerce with large number of entrepreneurs pouring in resources to leverage it. A significant share of GDP in India is contributed by the retail market which is further set to grow with the help of an organized & structured approach of online B2B platforms. Also, the solutions to current industry challenges such as logistics, credit availability, vendor discovery and credibility, demand fulfillment, technology services and digitization etc. are being offered by various online B2B platforms in India and are helping B2B enterprises specifically MSME's to grow their business further in the market.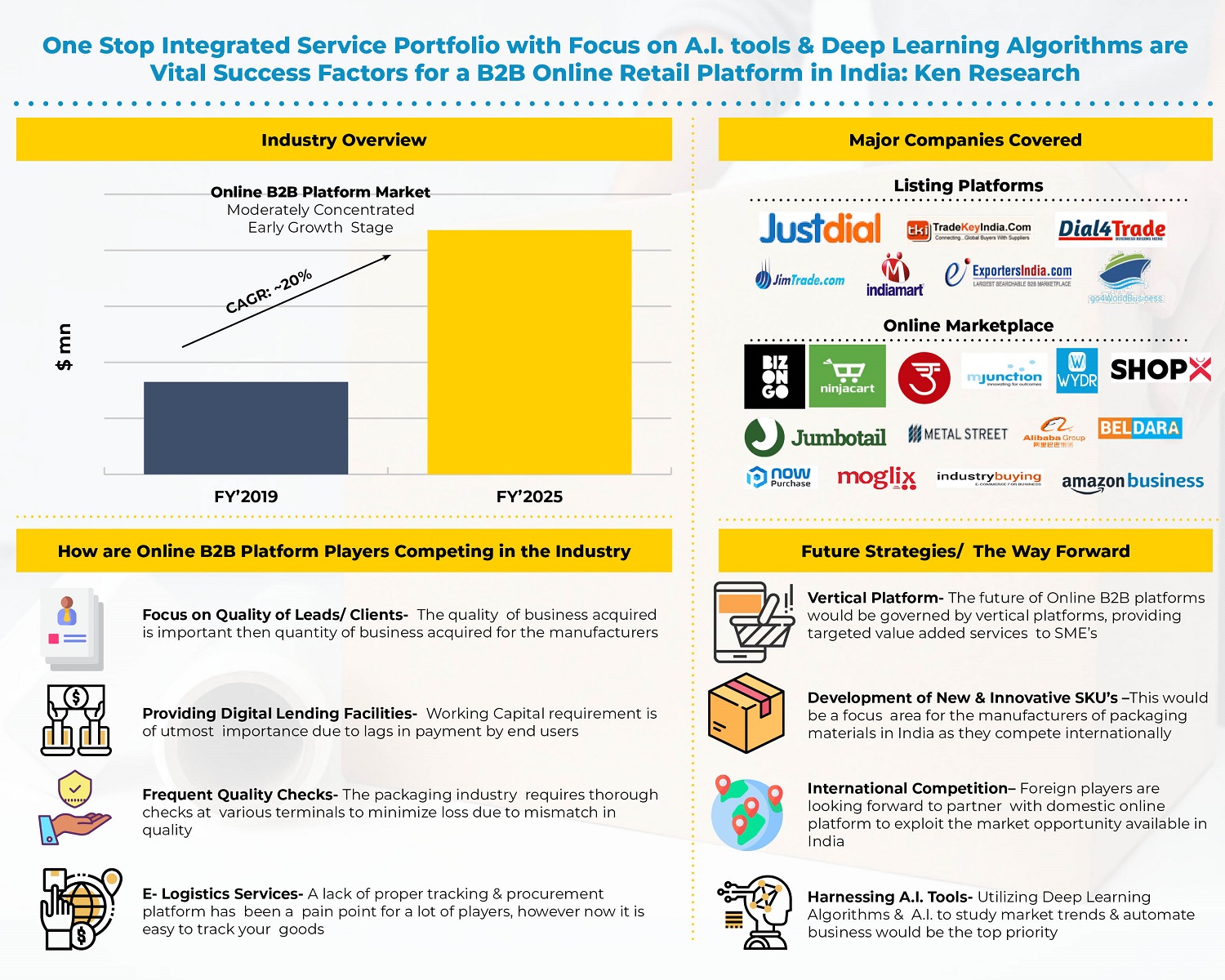 Unbranded Products & Fragmented Supply Leading to Lack of Quality Checks: At a micro level, the fragmented nature of the supply side leads to various industry challenges such as inconsistent product quality and tedious vendor discovery as well as lack of sanitization & genuine quality checks. For manufacturers, this means underutilized capacities, inconsistent processes, and reduced margins. End result is a need of optimal demand and supply system with proper quality checking mechanism at every important threshold to maintain product quality and trust. Online B2B platforms are planning to cause disruptions in the un-organized space with strategic positioning of fulfillment centers & strong logistic network, coupled with important quality checking thresholds. They are also looking forward to partner with many foreign manufactures that are looking for the right quantum of business from end user industries and have advanced production processes to meet the demand for high value customer segments.
Rising Investments and Future Growth: India ranks among the best countries to invest in retail space. Factors that make India so attractive include second largest population in the world, a middle class customer segment of more than 600 million people, increasing .urbanization, rising household incomes, connected rural consumers and increasing consumer spending. Also, the current pandemic situation is just another example of how an online platform can help the industry continue on its growth path and further provide value addition as continuity of commerce activities is of utmost importance in today's scenario. As the country faces elongated period of lockdown & a full stop at various commercial activities, online platforms will be the way forward as it connects various MSMEs across India with the tech enabled services & organized logistic network for reaching across to its customers.
Analysts at Ken Research in their latest publication " India Online B2B Industry Outlook to 2025- Driven by Intuitive Vendor Discovery & Increasing Digitalization in Retail Sector of India " observed that the fast-growing Indian online B2B platform industry needs to focus on key areas such as Logistic Infrastructure, Market Forces of Demand & Supply, Quality Checking Procedures, SaaS Support & Consumer relations along with innovative ways to enable vendor discovery to enable growth of the B2B retail sector in a more structural & organized way. The India online B2B platform market is expected to grow at a CAGR of ~20.0% during the period FY'2019-FY'2025.
Key Segments Covered
By Final Consumption Expenditure in India
Retail Spending on Goods
Other Expenditure (Travel, Real Estate, Auto & More)
By Retail Industry
B2B Retail
B2C Retail
By B2B Retail Industry Entities
Un-Organized B2B Stores
Brand/Distributor Led Stores
Cash & Carry Stores
E-B2B Platforms
By Online B2B Retail Industry Segments
FMCG & Grocery
Consumer Durables & Electronics
Beauty & Personal Care
Fashion & Accessories
Others
By Online B2B Platform
Region of Demand (Tier-1, Tier-2 and Tier-3 Cities)
Nature of Platforms (Listing Platforms and Marketplace Platforms)
Key Target Audience
OEM Manufacturers
Online B2B Platforms
3PL Firms
FMCG Industry
E-Commerce Companies
Lending Firms/Companies
Industry Associations
Government Associations
Private Equity and Venture Capitalist Firms
Time Period Captured in the Report:
Historical Period: FY'2014-FY'2019
Forecast Period: FY'2019-FY'2025
Companies Mentioned:
Online B2B Platform Competitive Ecosystem
IndiaMart
Trade India
Bizongo
Udaan
Industry Buying
Moglix
Power 2 SME
Shop X
Ninjacart
Jumbotail
Alibaba
Other Players include Tradeford, Wydr, and Amazon Business etc.
For More Information on the Research Report, Refer to Below Link:
Online B2B Platform Industry in India
Related Reports:
UK Online Retail Market Outlook To 2025 – By Product Categories (Apparel And Footwear, Food And Drink, Media Products, Consumer Electronics And Others), By Desktop And Mobile Mode, By Gender (Male And Female) And By Mode Of Payment (Debit+Credit Card, Net Banking And Cash On Delivery)
Taiwan E-Commerce Market Outlook To 2023 – Online Retail (By Product Categories, By Desktop And Mobile, By Gender); Online Travel (By Intermediary And Direct Online Sale And By Desktop And Mobile); Online Payment Gateway Market
India Packaging Industry Outlook to FY'2025 And Operational Analysis Of Online B2B Platforms In India
Contact Us:
Ken Research
Ankur Gupta, Head Marketing & Communications
+91-9015378249