Nissan has expanded its Nissan Finance program to enable more customers in the Philippines to own a Nissan vehicle. In partnership with East West Banking Corporation (EastWest), the sales finance program provides wholesale and retail financing options and loan facility products exclusively for Nissan customers in the Philippines.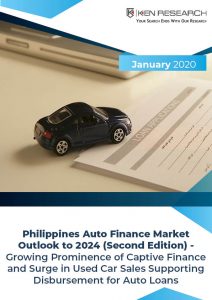 Entry of Japanese Automakers in the Philippines Automotive Industry is set to act as a catalyst for the growth of sales in the Industry.
Public sector external debt increased in the third Quarter of 2019 to USD 42.3 billion from USD 40.2 billion in the Second quarter. About USD 35.2 billion (83.3 percent) of public sector obligations were House Hold borrowings while the remaining USD 7.0 billion pertained to other government agencies' loans, according to central bank data
Strong Relations and Various Mergers and Acquisition further strengthen the Banks and NBFC's in the Philippines Auto Finance Industry, while simultaneously creating entry opportunities for Captive finance players.
Growth Opportunity in Philippines EV market: The Electric Vehicle Association of the Philippines (EVAP) aspires for the establishment of a national development program for electric vehicles that is anchored on the existing Motor Vehicle Development Program for the automotive industry. This is to be implemented in four (4) phases of within a ten-year-period. The first phase (2013) is the launch of the program, including technology upgrading needed by the industry; the second phase (2014 to 2015) involves the buildup of the local market and enhancement of its production capacity; the third phase (2016 to 2018) will be for local and export market expansion, together with horizontal and vertical integration with the local automotive industry; and the fourth phase (2019 to 2023) will be the full integration, regional and global, developmental evolution in technological advancement and market size up.
Changing Nature of Ownership: Consumers in Philippines are increasingly moving forward to accommodate newer models of mobility and prefer partial ownership of vehicles instead of full ownership. Hence this will help in promotion of leasing activities.
Rationale for Changes in Auto Loan Outstanding for Non-Bank Institutions: The share of multi finance companies has been projected to incline over the coming years. Compared to banks, multi-finance companies generate better returns. Generally, major multi-finance player's record higher returns on equity and returns on assets as the benefits of higher asset yields outweigh the negatives of higher cost of funds, operating costs, and credit costs. The higher asset yield is due to the ability to tap the under-banked and unbanked market, an advantage that banks lack. Another reason why non-bank institutions are predicted to incline is because of the customized and innovative credit products they provide. These products are more appealing to masses and banks cannot provide such products because of the size of operations and standardization involved with the size. The number of non-bank units has been predicted to incline due to which their share will increase over the coming five years.
Analysts at Ken Research in their latest publication "Philippines Auto Finance Market Outlook to 2024- Growing Prominence of Captive Finance and Surge in Used Car Sales Supporting Disbursement for Auto Loans" believe that the market demand is likely to follow a growth trend in the near future due to a forthcoming increase in used cars sales and a shift towards newer models of mobility such as car sharing and leasing, which will in turn help the economy grow as well. The market is anticipated to register a positive CAGR of 9.0% in terms of credit disbursed and 8.1% in terms of total loan outstanding during the forecasted period 2019P-2024F.
By Type of Vehicle Financed
New Vehicles
Used Vehicles
Motorcycles
By Banks and Non Banks
Banks (Auto Loans and Motorcycle Loans)
Non Banks (Auto Loans and Motorcycle Loans)
By Type of Banking Institutions
Commercial and Universal Banks
Thrift Banks
By Nature of Vehicles
New Vehicles (Banks and Non Banks)
Used Vehicles (Banks and Non Banks)
By Type of Vehicle Sold
Passenger
Commercial
Motorcycles
By Tenure of Loans
New Vehicle (1 year, 2 Years, 3 Years, 4 years, 5 Years or More)
Used Vehicle (1 year, 2 Years, 3 Years or More)
By Registration of Vehicles
Key Target Audience
Existing Auto Finance Companies
Banks
OEM Dealerships
Captive Finance Companies
Credit Unions
Private Finance Companies
New Market Entrants
Government Organizations
Investors
Auto mobile Associations
Auto mobile OEMs
Time Period Captured in the Report:
Historical Period: 2014-2019P
Forecast Period: 2019P-2024F
Key Companies Covered:
Banks
MetroBank
BDO Bank
PS Bank
Eastwest Bank
The Philippine National Bank
Bank of the Philippine Islands
The Rizal Commercial Banking Corporation
Maybank Philippines
China Bank
United Coconut Planters Bank
Security Bank Corporation
Union Bank
Robinsons Bank
The Philippine Bank of Communications (PBCOM)
Land Bank of Philippines
Asia United Banking Corporation
Bank of Commerce
Development Bank of Philippines
Union Bank
UCPB Bank
Sterling Bank of Philippines
NBFCs
Radiowealth finance company (RFC)
Unistar Credit and Finance Corporation
Asia Link Finance Corporation Leauge
One Finance and leasing Corporation
DBP Leasing Corporation
First United Finance and Leasing Corporation
BPI Capital Corporation
Cebu International Finance Corporation
Orix Metro Leasing and Finance Corporation
Philippine Depository and Trust Corporation
LBP leasing and Financing Corporation
RCBC Leasing and Finance Corporation
Captives
Toyota Financial Services Philippines Limited
Key Topics Covered in the Report
Philippines Auto Finance Market Overview and Genesis
Philippines Auto Finance Market Ecosystem, 2019P
Value Chain Analysis of Philippines Auto Finance Market, 2019P
Philippines Finance Market Value Chain Analysis
Philippines Auto Finance Market Size, 2013-2019P
Philippines Auto Finance Market Segmentation, 20113-2019P
Major Trends and Development in Philippines Auto Finance Market
Regulatory Framework in the Philippines Auto Finance Market
Snapshot On Philippines Automotive Sales And Manufacturing Market, 2014-2019P
Ways to Finance Automotives in Philippines(Bank Finance or Multi Financing Companies, Personal Finance, Lease Financing)
Vendor Selection Process for Auto Finance Company in Philippines
Competitive Landscape containing Company & Product Profiles in the Philippines Auto Finance Market
Financial Penetration of various OEM Brands
Philippines Finance Market Future Outlook and Projections, 2019P-2024
Analyst Recommendations for the Philippines Auto Finance Market
For More Information On The Research Report, Refer To Below Link:-
Philippines Auto Finance Market
Related Reports:-
Thailand Auto Finance Market Outlook to 2024: Growing Prominence of Captive Finance Companies and Loan Portfolio of Banks acting as a Catalyst for Market Growth
Qatar Auto Finance Market Outlook to 2023 –By Banks, Non Banking Financial Companies and Captives, By New and Used Vehicles Financed, By Type of Vehicle Financed (Motor Bikes, Cars and Light Commercial Vehicles) and By Loan Time Period
US Vehicle Finance Market Outlook to 2023 –By Banks and Non Bank Entities including Captives and Credit Unions and Finance Companies (Auto Loan Portfolio), By New and Used Vehicles, By Type of Vehicle Financed (Passenger Cars and Light Trucks), By Loan Time Period and By Risk Category
Contact Us:
Ken Research
Ankur Gupta, Head Marketing & Communications
Ankur@kenresearch.com
+91-9015378249