Rising Innovation:  Innovative digital startups such as iChoose.ph are reshaping the challenging car shopping and financing process into a quick and easy experience for customers in Philippines. It is expected that these will create an auto finance ecosystem in which digital aggregators increasingly control the sales and financing process. Car dealerships are expected to increasingly bring the experience of car shopping online by range of ways such as providing digital showrooms as well as e-finance.
Rising Middle Class Population: The Philippines is one of the fastest growing economies and is witnessing a fast growing middle class which implies higher purchasing power and in turn growth in automobile sales. As a result of this, credit disbursement will increase as more people will become a part of the banking system. Also, banks and non-banks are targeting these segments in the most untapped areas, which will also result in steady increase in auto loan disbursements for these segments.
COVID Impacts: Before COVID-19, ~37% of Southeast Asian consumers preferred personal vehicles. But with the outbreak of the pandemic, this proportion has increased to higher Extent, with this positive environment for the personal vehicles, the Philippines auto finance industry is expected to grow.
Growing Digital Advancement: Dealers can ensure they're reaching online-first car shoppers by investing in an all-encompassing digital marketing solution that leverages mobile, location, and social media. Also, by 2023, the BSP hopes to have digitalized 50% of payments and encouraged Majority of the population to open bank accounts.
Government Initiatives: The Philippine government has mandated all lenders to grant a 30-day extension for all loan payments, including credit card dues and pawnshop loans, as the country grapples with the effect of the COVID-19 pandemic
Under Bayanihan Law, all credit card issuers and pawnshops, will be mandated to offer the 30-day grace period without interest, penalties or additional charges. Although higher interest rate is charged on used vehicle financing, still Pre-owned car financing shall enhance owing to rising government initiatives.
Analysts at Ken Research in their latest publication "Philippines Auto Finance Market Outlook to 2026- Driven by change in consumer spending, ease in provision of loans, improving technology and government support" by Ken Research observed that Auto Finance Market is an emergent market in Philippines at a growing stage even during the pandemic as well. The rising demand for automobiles, Positive Outlook for E-Vehicles, and growing digital advancement like Artificial Intelligence and Machine Learning, are expected to contribute to the market growth over the forecast period. The Philippines Auto Finance Market is expected to see high growth rate over the forecasted period 2021-2026F.
Key Segments Covered
Philippines Auto Finance Market:
By Category of Lenders (By Credit dispersed), 2021 & 2026F:
Universal and Commercial Banks
Thrift Banks
NBFCs
Captives
By Type Of Vehicles (By Credit dispersed), 2021 & 2026F:
Two and Three Wheelers
Four Wheelers
Buses and Trucks
By Type of Ownership (By Credit dispersed), 2021 & 2026F:
Used Cars
New Cars
By Category of Vehicles (By Credit dispersed), 2021 & 2026F:
Passenger Vehicles
Commercial Vehicles
By Loan Tenure (By Credit dispersed), 2021 & 2026F:
12 – 24 Months
25 – 48 Months
By Geographical Location (By Credit dispersed), 2021 & 2026F:
Region I
Region II
Region III
Region IV – A
Region IV – B
Region V
Region VI
Region VII
Region VIII
Region IX
Region X
Region XI
Region XII
NCR
A.R
CARAGA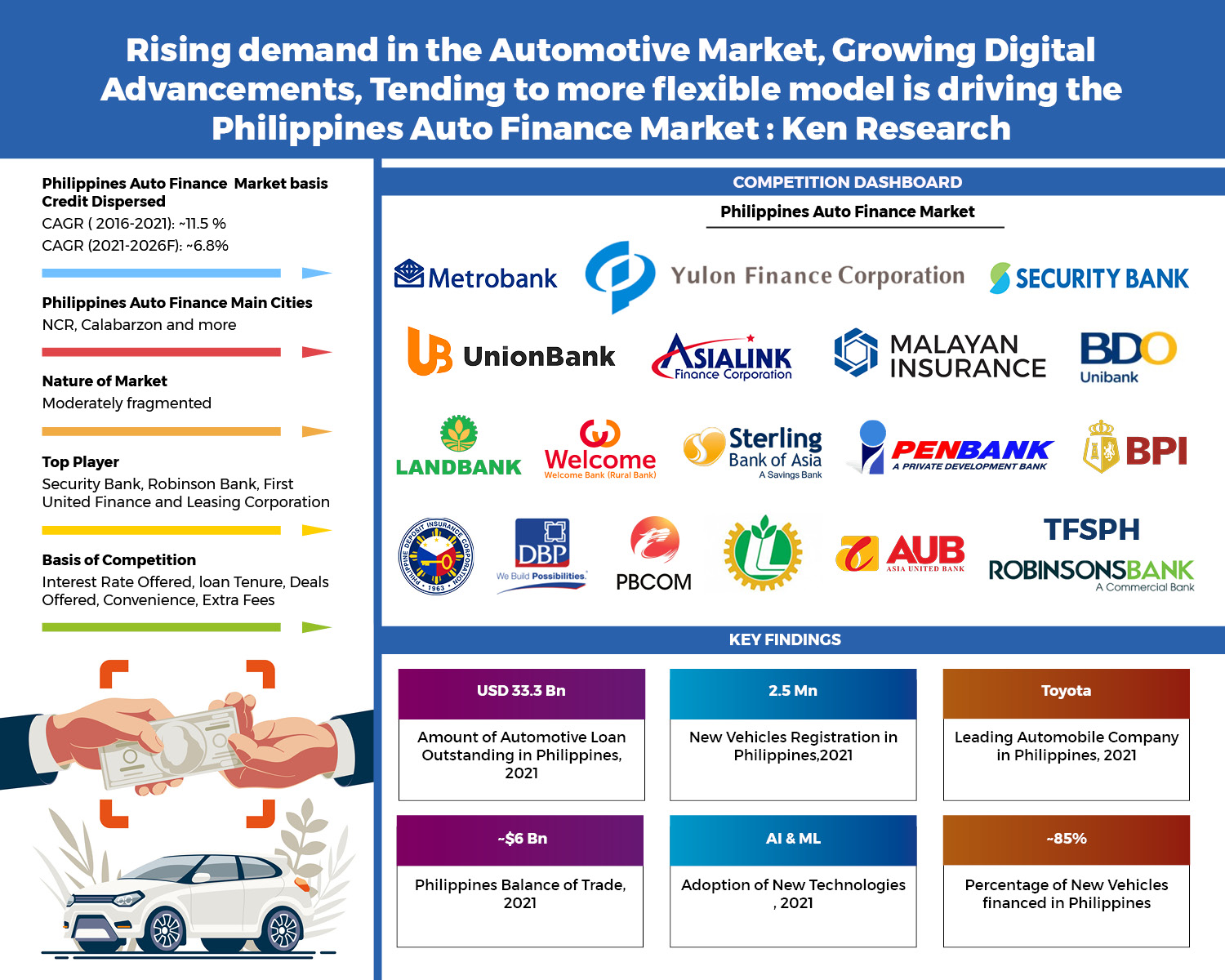 Request For Sample Report @
https://www.kenresearch.com/sample-report.php?Frmdetails=NTk2MTM2
Key Target Audience
Banks and its Subsidiaries
NBFCs
Captive Finance Companies
Government and Institutions
Automobile Companies
Car Dealers
Government and Institutions
Existing Auto Finance Companies
OEM Dealerships
New Market Entrants
Investors
Auto mobile Associations
Time Period Captured in the Report:
Historical Period: 2016-2020
Base Year: 2021
Forecast Period: 2022– 2026F
Companies Covered:
Asialink Finance Corporation
Yulon Finance Philippines Corporation
Security Bank
MetroBank
Welcome Bank
Toyota Financial Services Philippines Corporation (TFSPH)
Bank of Philippines Island
BDO Unibank
Malayan Insurance
Philippine Depository and Trust Corporation
LBP leasing and Financing Corporation
Robinsons Bank
The Philippine Bank of Communications (PBCOM)
Land Bank of Philippines
Asia United Bank
Development Bank of Philippines
Union Bank
Sterling Bank of Philippines
Penbank and more
For more information on the research report, refer to below link:
Leading Players in Philippines Auto Finance Market
Related Reports:
KSA Auto Finance Market Outlook to 2026F– Driven by Women Entering the Market, Growing Private Entities and Initiatives by the Government
Singapore Auto Finance Market Outlook to 2025 (Edition II) – Driven by exorbitant Car Prices, Growing Digital Penetration and evolving Vehicle Ownership Characteristics amidst Systemically Regulated Car Ownership Policies by the Government
Thailand Auto Finance Market Outlook to 2024: Growing Prominence of Captive Finance Companies and Loan Portfolio of Banks acting as a Catalyst for Market Growth
Follow Us –
LinkedIn | Instagram | Facebook | Twitter | YouTube
Contact Us: –
Ken Research
Ankur Gupta, Head Marketing & Communications
+91-9015378249