"Surge in Turkish government efforts to grow E-learning, increased internet penetration, adoption of modern technology by the learners and the implementation of advanced training and teaching methodologies in education and corporate sector has created a positive impact on the market."
Development of Turkish ICT Infrastructure: The government's initiative of Vision 2023 to improve the technological infrastructure and to reach the designed milestone of Industry 4.0 has helped Turkey to take a leap into technological advancement. As of April 2018, 82.5% of households within Turkey had broadband internet access, up from 78.0% in the year 2017. Computer and internet usage among individuals aged between 16-74 years in 2018 was 59.6% and 72.9% respectively. ICT infrastructure has definitely helped in building a digitized society and has helped E-learning to be explored by a larger segment of end users.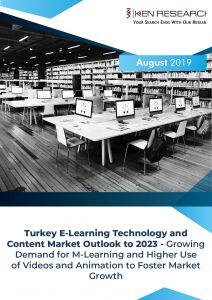 Government Initiatives: FATIH Project within Education field was launched by the Turkish government with the purpose of providing equal opportunities in education and improving the technology in schools using information technology to engage more senses in the educational process. The FATIH Project in education has fund services such as providing hardware and broadband internet to all classrooms, providing E-content, establishing platforms for the participation of teachers to IT, and facilitation of the other activities including project implementation support.
Increasing Digitization Preferences of People: The increasing internet penetration rate and smart phone users is a clear indication that the people of Turkey are skewed towards choosing technological alternatives for getting their tasks done. People of Turkey have begun to accept that online learning is indeed beneficial and has got the world to their door steps. Video and audio form of learning through mobile phones, laptops, or PC's have found to be more engaging and therefore, people of Turkey are moving ahead of traditional ways of learning.
Even in organisations such as schools and universities, authorities have begun to acknowledge the benefits of E-learning as compared to traditional methods of teaching and training. The cost efficiency that comes along with digital forms of teaching and training is believed to have influenced the end users of schools and universities at the most. The fact that digital learning can take place anytime and anywhere has also induced a feeling of reliability amongst end users who have been resistant in accepting the digital form of learning.
Analysts at Ken Research in their latest publication "Turkey E-Learning Technology and Content Market Outlook to 2023 – Growing Demand for M-Learning and Higher Use of Videos and Animation to Foster Market Growth" believe that Turkey E-learning Industry is projected to register a positive CAGR of 10.8% in terms of revenues during the forecasted period 2019-2023. Increasing number of internet users, rising government efforts to grow E-learning in Turkey, adoption of modern technology by the learners, and growing use of Learning Management Systems (LMS) by the corporate sector to integrate their process are expected to drive Turkey E-learning industry in the near future.
Key Segments Covered:
By Content Services and Technology Services
By Type of Content
Open Courseware
Multimedia
Online Tests
Others such as uploading existing content
By Content Format
Video
Audio
Text
By Source of Learning
MOOC's
E-Books
M-learning
Gamification
By Type of Technology
LMS
Smart Class
Smart Authoring Tools
By Type of End Users
Schools
Universities
Corporates
Others (Business-to-consumer end users)
Time Period Captured in the Report:
Historical Period– 2013-2018
Forecast Period– 2019-2023
Key Target Audience
Schools (K-12)
Ed Tech Companies
Universities
LMS providers
Vocational Education Institutes
Test Prep Tutoring Companies
Education Ministry
Companies Covered
Enocta
Einstein
Blackboard
Infinity Teknoloji
Moodle
Idea E-learning Solutions
Canvas
GLOBED
Udemy
Respongo
Bilgi Kurdu
iSpring
Advancity
Key Segments Covered in the Report
Executive Summary
Research Methodology
Turkey E-learning Market Introduction
Turkey E-learning Market Value Chain Analysis
ICT Programs in Turkey
Turkey E-learning Market Size by Revenue, 2013-2018
Turkey E-learning Market Segmentation, 2013-2018
Trends and Developments in Turkey E-Learning Market
Issues and Challenges in Turkey E-Learning Market
Regulatory Framework in Turkey E-Learning Market
Vendor Selection Process in Turkey E-Learning Market
Decision Making Process in Turkey E-Learning Market
SWOT Analysis for Turkey E-Learning Market
Competitive Landscape of Turkey E-learning Market
Turkey E-learning Market Future Outlook and Projections, 2019-2023
Reasons to Invest in Turkey E-learning Market
Customer Profiling of Turkey E-learning Market
Analyst Recommendations for Turkey E-Learning Market
For More Information on the research report, refer to below link:
Turkey E-Learning Technology and Content Market
Related Reports
Philippines E-Learning Market Outlook to 2023 – By Content (Multimedia, Open Courseware, Online Tests and Others), By Technology (LMS, Smart Classes and Smart Authoring Tools), By Source of Learning (E-Books, MOOCs, Gamification and M-Learning), and By End Users (Schools, Universities, Corporates, Vocational training and Others
South Africa E-Learning Market Outlook to 2023 – By Content (Open Courseware, Customized Multimedia, Simulation Content and Online Test), By Technology (Learning Management System, Smart Classes, Smart Authoring Tools) By Sector (Corporate, Higher Education, K-12 and Vocational training) and By End Users (Corporate Enterprise, Home Users, Non-profit Organizations and Government)
Global E-learning Courses Market Size study, by Type (Tablets, Smartphones and Others), by Application (Corporate Sector, Higher Education Sector and K-12 Sector) and Regional Forecasts 2018-2025
Contact Us:
Ken Research
Ankur Gupta, Head Marketing & Communications
Ankur@kenresearch.com
+91-9015378249