Vietnam Cyber Security Industry, which surged ahead with over 17% year-on-year growth in 2021. Ministry of Defence has created Cybersecurity Operations Command to protect the country's sovereignty in cyberspace, research and predict online wars & manage IT security within Vietnamese People's Army (VPA), as per findings released by Ken Research.
1. Vietnam has seen increased cyber-attack vectors, artificial-intelligence attacks, among others, in the recent years.
To Know More about this report, download a Free Sample Report
In the above data chart, a massive spike in cyber threats in 2016 is due to major three reasons, the system of Vietnam's flag carrier Vietnam Airlines was breached, and the personal information of 400,000 of its frequent-flyer club members was dumped online. In the same year A Vietnamese bank had foiled an attempted $1m cyber heist that involved the use of fraudulent messages, in the Swift messaging system.
2. Development of a local cyber defense infrastructure as the government increases its preparedness for cyberattacks-
Creation of 21 company-strong "Made in Vietnam alliance" of local cybersecurity firms to collaborate on information security technologies
Vietnam Information Security Association (VNISA) & Vietnam Computer Emergency Response Team (VNCERT) collaborate with member cybersecurity companies to conduct awareness seminars & summits.
Participation of experts of local companies such as Bkav, Viettel, VNPT, FPT, CMC in ASEAN Cybersecurity Drills
3. Adoption of Cybersecurity Solutions in Vietnam can be classified
Into 3 major groups
Visit This link:- Request for Custom Report
Standalone Security Products include – Firewalls, Antiviruses, security gateways, IPS etc.
Managed Security Services include – Network, application, cloud, mobile securities.
Professional Services include – Consulting, Security Audit, penetration testing, etc.
Standalone Security Products Dominating Cybersecurity Solutions in the Country, as most of the software and computers comes with pre-installed firewalls, and antivirus are most easy to access by general public.
4. Role of Cutting Edge-Technologies in Developing Cybersecurity Solutions

AI allows enterprises to perform Vulnerability Management, improve Threat Hunting levels, stimulate better Network Security and monitor critical Data Center processes for better maintenance.
Blockchain-enabled cybersecurity works on the basis of the technology's peer-to-peer network fundamentals, and is thus able to create an impenetrable network for hackers
Big Data enables experts to store huge amounts of data, allowing inspection of network and detection of anomalies in the network.
Cloud security enables enterprise-security management tools such as sign-in location checks and multi-factor authentication on personal systems of employees, thus guarding against common phishing attacks
Foreign Products Dominating Cybersecurity Product Ecosystem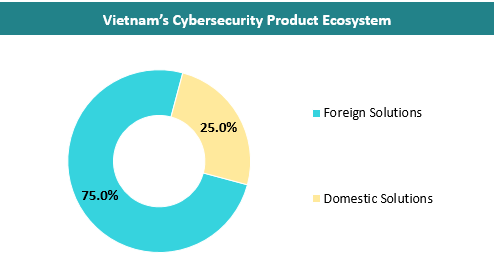 Imported Cybersecurity solutions from US, Korea, Singapore, Russia, Japan & China have superior quality, better results & better usability.
Cisco, Microsoft, Kaspersky, IBM, McAfee are brand names commanding a higher leverage in Vietnam ecosystem due to proven results over sustained periods.
While local solution portfolio is growing, it is currently limited to Antivirus, Firewall, End-Point Security, VPN, IDS/IPS & Anti-Malware on the product side.
Limited skilled talent & insufficient know-how about information security systems in the country, impairs the domestic solution development capabilities in Vietnam.
While state agencies have been mandated to promote usage of locally-developed products, commercial sectors (banking, healthcare, IT etc) prefer imported solutions.
 Governments Role in preventing Cyber attacks
Vietnamese Government aims to improve the country's 50th rank (out of 194 regions) in the Vietnam Cybersecurity Index 1. Vietnam has created multiple bodies like Cybersecurity Operations Command, Cyber Warfare Unit, Vietnam Computer Emergency Research Team (VNCERT), Project 99 & Decision 893. It is responsible for database system operations and enforces information security legislation, promoting general awareness of Vietnamese towards cybersecurity. I
However, it is yet to be seen how the future of Vietnam cyber security industry will pan out with evolving cyber threats every year.
For more insights on the market intelligence, refer to the link below:-
Follow Us