The Indian trading industry has come a long way in demand & supply infrastructural development coupled with jump in retail participation rate from almost Nil in 2001 to 2-3% in 2019 & expectation to grow to ~7% in next five years with major traction coming from Tier 2 & Tier 3 cities. This, up growth, trend and simultaneous technological advancements adopted by brokerage firms, competitive pricing, increasing FII & increased financial awareness among millennial population compels the incumbent brokerages to reconsider the business model.
What has been the traditional method of broking in India?
Full Service model is the age old brokerage method serving its customers plethora of services via a dedicated relationship manager. With a manager doing everything from trade execution to overall portfolio management, these brokers charge high brokerage ranging from 0.3-0.6% of traded value.  This model is generally preferred by institutional investors for their research, advisory & management services and by retail investors which are new to the capital market trading and prefer outlet based trading.
Even after the incumbency of discount & hybrid brokerage models in India, we still see full service brokerage being preferred by some proportion of investors owing to factors such as credibility, ease of transactions (as most of them are bank based) & portfolio diversification options offered by them.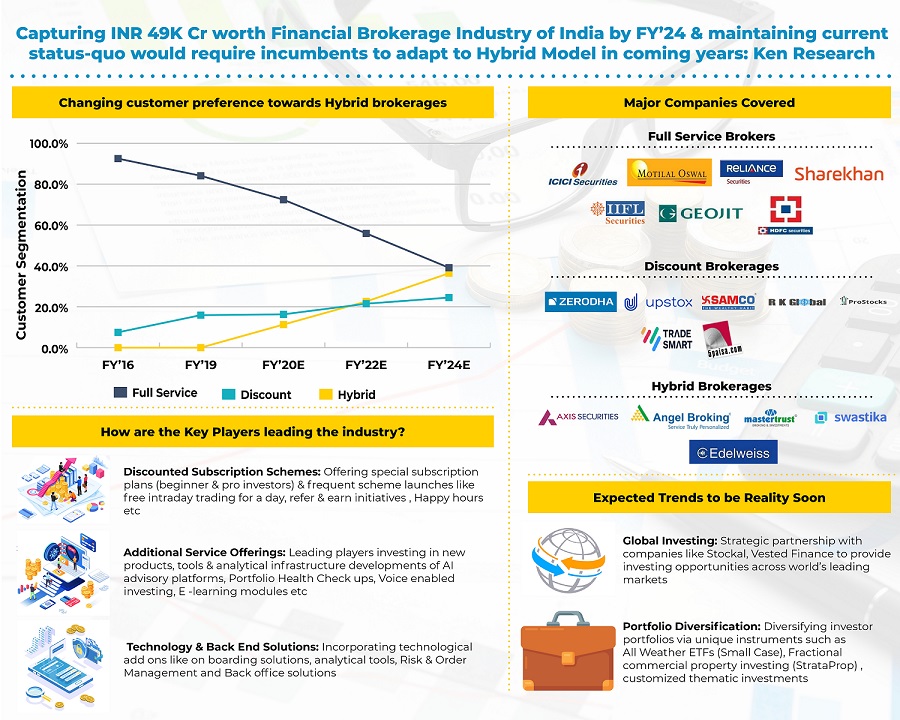 How are discount brokers offering minimal brokerage charges?
Trade Only Services: Discount Brokerage is modeled on the concept of supplying best of technology, empowering its investors to undertake trading services all by themselves by providing a DIY Platform. Integration of sophisticated technology is considered as one of the investment cost which is recovered by levying per trade charges on number of trades (Lowest of 0.01% or INR 20). Owing to no major cost involved in opening offline trading outlets and hiring analysts, Such a model is preferred by investors (largely retail) looking to trade high volume and value all by themselves with minimal brokerage charges.
Why is there a scope for Hybrid Model?
Emergence of discount brokerage model turned the majority of retail brokerage industry to their side thereby making full service brokers to losing out on huge chunk of new retail clients. In order to compete with discount brokers & cater to dual clientele needs of both retail & institutional clients, traditional brokerages such as Axis Securities and Angel Broking introduced special discount brokerage plans (Trade@20 by Axis Securities and iTrade by Angel Broking) for trading in equity commodity, &derivatives segment; providing both full service offerings and discounted brokerage plans for both type of customers.
Similarly, Discount brokers have been working on the model of wafer thin margins, experiencing high volume trades but with limited offerings to institutional clients. This has prompted certain discount brokers to expand their product portfolios to Portfolio Management Services, Institutional services & third party products distribution of Insurance, Loans, and Mutual Funds etc, to become a one-stop solution for all financial needs.
What trends are expected to drive the future of brokerage Industry in India?
Global Investing is one of the very recent trends introduced to investors in India by companies such as Stockal & Vested Finance. The main vision behind introducing this concept is the investor's demand for portfolio diversification via multiple geographical investments. However, investing in international equities involves large amount of funds requirement unlike investing in Indian stocks. Therefore in order to solve this problem companies such as Vested finance offers the opportunity of fractional trading (purchasing fractional portion of stock) thereby complementing its global investment platform.
Diversification on basis of assets class across different geographies with optional of time-based diversification is gaining momentum, commonly undertaken by ETFs, Mutual funds & thematic investment opportunities introduced by companies such as Small case in India. In order to mitigate their risks, Indian investors are expected to follow these trends thereby making them preferred choices for future investments.
Companies Covered:-
Full Service Brokerages
ICICI Securities
HDFC Securities
ShareKhan
Kotak Securities
Motilal Oswal
Nirmal Bang
Geojit Financial Services
IIFL Securities
SMC Global Securities
Reliance Securities
Discount Brokerage
Zerodha
5Paisa
Upstox
SAMCO
Prostocks
R K Global
Wisdom Capital
Interactive Brokers
Hybrid brokerage
Angel Broking
Edelweiss
Axis Direct
Swastika Investmart (TradingBells)
MasterTrust
Key Topics Covered in the Report:-
Overview of India Financial Brokerage Industry
Understanding customer's requirements
Decision making criteria for selecting brokers by retail & Institutional Clients
Evolution in Role of Brokers, 2005-2022
Full Service Brokerage in India:
Overview with Business Model followed
Competitive Landscape including Cross comparison among major players on financial, operational, Pricing, Strengths & Weakness Analysis
Company Profile of major Full Service Brokers
Future Outlook & Potential of Full Service Brokers in India
Discount Brokerage in India:
Overview with Industry Ecosystem & Business Model followed
Competitive Landscape including Cross comparison among major players on Financial, Operational, Technological, Pricing, Strengths & Weakness Analysis
Company Profile of major Discount Brokers
Technological Landscape including Technologies available, Profiling of major Technology Providers
Overview of Back Office Operations with Profiling of major Back Office Operators
EKYC Providers & costing
Future Outlook of Discount Brokerage
Case Study of Stockal
Hybrid Brokerage in India:
Overveiw with Business Model followed
Industry Landscpae including Cross comparison among major players on financial, operational, Pricing, Strengths & Weakness Analysis
Company Profile of major Hybrid Brokers
Future Outlook for Hybrid Brokerage with expected Industry Trends
Regulatory Landscape Governing Brokerage Industry in India
For More Information on the research report, refer to below link:-
https://www.kenresearch.com/banking-financial-services-and-insurance/financial-services/india-financial-brokerage-industry-outlook/335268-93.html
Related Reports:-
https://www.kenresearch.com/banking-financial-services-and-insurance/financial-services/philippines-financial-brokerage-market-outlook/243555-93.html
https://www.kenresearch.com/banking-financial-services-and-insurance/financial-services/indonesia-financial-brokerage-market-outlook/239909-93.html
Contact Us:-
Ken Research
Ankur Gupta, Head Marketing & Communications
+91-9015378249