Global Players Dominate the Market Holding ~45% Revenue Share Despite the Presence of about ~100 Competitors Comprising a Significant Number of Country-Niche Players and Regional Players, finds a recent market study on the Global Exoskeleton Market
The exoskeleton is a wearable robotic device that is used to improve the wearer's physical performance for human tasks. The exoskeleton supports people when they walk, stand, and carry heavy things. Using the exoskeleton technology can lessen the consequences of various impairments, such as muscular dystrophy, and paralysis. There are three types of exoskeletons i.e. full body, upper body, and lower body exoskeleton, which are widely used in healthcare, defense, and industrial sectors.
Ken Research shares 3 key insights on the competitive landscape of this dynamic market from its latest research study.
Global Players Constitute ~20% of the Total Number of Competitors, While Country Niche Players Dominate Representing ~45% of Total Competitors.
A comprehensive competitive analysis conducted during the Research Study found that the Global Exoskeleton Market is significantly competitive with ~100 players, including globally diversified players, regional players, and a significant number of country-niche players with their niche in Exoskeleton manufacturing. The majority of the global Exoskeleton companies, including Ekso Bionics Holdings, ReWalk Robotics, Cyberdyne Inc., Rex Bionics Ltd., and Sarcos, maintained their leading positions during the forecast period.
In March 2021, ReWalk Robotics signed a contract with BKK Mobil Oil regarding an insurance fund for providing ReWalk personal Exoskeleton devices to eligible beneficiaries who are suffering from spinal cord injuries.
The majority of the country's-niche players are component manufacturers and assembling companies or small Exoskeleton Developers that are developing new technologies for making exoskeletons more effective and less expensive, which will help them to secure a marginal position in the market.
Rising Demand For Exoskeleton From The Healthcare Sector For  Robotic Rehabilitation And Therapeutic System Is Providing New Growth Opportunities
Detailed comparative analysis of key competitors available within the Research Study shows that the rising demand for the exoskeleton from the healthcare sector for  robotic rehabilitation which means designing robots to improve movement in persons with impaired physical functioning and the therapeutic system is providing new opportunities for the Exoskeleton market.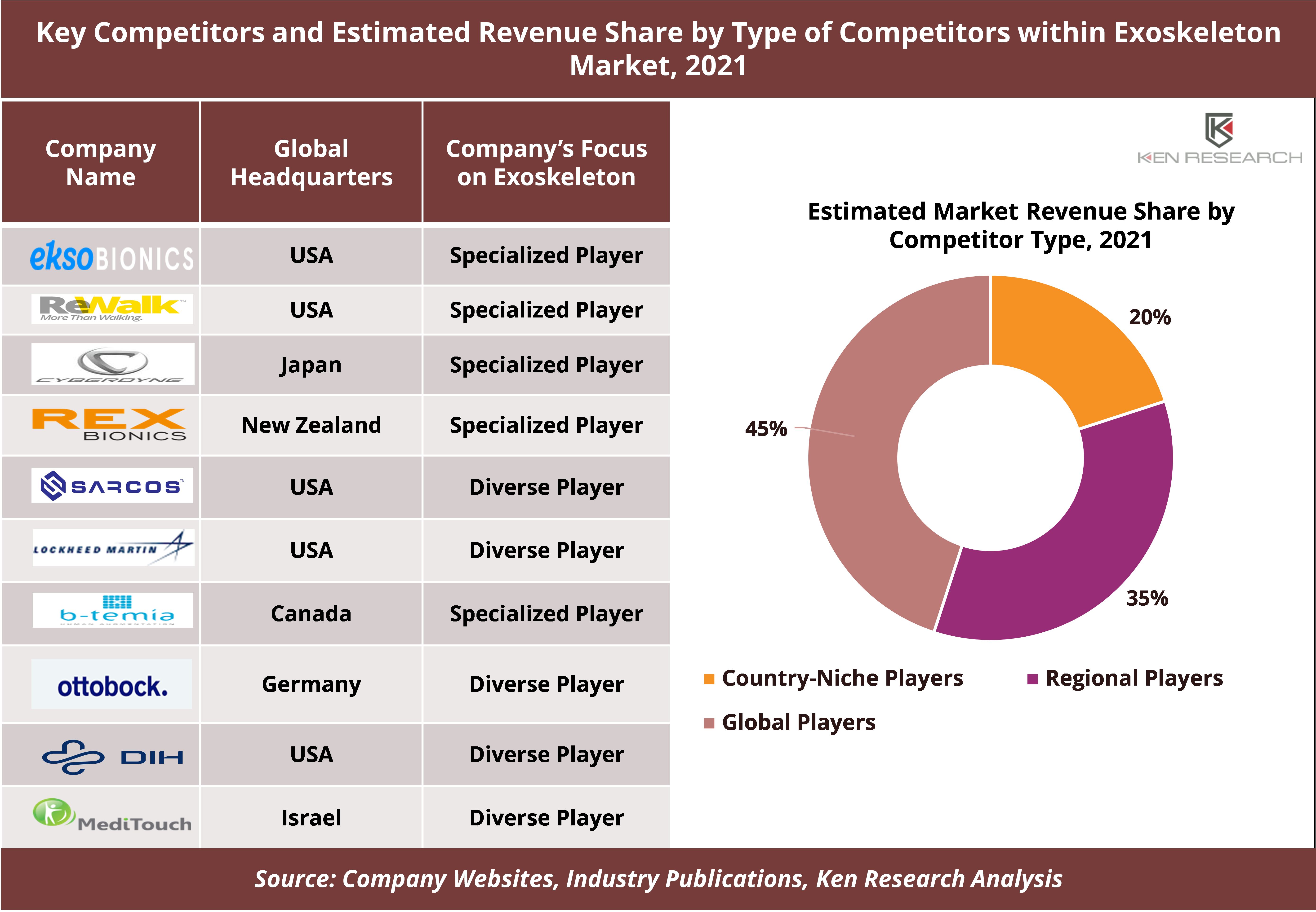 In May 2021, Ekso Bionics collaborated with Kindred Healthcare to provide EksoNR, which is a robotic exoskeleton used in healthcare, into Kindred's Long-Term Acute Care Hospitals in the U.S.A. EksoNR is a robotic exoskeleton device that helps patients recover from brain injury, stroke, and spinal cord injuries.
In January 2021, suitX launched the novel wearable exoskeleton called "shieldX", healthcare personnel use sheildX as a substitute for heavy anti-radiation aprons, which will reduce weight up to 100% and save user's neck and back from injuries due to heavy anti-radiation aprons.
Request For Sample Report @
https://www.kenresearch.com/sample-report.php?Frmdetails=NTk2MDc5
Increasing Government Initiatives and Policies propelling the growth of the Global Exoskeleton Market
In November 2021, the United Kingdom launches its "Future soldier" Modernization plan, which will help them to expand the military at globe level. In addition, the defense ministry said that it would spend an extra US$ 11.46 billion on military hardware during the following ten years.
In April 2021, the Russian government announced the setup of the Robotic military unit. These plans are based on current research and development (R&D) carried out by the domestic defense sector, which has made use of artificial intelligence (AI) in military applications. This will directly help the growth of wearable robotic exoskeletons for the military Segment.
For more information on the research report, refer to the below link:
Global Wearable Robotic Exoskeleton Market | Latin America Exoskeleton Market
Read Also –  
3 Key Insights on US$ 2,500 Mn Opportunity in Global Exoskeleton Market
Follow Us –
LinkedIn | Instagram | Facebook | Twitter | YouTube
Contact Us: –
Ken Research
Ankur Gupta, Head Marketing & Communications
+91-9015378249