Driven by the adoption of the exoskeleton in the healthcare sector, the Global Exoskeleton Market is forecasted to reach nearly US$ 2,500 Mn by 2030 says Ken Research Study.
The exoskeleton is a wearable robotic device that is used to improve the wearer's physical performance for human tasks. The exoskeleton supports people when they walk, stand, and carry heavy things. Using the exoskeleton technology can lessen the consequences of various impairments, such as muscular dystrophy, and paralysis. There are three types of exoskeletons i.e. full body, upper body, and lower body exoskeleton, which are widely used in healthcare, defense, and industrial sectors for process automation and to enhance productivity.
Ken Research shares 3 key insights on this high-opportunity market from its latest research study.
1.   The Exoskeleton Market Is Witnessing Steady Growth Owing to the adoption of exoskeletons in the healthcare sector.
The Exoskeleton market is witnessing steady growth owing to the adoption of the exoskeleton in the healthcare sector for robotic rehabilitation and robotic therapy, which means designing wearable robotic exoskeletons to improve movement in persons with impaired physical functioning. According to the Rehabilitation Council of India, a Government body that regulates training programs and courses targeted at the disabled, and special education requirement communities stated that more than 15,000 people in India lose their ability to walk either due to a stroke or spinal injury. Furthermore, many companies are currently developing exoskeletons for rehabliion purposes.
In March 2020, Bionic Yantra has built a Robotic Exoskeleton Assisted Rehabilitation System (REARS) which will help people to recover more quickly from spinal injuries and stroke.
In November 2019, Toyota launches the new "Welwalk WW-2000" which is a robot designed to provide rehabilitation support to patients suffering from lower limb paralysis.
According to Ken Research estimates, the Global Exoskeleton Market – valued at around ~US$ 300 million in 2019 and estimated to reach nearly ~US$ 550 million by 2022 – it is further expected to reach a market size of ~US$ 2,500 million opportunity by 2030.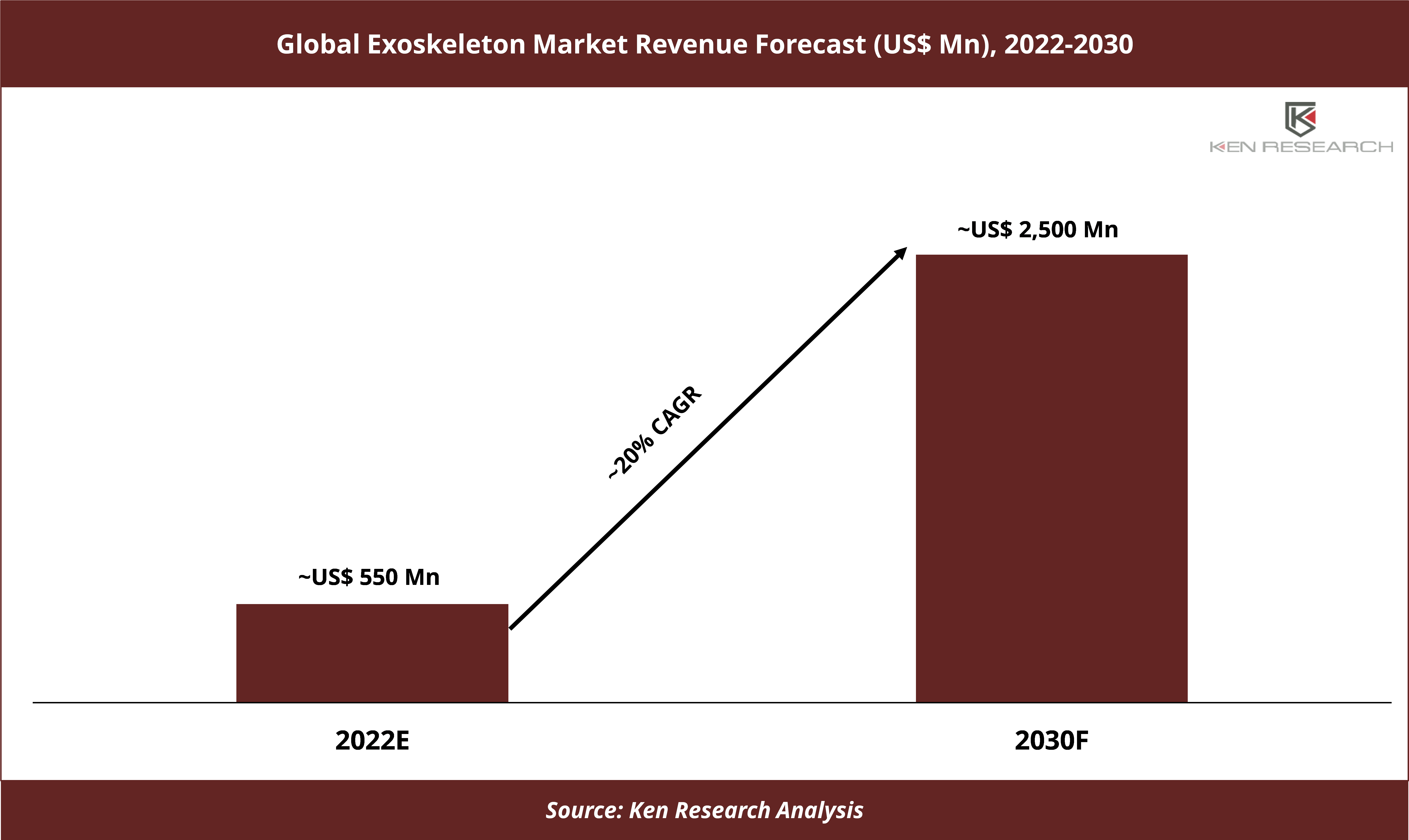 2.   The Concept of Human Enhancement for The Defense and The Industrial Sector Is Driving the Growth of The Global Exoskeleton Market Growth.
The concept of human enhancement for defense and industrial purposes i.e., adding advanced technological changes to the human body in order to enhance physical capabilities.  Exoskeleton can significantly increase a person's physical capabilities, which can be highly beneficial in military and industrial sectors such as loading, and unloading materials, and transporting heavy materials ammunition, and guns easily.
In May 2019, the U.S Military completed the trials for the use of exoskeletons. The wearable exoskeletons provide support, strength, and endurance, which will eventually protect soldiers from strain injury.
Request For Sample Report @
https://www.kenresearch.com/sample-report.php?Frmdetails=NTk2MDc5
3.   High Cost of Exoskeletons Is One of The Major Reasons Hindering the Growth of The Global Exoskeleton Market.
The high cost of exoskeletons impacts the growth of the global exoskeleton market.  The price of exoskeletons is affected by advanced exoskeleton technology which has certain improvements such as higher efficiency, high payload, and enhanced physical strength.
The average cost of an exoskeleton in healthcare that provides walking support for people suffering from spinal injury or stroke is US$ 77,000 while robotic rehabilitation cost more than US$ 100,000. Whereas the average military-based exoskeleton is around US$ 25000.
The below graphs depict the average cost of exoskeletons in US$.
For more information on the research report, refer to the below link:
Opportunities in Global Exoskeleton Market
Read Also –
3 Key Insights on Nearly $7 Bn Opportunity in the Global Agricultural Pumps Market
Follow Us –
LinkedIn | Instagram | Facebook | Twitter | YouTube
Contact Us: –
Ken Research
Ankur Gupta, Head Marketing & Communications
+91-9015378249