Global and Regional Players Together Dominate the Market Holding ~75% Share Despite the Presence of about ~500 Competitors Comprising a Notable Number of Country-Niche players, finds a recent market study on the Global Agricultural Pumps Market.
Agricultural pumps help meet the needs of irrigation or livestock watering by pulling out water from a range of sources. The water can be deployed to the fields or livestock by sprinklers, flood, or micro-irrigation techniques. Agricultural pumps prove effective in drawing water from surface-level reservoirs as well as from sources that could be even as deep as 1,500 feet. Once pulled out from the source, these pumps help in transferring water at high pressure to the field location.
Ken Research shares 3 key insights on the competitive landscape of this dynamic market from its latest research study.
Global Players Constitute ~5% of the Total Number of Competitors, While Country-Niche Players Dominate Representing ~60% of Total Competitors.
A comprehensive competitive analysis conducted during the Research Study found that the Global Agricultural Pumps Market is distributed among ~500 players, including globally diversified players, regional players, and country-niche players with expertise in offering pumping and water/flow management solutions that specifically address the need of a region's land and water supply system. Some global players, expected to retain their leadership in the market during the forecast period, include Xylem Inc., Grundfos, Franklin Electric, Flowserve, WILO, Falcon Pumps Pvt. Ltd., Walrus Pumps Co. Ltd., Kirloskar Group, Haicheng Suprasuny Pump, Lindsay Corporation, etc.
Facility Expansion and Product Line Optimization Drive the Major Players in Formulating their Key Strategy
Detailed comparative analysis of key competitors available within the Research Study shows that many companies such as Flowserve, Grundfos, and more, are focused on providing sustainable energy-optimized solutions. Many leading players are also expanding their regional and local facilities to gain a greater foothold in the market.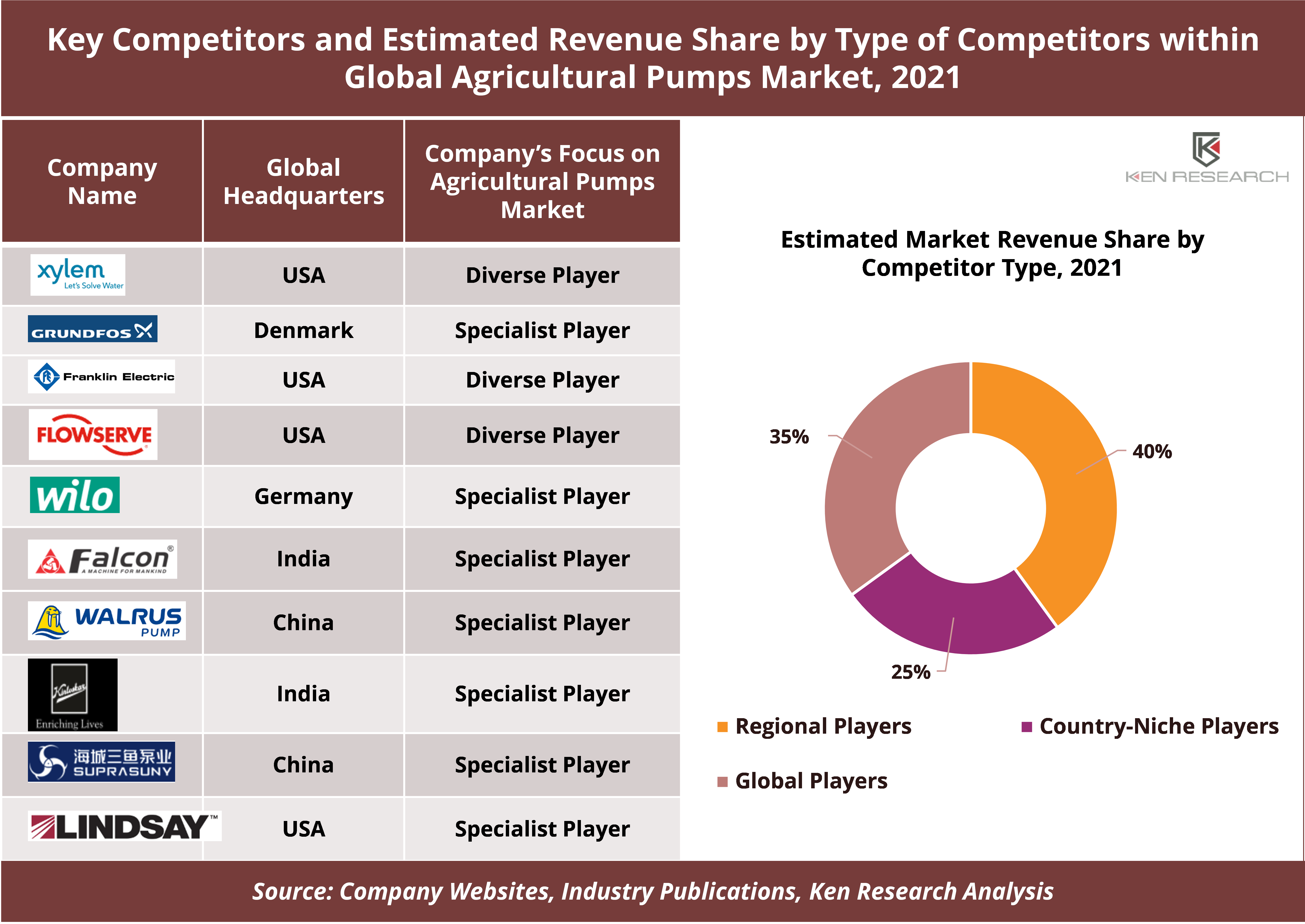 Request For Sample Report @
https://www.kenresearch.com/sample-report.php?Frmdetails=NTk2MDc4
In March 2022, Flowserve Corporation launched its new Energy Advantage Program. This program intends to empower customers with a systematic data-backed evaluation process to make their pumps optimally energy efficient. According to Rob, the company's Vice President, Energy Advantage, four of the company's pumps that were tested under this program resulted in 34% improved energy consumption.
In October 2022, Grundfos opened an in-house testing facility for submersible pumps at its South Australian Headquarters. Built at a cost of US$3 million, the facility would help the company test more than 16,000 pumps annually. The facility would also help boost the local supply of sustainable solutions for agriculture, including the SQFlex series, the solar-powered submersible pump range.
Increasing Government Regulations, and Investments propelling the growth of the Agricultural Pumps Market
In April 2022, the United States Agency for International Development (USAID) launched an initiative in Senegal through its 'Scaling Up Renewable Energy Program'. Through the program, the US government agreed to provide grants of up to US$150,000 to convert diesel water pumping systems to Solar. Another grant of up to US$100,000 was earmarked to convert manual water pumping systems to solar.
As per a report published in EQ International in February 2022, the Government of India has introduced a program to replace agricultural diesel pumps in the country with solar water pumps. In India, there have been around 30 million agricultural pumps erected. Of these 30 million pumps, nearly 10 million are diesel-powered. A key player in the roof-top solar segment, Navitas Solar, has been entrusted with the assignment to provide total solutions for solarizing agriculture pumps.
For more information on the research report, refer to the below link:
Emerging Companies in Agricultural Pumps Market
Read Also –
3 Key Insights on Nearly $7 Bn Opportunity in the Global Agricultural Pumps Market
Follow Us –
LinkedIn | Instagram | Facebook | Twitter | YouTube
Contact Us: –
Ken Research
Ankur Gupta, Head Marketing & Communications
+91-9015378249