Driven By the Rise in Global Population, Increased Pressure for Food on Our Agricultural Production/Supply System, Growing Adoption Rate of Modern and Efficient Farming Techniques, and Governments Across the World Proactively Supporting Modernization, the Global Agricultural Pumps Market is Forecasted to Reach Nearly $7 Bn by 2028, says Ken Research Study.
Agricultural pumps are considered to be immensely crucial machines that help make irrigation and farming efficient and cost-effective. Apart from serving the purpose of irrigation on cultivable lands, these pumps also prove effective for livestock watering. Transferring and distributing water, pulled out by these pumps from reservoirs or wells, can be done by drip sprinklers and using hosepipes. An agricultural pump may be powered by electricity, solar energy, or diesel/petrol. Depending on the depth of the water source and the pressure required to transfer the water to the field, these pumps can have varying hydraulic or water horsepower, starting from 0.5 hp to more than 40 hp.
"Ken Research shares 3 key insights on this high opportunity market from its latest research study"
1. Efforts Undertaken to Increase Food Production through Efficient Farming Techniques are Helping the Global Agricultural Pump Market to Grow
The Global Agricultural Pumps market is expected to grow steadily at a moderate pace during the forecasted period of 2022-2028. A steadily increasing population across the world is leading to a steady increase in the demand for food. The growing demand for food cannot be met without an increase in yield. It requires efficient farming techniques. Cost-effective and efficient irrigation is a major component in making farming optimally productive. According to the latest available data (as of October 7th, 2022) published by the Food and Agriculture Organization (FAO) of the United Nations, the worldwide production of cereals increased to 2,768.4 million tonnes from 2,644.3 million tonnes in 2018-19. During the same period, the global production of wheat increased from 731.4 million tonnes to 787.2 million tonnes, and the production of wheat coarse grain increased from 1,404.7 million tonnes to 1468.4 million tonnes. Such a steady increase would not be sustainable if farmers and farming organizations do not keep deploying effective pumping systems for irrigation and water management.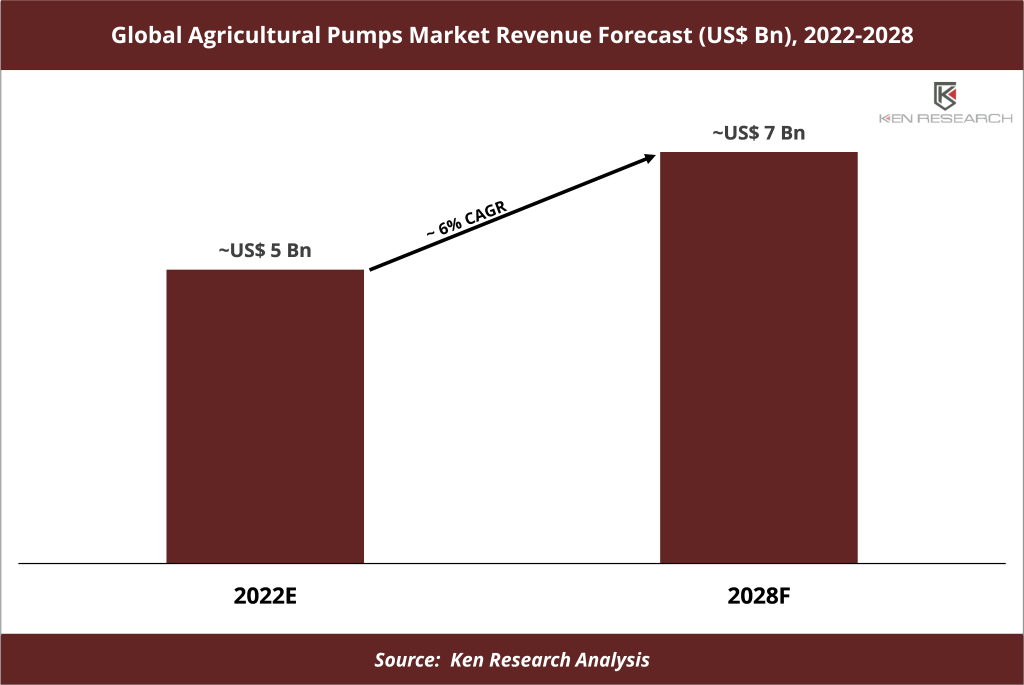 The Global Agricultural Pumps Market was valued at ~US$3 billion in 2017. The market is estimated to have reached ~US$5 billion in 2022 and grow further to a size of ~US$7 billion by 2028.
Growth in Poultry Consumption Leading to a Growth in Livestock Watering Needs
Apart from irrigation in the agricultural fields, agricultural pumps also cater to the need for livestock watering. According to the data presented by the Economic Research Service (ERS), U.S. Department of Agriculture, poultry has emerged as the most consumed livestock commodity in the world. Between 2001 and 2021, global poultry imports increased by an average of 4% a year to reach 14.2 million metric tons in 2021. The ERS estimates that this consumption would keep increasing to reach 17.5 million metric tons by 2031. Growth in poultry consumption is expected to boost the demand for livestock watering and pumps that serve this purpose.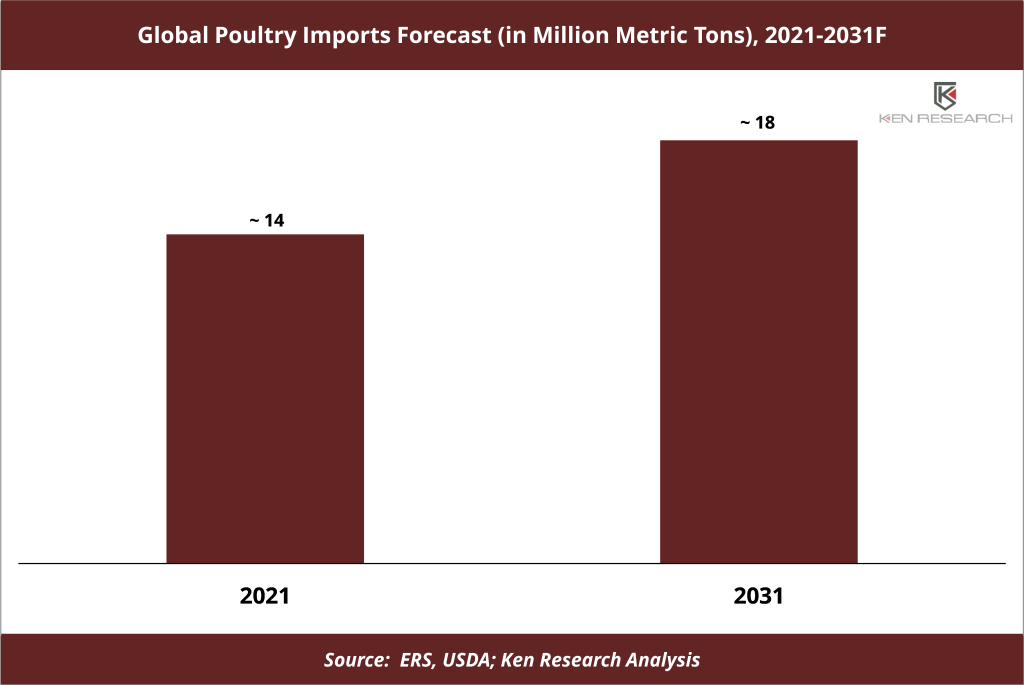 Request For Sample Report @
https://www.kenresearch.com/sample-report.php?Frmdetails=NTk2MDc4
3.   Solar Agricultural Pump Pricing Remains Prohibitive in Many Parts of the World
While Solar Pumps are energy-efficient and sustainable solutions for agricultural irrigation, its price still remains prohibitive, especially in areas that need them the most, like Sub-Saharan Africa. According to the data provided by Rural Power Systems, USA, a solar pump will cost around $1,600 to $2,000 to fetch water out of wells that are 150 feet in depth. For a well up to 300 feet deep, the price could go up to anywhere between US$2,500 and US$3,500. These prices are significantly higher than the per capita GDP in the Sub-Saharan region, which was nearly US$1,502 in 2020 and US$1,646 in 2021.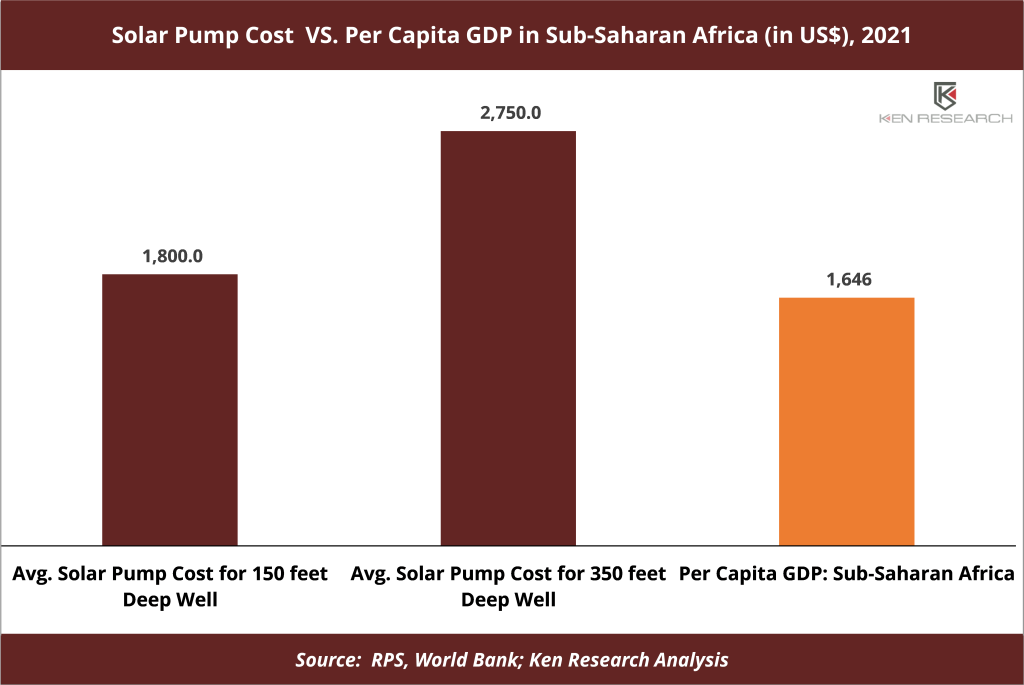 For more information on the research report, refer to the below link:
Top Agricultural Pumps Manufacturing Companies
Read Also –
3 Key Insights on $16 Bn Opportunity in Asia Pacific Virtual Reality Market
Follow Us –
LinkedIn | Instagram | Facebook | Twitter | YouTube
Contact Us: –
Ken Research
Ankur Gupta, Head Marketing & Communications
+91-9015378249