Regional Players Dominate the Market Holding nearly 45% of Revenue Share Despite the Presence of about 150 Competitors Comprising Global Players, Regional Players, and Country-Niche Players find a recent market study on the Global Prosthetics and Orthotics Market by Ken Research
Prosthetics is the branch of surgery that deals with the fitting of prosthetic devices, especially artificial limbs in individuals who have lost their limbs. Orthotics is a medical field that deals with the design, manufacture, and fabrication of artificial devices like braces, splints, and others to support damaged or weak joints, bones, muscles, and others.
Ken Research shares 3 key insights on the competitive landscape of this dynamic market from its latest research study.
Country-Niche players constitute ~50% of the Total Number of Competitors and hold ~25% of the Total Market Revenue
A comprehensive competitive analysis conducted during the Research Study found that the Global Prosthetics and Orthotics Market is highly competitive with ~150 players which include globally diversified players, regional players as well as a large number of country-niche players who have their niche in Prosthetics and Orthotics Market. The global players comprise ~15% in terms of the number of companies and hold about 30% of the market share. Key players in the market are focused on launching new products and are engaged in extensive research and development for developing advanced prosthetics and orthotics to gain significant market share.
Leading Players Focused on Extensive R&D and Product Development of  Prosthetics and Orthotics Products
Detailed comparative analysis of key competitors available within the Research Study shows that specialist players such as Bauerfeind, Össur, Fillauer LLC, and Ottobock are highly focused on providing advanced products with new features to cater to the demand of the end users. Furthermore, several companies are aggressively involved in extensive R&D for the development of new products, which is expected to fuel the growth of the market.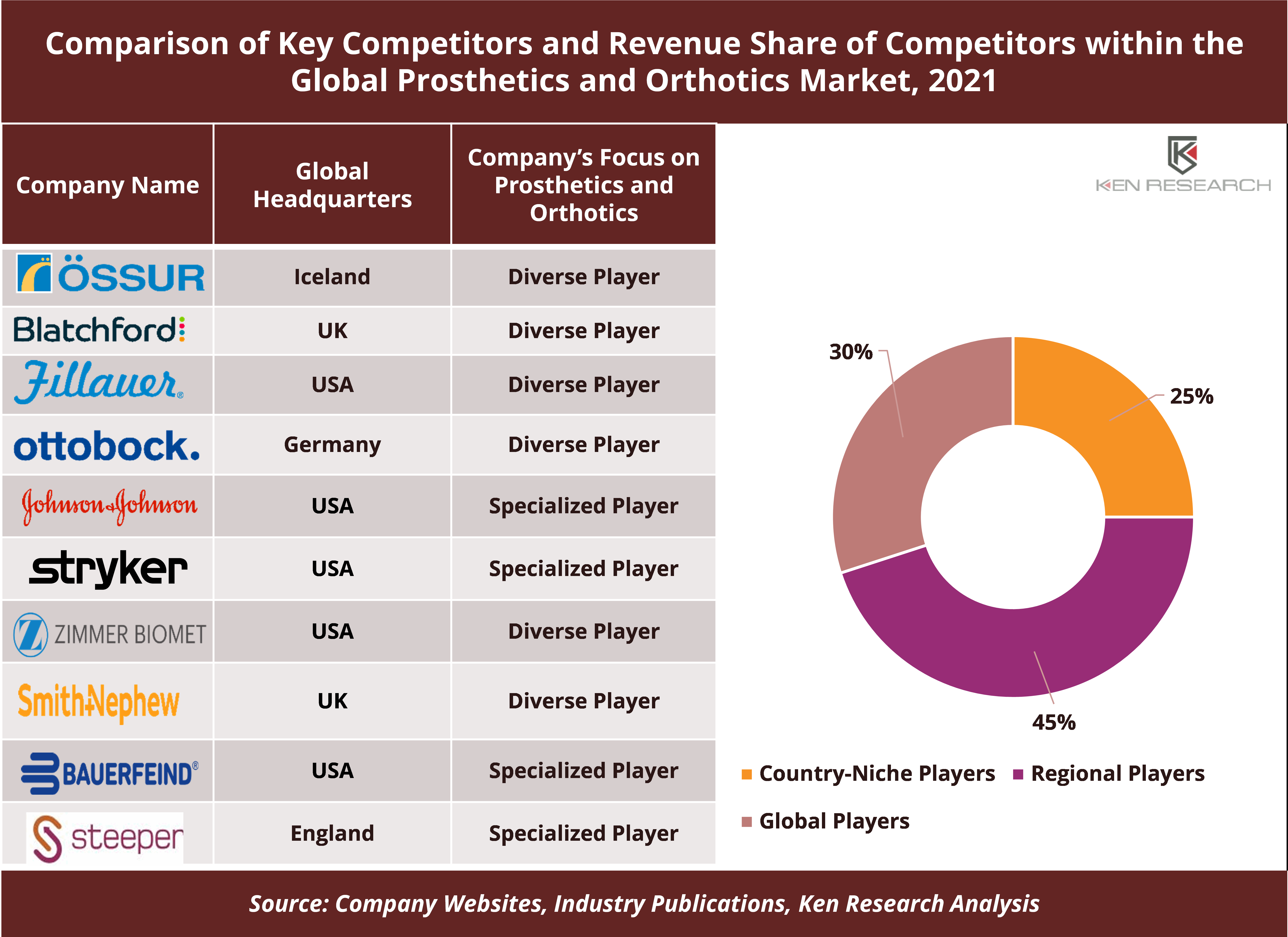 In April 2022, Warsaw, an orthopediatrics corp. acquired MD Orthopaedics for US$19.6 million. The company aimed to expand its product portfolio by acquiring MD Orthopaedics' patented system for the treatment of clubfoot and custom fit bracing system that has supported the dissemination of the Ponseti Technique – the gold standard treatment for clubfoot.
In July 2021, Össur launched the ReboundPost-Op Elbow Brace, an anon-invasive, featherlight adjustable brace with intuitive design features. The company aimed to optimize the befitting experience for clinicians as well as ease of use for cases who are retrieving from a severe elbow injury or surgical operations.
Request For Sample Report @
https://www.kenresearch.com/sample-report.php?Frmdetails=NTk2MTE2
Increased Government Initiatives to Promote the Adoption of Prosthetics and Orthotics Devices
In July 2021, the American Orthotics and Prosthetic Association (AOPA), introduced the Medicare orthotics and prosthetics patient-centered care act in the Senate. Analogous progressions are contributing to the adding demand for prosthetics and orthotics in the United States.
In March 2022, the National Defense Industrial Association (NDIA) reported an increase in the upper limit of mid-cost assistive technology (AT) from US$ 5,000 to US$ 15,000. This will refine access to AT under the National Disability Insurance Scheme (NDIS).
For more information on the research report, refer to the below link:
Top Manufactures of Prosthetics and Orthotics
Read Also –
3 Key Insights on Nearly $7 Bn Opportunity in the Global Agricultural Pumps Market
Follow Us –
LinkedIn | Instagram | Facebook | Twitter | YouTube
Contact Us: –
Ken Research
Ankur Gupta, Head Marketing & Communications
+91-9015378249