The report titled "Europe Agrochemical Market Outlook to 2025- By Herbicides (Based on Phenoxy-Phytohormones, Triazines, Carbamates), By Fungicides (Based on Inorganic, Benzimidazoles, Triazoles), By Insecticides (Based on Pyrethroids, Organophosphates, Carbamates), By Biopesticides (Bioherbicide, Bioinsecticide, Biofungicide), By Country (France, Spain, Italy, Germany, Poland), and By Application (Cereals, Fruits, Vegetables)" by Ken Research suggested that the Europe Agrochemical Market witnessed a negative growth between the review period (2014 and 2019) due to strict regulations imposed by the government on agrochemical companies and change in preferences of the customers from chemical based pesticides to biopesticides.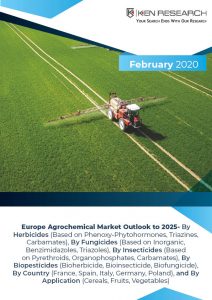 "Due to rise in demand for sustainable agriculture, the demand for biopesticides has increased over the years"
Ban of Active Neonicotinoids: Over the years, European Union banned the use of various chemical based pesticides in the region. For instance, in 2018, EU completely banned the use of Neonicotinoids for all outdoor uses, owing to their harmful impact on pollinators and bees. In addition to this, Glyphosate can be used as an active substance in plant protection products in the region till 15th December.
Diversified Product Offerings: Agrochemical companies have focused on developing solutions as per the needs of the farmers in order to differentiate their service offerings from other players in the market. Companies have been intending to become one stop service provider by addressing all needs of the farmers including crop protection, seed treatment, postharvest solutions, digital farming and others.
Rise in Demand for Biopesticides: The major players in the agrochemical market have been focusing on development of solutions for biopesticide segment. For instance, FMC aims to spend 80% of their research and development budget to create sustainable products by 2020. In addition to this, the government has been focusing their efforts in reducing the consumption of chemical based pesticides in Europe. For instance, in 2008, French government launched an initiative named EcoPhyto to reduce the consumption of pesticides in the country. Increase investment in R&D, increasing taxes on pesticides, prohibition of certain active ingredients has been some initiatives taken by the government to reduce the usage of chemical based pesticide.
Key Segments Covered
Europe Agrochemical Market
By Revenue of Total Market in Euro Million
By Revenue of Active Substance Market in Euro Million
By Sales Volume of Active Substance Market in Metric Tonnes
By Herbicide
Based on Phenoxy-Phytohormones
Based on Triazines
Based on Amides
Based on Carbamates
By Insecticide
Based on Pyrethroids
Based on Carbamates
Based on Organophosphates
By Fungicide
Based on Inorganic Compounds
Based on Dithiocarbamates
Based on Benzimidazoles
Based on Diazoles or Triazoles
By Biopesticide
Bioherbicides
Bioinsecticides
Biofungicides
By Country                                      
France
Germany
Spain
Italy
Poland
By Form                    
Liquid
Granule
Powder
By Application
Cereals
Fruits
Vegetables
Other Crops such as Sugarbeet, Potatoes, Olives, Almonds and other crops grown in European Countries
Europe Biopesticide Market
Europe Biopesticide Market By Revenue in Euro Million
Europe Biopesticide Market By Sale Volume  in Metric Tonnes
Europe Biopesticide Market Segmentation by Type of Biopesticide (Bioherbicides, Bioinsecticides and Biofungicides)  on the Basis of Sales Volume in Metric Tonnes and Revenue in Euro Million
Key Target Audience
Venture Capitalist Firms
Agrochemical Manufacturers
Raw Material Suppliers
Research & Development Institutes
Government Bodies & Regulatory Authorities
Agriculture Co-Operatives and Pesticide Associations
Time Period Captured in the Report:
Historical Period: 2014-2019
Forecast Period: 2020F-2025F
Companies Covered:
Europe Agrochemical Market
Syngenta
Bayer
BASF
Corteva Agriscience
FMC Corporation
Adama Agricultural Solutions
UPL
Nufarm
Key Topics Covered in the Report
Crop Protection Products Registration and Approval Process in European Union
Value Chain Analysis in Europe Agrochemicals Market
Country Profiles  of Spain, Germany, France, Italy and  Poland)
Mergers, Acquisitions, Disinvestments and Partnerships in Agrochemical Industry
SWOT Analysis of Europe Agrochemical Market
Competitive Landscape in Europe Agrochemical Market
Business Strategies
Strengths & Weakness of Major Players (Syngenta, Bayer, BASF, Corteva, FMC Corporation, Adama, UPL and Nufarm) in Europe Agrochemical market
Cross Comparison of Major Players (Syngenta, Bayer, FMC Corporation, Corteva, Upl, Adama, BASF and Nufarm) in Europe Agrochemical Market, 2019
Company Profiles of Major Players Operating in Europe Agrochemical Market (Syngenta, Bayer, FMC Corporation, Corteva Agriscience, Adama, UPL, BASF and Nufarm)
Analyst Recommendations for Europe Agrochemical Market
For More Information, refer to below link:
Related Reports
Brazil Agrochemical Market Outlook to 2025 – By Type of Pesticides (Herbicides, Insecticides, Fungicides and others), By Generic and Patented, By Form of Pesticides (Liquid, Granules and Powder), By Market Structure (Organized and Unorganized Sector), By Type of Crops (Cereal Crops, Fruit Crops and Vegetable Crops), By Region (Mato Grosso, Parana, Sao Paulo, Rio Grande do Sul and Others)
Indonesia Agrochemicals Market Outlook to 2025- By Type of Pesticides (Herbicides, Insecticides, Fungicides, Bio Pesticides and Others), By Type of Crop Protection Product (Generic and Patented), By Application (Cereals, Vegetables, Fruits and Plantations) and By Sales Regions (Java & Bali Region, Sulawesi, Sumatra and Kalimantan)
South Africa Crop Protection Market Outlook to 2022 – By Herbicides, Insecticides, Fungicides, Biopesticides and others; By Generic and Patented Pesticides; By Technicals and Formulations; By Crops (Cereal Crops, Fruit Crops and Vegetable Crops)
Contact Us:
Ken Research
Ankur Gupta, Head Marketing & Communications
Ankur@kenresearch.com
+91-9015378249