COVID-19 Impact on Australia's Online Advertising Market: The pandemic swiftly transformed all aspects of daily life, including how consumers engage with the media and retail landscapes. Faced with uncertainty about the future, advertisers and marketers had exercised caution and were closely scrutinizing their spend and activities to ensure their people and businesses remain viable once life returns to normal. The pandemic forced businesses to scale down operations, with many reviewing their marketing budgets but Digital Marketing or Online marketing and Advertisement saw a rise.
Rise in Online Advertising Industry: The Online Advertising industry has grown at a rapid pace over the past five years, as operators have significantly expanded their scope and refined their ability to provide users with relevant online content. As more consumers have used search engines, online directories, online classifieds and other related services, data from their search history and usage, along with other factors such as location and web browsing device, has been analyzed to provide more accurate targeted advertising. Client businesses have also directed more of their advertising budgets to internet-based marketing channels over the past five years, benefiting the industry.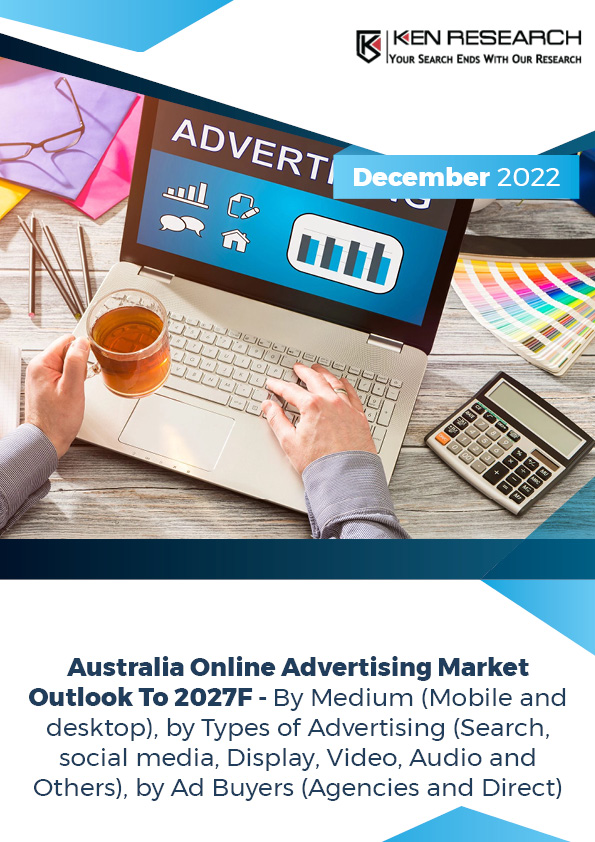 For more information, Request a Free Sample Report
Consumer Laws for Online Advertising: Advertising and marketing are regulated by Schedule 2 of the Competition and Consumer Act 2011 (Cth) (the Australian Consumer Law or ACL), which contains the general overriding obligation on advertisers to ensure that advertisements are not false, misleading, or deceptive. All products and services advertised in Australia must comply with the Australian Consumer Law. This law is enforced by the Australian Competition and Consumer Commission (ACCC), an Australian government body, but competitors and consumers are also able to take legal action against advertisers for breach of the law under the ACL. This regulatory step keeps a check on frauds in Online Advertising in Australia, saving consumers from incorrect information.
Analysts at Ken Research in their latest publication "Australia Online Advertising Market Outlook to 2027F- Driven by Increasing Internet penetration, Adoption of technology and Consumer preference" observed the potential of the Online AD Market in Australia. There are a large number of advertising agencies operating in the Australian Online Advertising Market. These agencies compete on various parameters such as pricing of the services offered (average hourly rate), minimum project size, service portfolio, major clientele and flexibility. The supply side of the digital advertising market on the other hand is dominated by the duopoly of Google (including YouTube) and Facebook (including Instagram). The Australia Online Advertising Market is expected to grow at ~% CAGR over the forecasted period 2022-2027F.
Key Segments Covered in the report
Germany Car Rental Market
By Medium:
Mobile
Desktop
By Type of Advertising:
Search
Social Media
Display
Video
Audio
Others
By Sectors/Industries:
Retail
Automotive
Financial Services
Telecommunications
Leisure Travel
Consumer Packaged Goods
Electronics & Computers
Pharmaceuticals/Healthcare
Media
Entertainment
Others
Visit A link Request for Custom Report
By Pricing Model:
Cost per Mile
Cost per Click
Cost per Action
By Ad Buyers:
Agencies
Direct Medium
Key Target Audience
Advertising Agencies
Social Networking Platforms
End User Industries Investing in Digital Advertising
Regulatory Bodies and Government Agencies
Investors
Industry Associations
Consulting Agencies
Government Bodies & Regulating Authorities
Time Period Captured in the Report:
Historical Year: 2017-2022
Base Year: 2022
Forecast Period: 2022– 2027F
Companies Covered:
Saatchi & Saatchi Australia
The Works
303 MullenLowe
BCM Group
ROICOMAU Growth Agency
BWM Dentsu
Ogilvy Australia
The Brand Agency
Zenith
oOh!
DDB Group Australia
Intesols
Zoo Group
WME Australia
Major Online Platforms
Google
Facebook
Instagram
YouTube
LinkedIn
Twitter
Key Topics Covered in the Report
Australia online advertising market introduction (historical evolution, overview, genesis, business cycle)
Australia online advertising market size, 2017-2022
Australia online advertising market segmentation, 2017-2022
Swot analysis of Australia online advertising market
Growth drivers, trends and developments in Australia online advertising market
Issues and challenges in Australia online advertising market
Regulatory framework in Australia online advertising market
Customer profiling in Australia online advertising market
Case studies covered in Australia online advertising market
Competitive landscape in Australia online advertising market
Australia online advertising market future outlook and projections, 2017-2027F
Analyst recommendations
For more insights on the market intelligence, refer to the link below:-
Australia Online Advertising Market
Related Reports By Ken Research:
US Online Advertising Market Outlook to 2025
Singapore Online Advertising Market Outlook to 2023