Brazilian Government is likely to spend approximately BRL 205 Billion per year in 2019-2024 on infrastructure development in the country.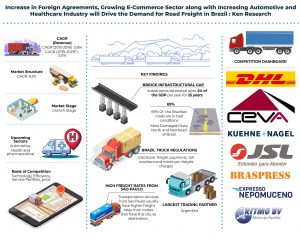 The government has signed contracts with the private sector for BRL 100 billion in road construction projects over the next four years. The plans include pavement of BR-319 highway and BR-163 till Suriname border, potentially opening that region to mining and agribusiness.
Boosting e commerce sector due to ease in payment method such as installment payment method and Boleto Bancario are expected to increase the demand for Road Freight in Brazil.
Increase in International Trade: The bilateral and free trade agreements with Chile, Inclusion of Bolivia in MERCOSUR, and trade agreement of EFTA with MERCOSUR are expected to improve the road freight movements substantially. Infrastructural projects such as Foz do Iguacu – Puerto Presidente Franco highway, Porto Mustinho- Carmelo Peralta highway, Rurrenabaque – Riberalta highway will improve the road connectivity with Bolivia, Paraguay and other neighboring countries.
New Regulations by Land Transportation Authority:
ANTT has launched a public consultation inviting suggestions on the road freight charge regulation and introduced "National Policy of Road Cargo Transportation Charge Standards" with respect to Brazilian truck driver crisis in 2018. It has set forth general rules and a method to calculate the road freight charge that will help in regulating the road trucking. The Minimum freight charges will eliminate any discrepancies by the company towards the truck drivers.
Upcoming Infrastructural Developments:
Brazilian government had initiated Brazilian Investment Partnership Program to structure governance around partnerships with the private sector has brought more than 9600 kilometers of highway under concession. Pavement of BR-319 highway will reconnect Realidade with Manaus and extension of BR-163 will open trading opportunities for the country with northeastern countries such as Suriname.
Analysts at Ken Research in their latest publication "Brazil Road Freight Market Outlook To 2023 – By International and Domestic Freight, Domestic Flow Corridors, International Flow Corridors, End Users, Integrated and Contract Logistics"  believe that the Freight Forwarding market by Road in Brazil is expected to grow due to entrance of private companies in the infrastructure development, Trade Agreements with neighboring countries, growing Automotive and Healthcare industry and minimum freight Regulations by Brazil Land Transport Authority.
Key Segments Covered
Brazil Road Freight Market
Revenue By Type of Freight
International Freight
Domestic Freight
Revenue By Domestic Flow Corridors
Sau Paulo-Port Alegre- Sau Paulo
 Sau Paulo-Rio de Janeiro – Sau Paulo
Santos- Brasilia- Santos
Others
Revenue By International Flow Corridors
Argentina
Chile
Colombia
Paraguay
Uruguay
Bolivia
Others
Revenue By Contract and Integrated
Contract Logistics
Integrated Logistics
Revenue By End User (Industry size covered)
Food and Beverages
Consumer Retail
Automotive
Healthcare
Others (Chemical products, fertilizers, Rubber and plastic products etc)
Companies Covered
DHL
CEVA Logistics
Kuehne+Nagel
JSL S.A.
Ritmo Logistics
Braspress Logistics
Expresso Nepomuceno
Key Target Audience
Freight Forwarding Companies
E Commerce Logistics Companies
3PL Companies
Consultancy Companies
Express Delivery Logistics Companies
Time Period Captured in the Report:-
Historical Period – 2013-2018
Forecast Period – 2019-2023E
Key Topics Covered in the Report:-
Logistics Infrastructure in Brazil
Brazil Road Freight Market Overview
Brazil Road Freight Market Size
Brazil Road Freight Market Segmentation
Competitive Scenario in Brazil Road Freight Market
Company Profiles of Major Players in Brazil Road Logistic Market
Case Study on Manbang Group, Truckpad and CargoX
Brazil Road Freight Market Future Outlook and Projections
Brazil Road Freight Future Market Size
Brazil Road Freight Market Future Segmentation
Analyst Recommendations
For More Information, refer to below link:
Related Reports
Kenya Freight Forwarding Market Outlook To 2023 – By Sea, Land, Air, Rail And Pipeline Freight; International And Domestic Freight, Integrated And Contract Logistics Freight Forwarding
Uganda Freight Forwarding Market Outlook To 2023 – By Road, Rail And Air Freight; International And Domestic Freight, Integrated And Contract Freight And By End Users (Food And Beverages And Consumer Retail, Automotive, Healthcare And Others)
South Africa Logistics Market Outlook To 2023 – By Sea, Land, Air Freight Forwarding; International And Domestic Freight, Integrated And Contract Logistics Freight Forwarding; By Warehousing (Industrial/ Retail, ICD/CFS, Cold Storage, Others), 3PL Warehousing, Cold Chain; By Express Logistics And E-Commerce Logistics
Contact Us:
Ken Research
Ankur Gupta, Head Marketing & Communications
Ankur@kenresearch.com
+91-9015378249