"The steady growth of Brazilian agriculture is due to increased production and exporting of crops such as soybean, sugarcane, wheat and corn, among others."
Increase in Soybean Production over the Years: There has been a rapid incline in the revenue generated from soybean within Brazil to around USD 2,009. 2 million in 2018 from USD 1,746.1 million in 2013 majorly due to the growing demand for animal feed in Brazil where meat and poultry are the main sources of protein. Also, the producers gained access to more productive cultivars, better adapted to the new environmental conditions and resistant to pests and diseases. Such improvements were sustained by development of a strong seed production system through heavy investment over the years.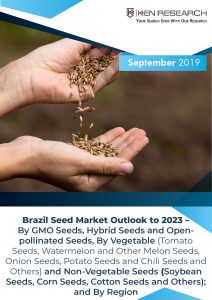 The National Service for Plant Variety Protection is a system created for protecting cultivars. It has included over 110 species in the plant variety protection regime and has granted more than 3,386 Crop Protection certificates in Brazil during 2018. Vines, fruit trees, forest trees and ornamental trees shall have an increased duration of validity of 18 years. Additionally, the seed companies are creating new strategies to sell their product and customizing the same with respect to color, flavor, size and shape. The leading segment in the Brazil seed market is the non-vegetable seeds segment which generated higher revenue as compared to the vegetable seed market during the year 2018 within Brazil.
In terms of regional demand, Goias was observed to dominate Brazil seed market in terms of revenue in the year 2018. The region is well known for having many food-processing industries. The development of these industries is likely due to the high amount of cattle in the region. Since non-vegetable crops are used mostly as feed for cattle or poultry, it follows that the demand for the same would be high.
Increased Adoption of Transgenic Seeds: In terms of usage, Brazil was ranked at second position in the world in terms of usage of transgenic seeds with 50.2 million hectares right after US with around 75 million hectares as of 2018. As compared with arm saved seeds, transgenic seeds provide 26.0% more profit margins in terms of savings on complimentary inputs such as reduced use of fertilizers and others. Other major advantages of using transgenic seeds include reduced risk of environmental impact, reduction in pesticide use, reduced need for nitrogen fertilization and others.
Analysts at Ken Research in their latest publication "Brazil Seed Market Outlook to 2023 – By GMO Seeds, Hybrid Seeds and Open-pollinated Seeds, By Vegetable (Tomato Seeds, Watermelon and Other Melon Seeds, Onion Seeds, Potato Seeds and Chili Seeds and Others) and Non-Vegetable Seeds (Soybean Seeds, Corn Seeds, Cotton Seeds and Others); and By Region" believe that by capping off on royalties earned by private companies for small farmers, investment in R&D to increase the yield of major crops, manage distribution network for widespread research, vegetable seeds gaining traction and educating farmers about the proper usage of seeds and its benefits are some of the factors driving the market. The market is expected to register a positive CAGR of 3.8% in terms of revenue and a CAGR of 13.8% in terms of production volume during the forecast period of 2019E–2023E.
Key Segments Covered
By International and Domestic Players
By Type of Seed
Vegetable Seed
By Type of Vegetable Crop
Tomato Seeds
Watermelon and Other Melon Seeds
Onion Seeds
Potato Seeds
Chili Seeds
Others (Lettuce, Melon, Green Peppers, Cucumber, Sweet corn and Cauliflower)
By Type of Technology in Vegetable Seeds
Hybrid
Open Pollinated
Non-Vegetable Seed
By Type of Non-Vegetable Seeds
Soybean Seeds
Corn Seeds
Cotton Seeds
Others (Rice, Wheat, Sorghum, Sunflower and rest)
By Type of Technology in Non-Vegetable Seeds
GMO
Hybrid Seeds
Open Pollinated Seeds
By Region
Bahia
Goias
Mato Grosso Do Sul
Mato Grosso
Parana
Rio Grande Do Sul
Other Regions (Mineras, Ceara, Tocantins, Santa Catrina Sao Paulo, Rorema, Randona, Paraiba and Paraui)
Key Target Audience
Seed Manufacturers
Associations and industrial bodies
Agricultural institutes and universities
Regulatory institutions
Agricultural Seed Distributors
Government Agencies
NGO's Supporting Agricultural Growth and Activities
Venture Capitalists
Online Sales and Retailing Agencies
Time Period Captured in the Report:
Historical Period – 2013-2018
Forecast Period – 2019-2023
Companies Covered in Brazil Seeds Market:
Bayer AG
Syngenta
Corteva Agrisciences
KWS
Longping
Limagrain
Agreliant
BASF
TMG
Donmario
Key Topics Covered in the Report
Executive Summary
Research Methodology
Latin America Seed Market Introduction
Brazil Seed Market Introduction
Value Chain Analysis of Brazil Seed Market
Brazil Agricultural Scenario
Brazil Seed Market Size, 2013-2018
Brazil Seed Market Segmentation
Trade Scenario for Brazil Seed Market, 2013-2017
SWOT Analysis in Brazil Seed Market
Trends and Developments in Brazil Seed Market
Issues and Challenges in Brazil Seed Market
Regulatory Framework in Brazil Seed Market
Comparative Landscape in Brazil Seed Market
Brazil Seed Market Future Outlook and Projections, 2019E 2023E
Analyst Recommendations for Brazil Seed Market
For More Information on the research report, refer to below link:
Brazil Seed Market Research Report
Related Reports:
US Seed Market Outlook to 2023 – By Type of Seed (Corn, Soybean, Cotton, Wheat, Sorghum, and Vegetables) and By Technology (GM/GE/Hybrid and Open Pollinated)
Indonesia Seed Market by Types of Seeds (Fruits and Vegetables Seeds, Grains and Cereals Seeds and Plantation Crops Seeds), by Hybrid Seeds and Non-hybrid Seeds, by Organized and Unorganized Players, by Farmer Saved and Commercial Seeds – Outlook to 2021
Philippines Seed Industry Outlook to 2021 – Rising Government Support to Improve Agriculture Sector with Demand for Hybrid Seed to Foster Growth
Contact Us:
Ken Research
Ankur Gupta, Head Marketing & Communications
Ankur@kenresearch.com
+91-9015378249