June 2022 | Canada News
Shift from Traditional OPT Terminals to Sustainable and Reliable OPTs: The modern OPTs solves the end user-POS machine pain points. New OPTs systems are designed to maximize the service uptime of the terminals, reduce maintenance, and increase the serviceability of the terminals, providing continuous and uninterrupted operation 24/7. These systems also withstand various harsh outdoor environmental climate conditions and fluctuations such as temperature, water and dust resistance, and anti-corrosion.
Push Towards EMV Compliance: EMV chip technology can store far more information than magnetic stripe credit cards as it allows these credit cards to hold encrypted data and helps to protect against in-store payment fraud. EMV compliance is effective since 14 October 2020 where all merchants must be EMV chip-enabled, with the exception of unattended cardholder-activated terminals (UCAT) merchants. UCAT merchants will required to be EMV-enabled by 14 October 2022. EMV technology allows customers to pay securely via their smartphones and smart devices using NFC radio wave technology with compatible EMV readers.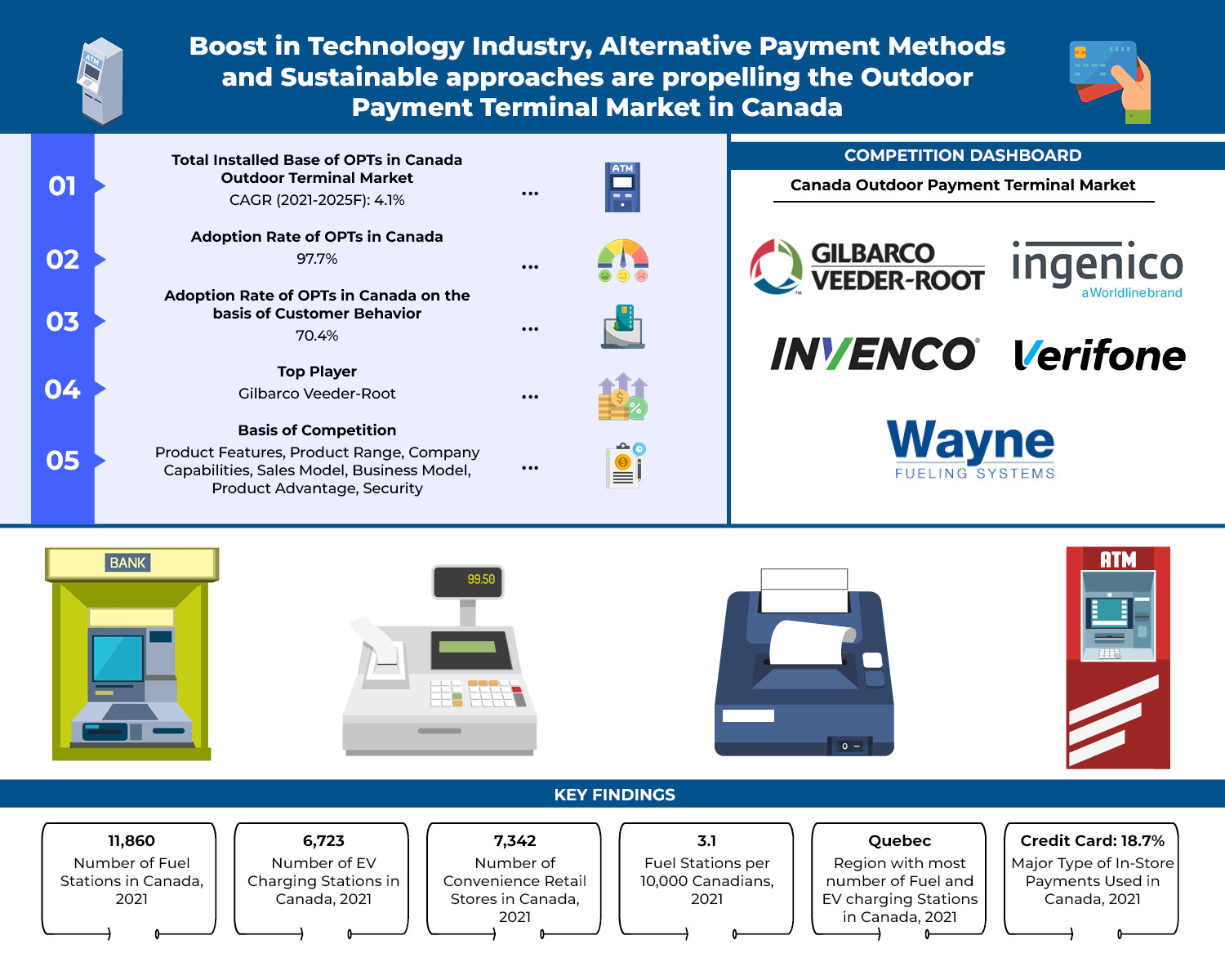 Promising Government Initiatives: Government of Canada is making it easier and more affordable for Canadians across the country to drive zero-emission vehicles (ZEVs). The Government of Canada is making investments to support the transformation towards electrification, including $295 Mn to the Ford Motor Company of Canada's $1.8 Bn project to build electric vehicles at its Oakville Assembly Complex. Public Services and Procurement Canada (PSPC) and greening government operations will lead the increase in procurement of electrical fleet vehicles installation of EV Charging Stations This will generate the development of more EV Charging Stations, hence, OPTs at these stations.
The report "Canada Outdoor Payment Terminal Market Outlook to 2025F – Driven by Rising Tech Adoption and Next Generation Payments along with Government Support" by Ken Research provides a comprehensive analysis of the potential of Outdoor Payment Terminal Industry in Canada. The report also covers overview and genesis of the industry, market size in terms of installed base of OPTs; Adoption rate of OPTs on the basis of consumer behavior; growth enablers and drivers, challenges and bottlenecks, Industry disruption technologies; regulatory framework; product comparison of different OPT brands, market shares of major OPT providers on the basis of installed base of OPTs. The report concludes with long term outlook Assessing the growth in Petroleum and Convenience Retail and EV Charging Stations.
Key Segments Covered
Canada Outdoor Payment Market Sizing Analysis:
By Total Sales of installed base of OPTs, 2021-2025F
By Y-o-Y Sales of installed base of OPTs, 2021-2025F
By Adoption Rate of OPTs on the basis of Consumer Behavior, 2021-2025F
Assessing the Growth in Petroleum Convenience Stores, 2020-2025F
Assessing the Growth in EV Charging Stations, 2020-2025F
Request for Free Sample Report @ https://www.kenresearch.com/sample-report.php?Frmdetails=NTc0NDM4
Key Target Audience
Outdoor Payment Terminal Providers
Outdoor Payment Terminal Distributors
Payment Processing Companies
Payment Switch Companies
Fueling Stations
Convenience Stores
EV Charging Stations
Research organizations and consulting companies
Government bodies such as regulating authorities and policy makers
Organizations, forums and alliances related to OPT Terminal
Time Period Captured in the Report:
Base Year: 2021
Forecast Period: 2021– 2025F
Companies Covered:
OPT Providers
Gilbarco Veeder-Root
Wayne Fueling System
Verifone
Ingenico
Invenco
Key Topics Covered in the Report
Canada Outdoor Payment Terminal Market Overview
Supply Side Ecosystem of Canada Outdoor Payment Terminal Market
Demand Side Canada Outdoor Payment Terminal Market
Snapshot on Canada EV Station Market
Snapshot of Canada Fuel Stations Market
Value Chain Analysis OPT Payment Terminal Manufacturing Industry in Canada
Enablers and Growth Drivers in Canada Outdoor Payment Terminal Market
Major Challenges and Bottlenecks in Canada Outdoor Payment Terminal Market
Entry Barriers in Canada Outdoor Payment Terminal Market
Regulatory Framework Canada Outdoor Payment Terminal Market
End User Analysis of Canada Outdoor Payment Terminal Market
Market Share of Major OPT Providers in Canada Outdoor Payment Terminal Market
Detailed Analysis on Canada Outdoor Payment Terminal Market (Market Size of Total Sales of OPTs on the basis of installed base, 2021-2025F; Adoption Rate of OPTs on the basis of Consumer Behavior, 2021-2025F, Assessing the Growth in PCR and EV Charging Stations, 2020-2025F)
Long Term Outlook for Canada Outdoor Payment Terminal Market
Related Reports
Global Outdoor Payment Terminal (OPT) Market 2019 By Manufacturers, Regions, Type And Application, Forecast To 2024
Global Virtual Payment (POS) Terminals Market 2019 By Company, Regions, Type And Application, Forecast To 2024
Contact Us:-
Ken Research
Ankur Gupta, Head Marketing & Communications
+91-9015378249