Saudi Arabia News
KSA Used Commercial Vehicles Market Overview
New sales and Service Channels: The increasing adoption of mobile servicing, workforce hygiene, shared mobility, contactless services, e-commerce and vehicle pick-up has boosted demand for disinfection, cleaning and car wash services. Customer preference for auto servicing is shifting towards mobile platforms, which has resulted in the emergence of mobile app aggregators that connect users with service providers of roadside assistance, car wash and parts replacement.
Trends and Recent Development's: The online platforms as well as dealerships are expanding their presence online and planning to implement latest technologies such as 360 degrees 3D view of the interiors & exteriors, artificial intelligence to leverage consumer behavioural insights and more in order to create a better user browsing experience. The Saudi Traffic Department introduced the facility for online transfer of ownership for sale of vehicles amidst the Covid-19 lockdown to enable transfer without requiring a periodic technical inspection which pushed the market.
Localized production: Most vehicles and parts sold in Saudi Arabia are majorly imported, and local manufacturing is limited to small auto parts and truck assembly. The government is keen on creating a domestic automotive industry and has encouraged global vehicle manufacturers to establish local operations. This would both lead to local job creation, transfer of technologies and skills and enhance the auto parts manufacturing supply chain in the country.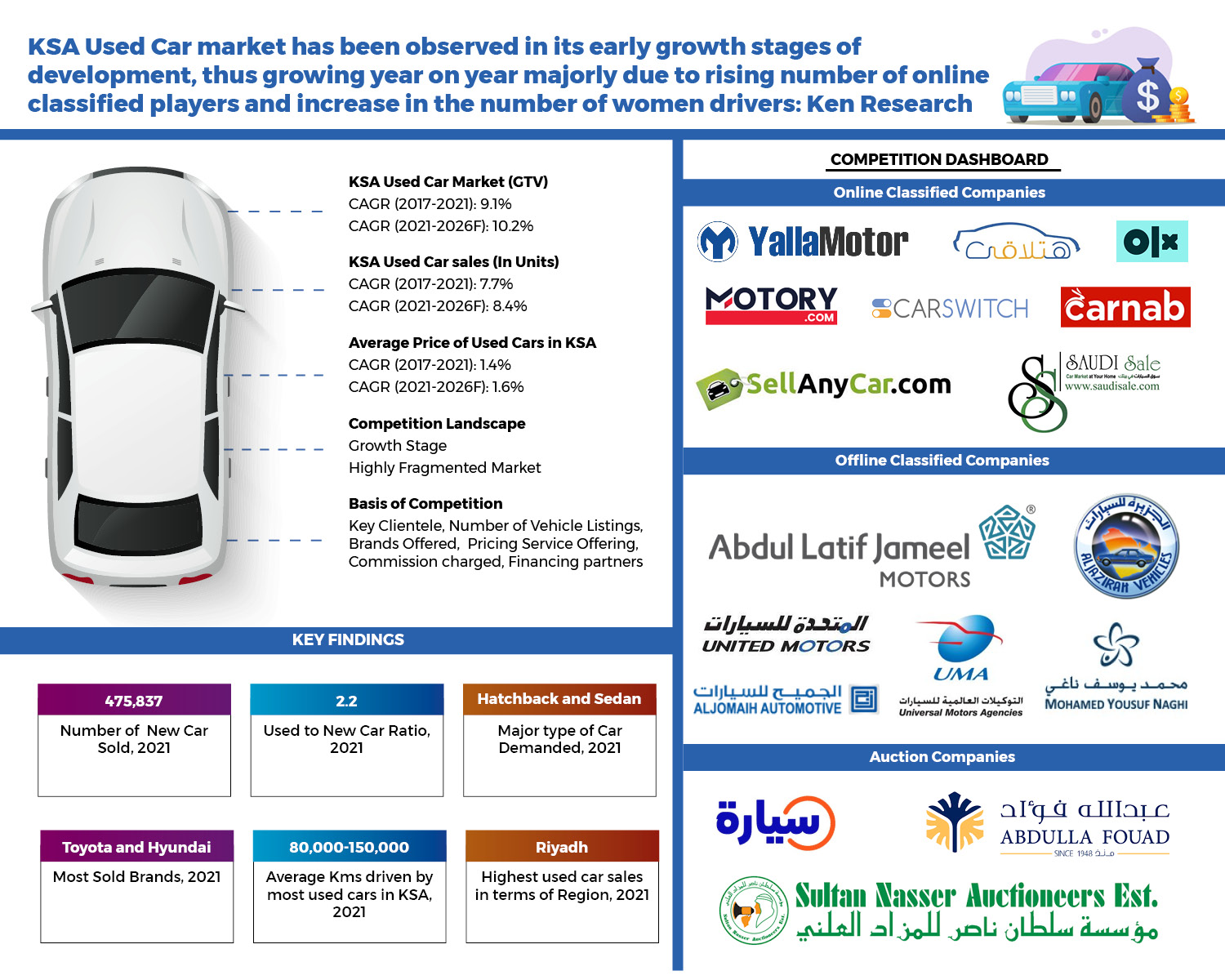 Lack of Regulations & Mismatched Pricing: The industry lacks a regulatory body & stringent regulation concerning the buying & selling of used cars, engine requirements or verification. The lack of standards and regulations governing the industry results in lower consumer confidence while buying pre-owned cars.
Analysts at Ken Research in their latest publication "Saudi Arabia Used Car Market Outlook to 2026F- Driven by Boom in Online Platforms and Increase in Internet and Smartphone Penetration" observed that post pandemic, Saudi Arabia will be in a growth phase in the used car market in Middle East region. Moreover, the rise in the online platforms and increasing penetration of internet has resulted in higher demand of used cars through online platforms in the country. Therefore, industry is expected to demonstrate strong growth in the future led by growth of online used car platforms that provide convenience to both buyers and sellers and makes the entire process smoother. The Saudi Arabia Used Car Market is expected to grow at a CAGR of 10.2% on the basis of GTV over the forecast period 2021-2026F. 
KSA Used Car Market
By Market Structure
Organized Sector
OEM Certified Dealers
Multi-Brand Non-Franchise Dealerships
Auction Companies
Unorganized Sector
C2C
Local Dealers
By Type of Car
Sedan and Hatchback
Suv
Pickup trucks
Luxury
By Manufacturer
Toyota
Hyundai
Ford
Chevrolet
GMC
Nissan
Kia
By Kms Driven
<50,000
50,000-80,000
80,000-150,000
>150,000
By Age of Vehicle
<1 year
1-2 years
3-5 years
>5 years
By City
Northern
Southern
Central
Western
Eastern
By Age of the Consumer:
18-34
35-54
55+
By Age of the Consumer:
Female
Male
Request for Free Sample Report @ https://www.kenresearch.com/sample-report.php?Frmdetails=NTg4ODYy
Key Target Audience
Used Car Companies
OEMs
Multi-Brands
Online Used Car Portals
Used Car Financing Companies
Government Bodies
Investors & Venture Capital Firms
Used Car Dealerships
Used Car Industry
Used Car Manufacturing Companies
Used Car Distributors
Used Car Auction Houses
Used Car Associations
Time Period Captured in the Report:
Historical Year: 2017–2021
Base Year: 2021
Forecast Period: 2021–2026F
Companies Covered:
Online Auto-Classified
Expatriates
Expat
Haraj
Opensooq
Mourjan
YallaMotors
Motory
SellAnyCar
Syarah
CarsSwitch
Carnab
OLX
Saudisale
Halta2ee
Second Hand Car Distributors Saudi Arabia
Major Auction Companies
Abdulla Fouad Company of Public Auctions Car Sales
Sultan Nasser Auctioneers Est
AutoWorld (AKA Al Jazira Equipment Co.Ltd)
Saud Qahtani Auction Company
Motory
Syarah
Mozayada
budgetsaudi
Mazadhala
Major Finance Institution
Alinma Bank
Riyad Bank
ANB Leasing Bank
Emirates NBD Auto Lease Bank
Al Rajhi Bank
National Commercial Bank
Saudi Investment Bank
Bank Albilad
Al Yusr
Taajeer Finance Company
Abdul Latif Jameel
Al-Tayseer Car Finance
Major Finance Institution
Abdul Latif Jameel
Aljomaih Automotive Company
Al Jazirah Vehicle
Mohamed Yousuf Naghi
United Motors Company
Universal Motors Agencies
SAMACO Automotive
Petromin Stellantis
Multi Brands Used Car Platforms in Saudi Arabia
Key Topics Covered in the Report
KSA Automotive Market Overview
KSA Used Car Market Overview
KSA Online E-commerce Used Car Market
Market Ecosystem
Value chain Analysis
Customer Buying Journey in KSA
Decision Making Parameters for Customers
Offline and Online Business Models
Detailed Analysis on KSA Used Car Market (Market Size, 2021; Market Structure; Market Segmentations; Competition; Future Market Size, 2026; Future Trends and the Way Forward
Snapshot on Online Used Car Platforms in KSA
Snapshot of Used Car Auction House in KSA
Snapshot of Used Car Finance Market in KSA
Business Opportunity (Customer Profile Analysis)
Recommendations (Sales and Marketing Strategies, Positioning Strategies, Business Framework)
Related Reports
Egypt Used Car Market Outlook To 2026 – Driven By Shift In Consumer Demand Along With Growth Of Online Used Car Platforms And Availability Of Financing Options
Philippines Used Car Market Outlook To 2026 (Third Edition): Driven By The Pandemic Incited New Opportunities For Used Car Dealers And Increased Penetration In The Online Space For Used Car Transactions
Vietnam Used Car Market Outlook To 2026 (Second Edition): Driven By Growing Disposable Income And Shifting Consumer Preference From Two-Wheelers To Four-Wheelers
Contact Us:-
Ken Research
Ankur Gupta, Head Marketing & Communications
+91-9015378249